Wishing Well // Ma'u Pe Kai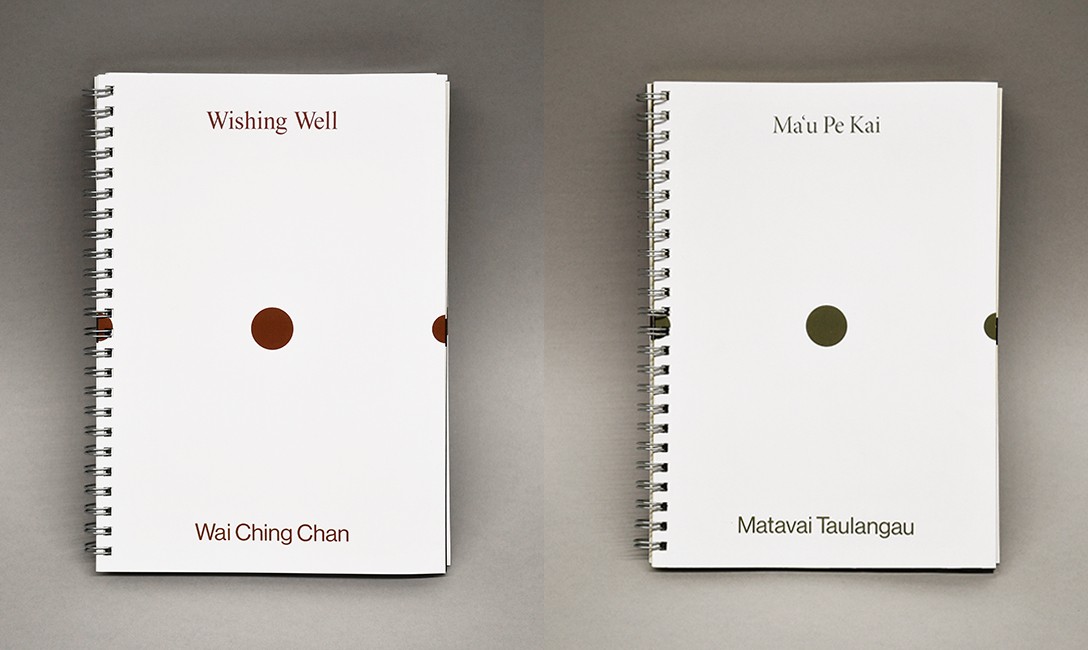 Buy
Wai Ching Chan // Matavai Taulangau
Wishing Well // Ma'u Pe Kai
Texts by: Arapeta Ashton, Wai Ching Chan, Simone Kaho, Hēmi Kelly, Vea Mafile'o, Matavai Taulangau, John Vea, Kirsten Wong
Edited by: Simon Gennard
Designed by: Alfred Hoi
Edition of 150
ISBN: 978-0-473-49435-3
Wishing Well // Ma'u Pe Kai is published alongside solo exhibitions by Wai Ching Chan and Matavai Taulangau held at Enjoy in August 2019. These were the first exhibitions at Enjoy's new galleries at 211 Left Bank, and the first time in our institutional history that we've been able to programme two solo exhibitions concurrently. Accordingly, the publication unfolds as two sets of responses; developed separately, but anchored, like both Chan's and Taulangau's projects, in questions surrounding migration, labour, cultural identity and its continuity.
Part of an ongoing research project, Wishing Well was developed by Wai Ching Chan following two knotting workshops held at Enjoy in May 2019, during which the artist led participants in learning three traditional Chinese knots 中国结. These events were an invitation to make conversation, to consider the symbolism of these knots and to engage in broad dialogue with others on the relationship between tauiwi and tangata whenua in Aotearoa New Zealand. Chan's section of the publication includes new texts by Arapeta Ashton, Hēmi Kelly and Kirsten Wong, alongside documentation of Chan's workshops and Wishing Well.
Describing his practice as part of an ongoing effort to "reestablish his connection with [his] culture," Matavai Talangau's exhibition Ma'u Pe Kai documents three kumala harvests: one by the Tongan community in Okaihau in Northland, one by the artist's mother in nearby Kaikohe, and one by the artist in Tāmaki Makaurau. Taulangau's section includes new writing from Simone Kaho and John Vea, an extended conversation between Taulangau and filmmaker Vea Mafile'o, alongside documentation of the exhibition.
Two-part, softcover, wirebound, 155 x 210 mm, 90 pp.
Published October 2019