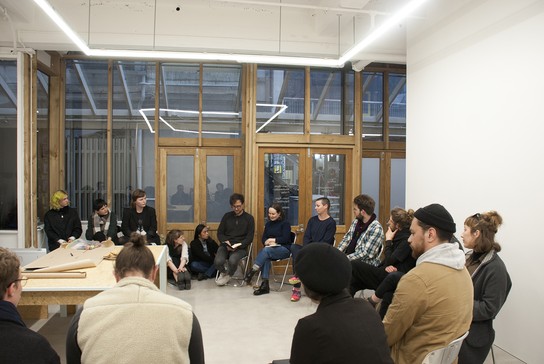 VOLUNTEERING
Volunteers are a vital part of our community, aiding Enjoy's mission to support and challenge artists and audiences.
Opportunities regularly include day-to-day visitor hosting, ensuring people feel welcome in the gallery; assisting with the running of events; assisting with archival and administrative tasks, and can occasionally include assisting artists with research and other projects.
Volunteering with Enjoy is a way of gaining first-hand experience of the behind the scenes work that goes into a contemporary art gallery, developing practical skills and building relationships with artists and those with a shared interest in contemporary art.
If you're interested in joining Enjoy's volunteer programme, we'd love to hear from you. Please tell us a bit about yourself in the form provided below, and email it to Simon at simon@enjoy.org.nz.
Image: Developing an emerging practice with Māia Abraham, 16 October 2019. Image courtesy of Cheska Brown.