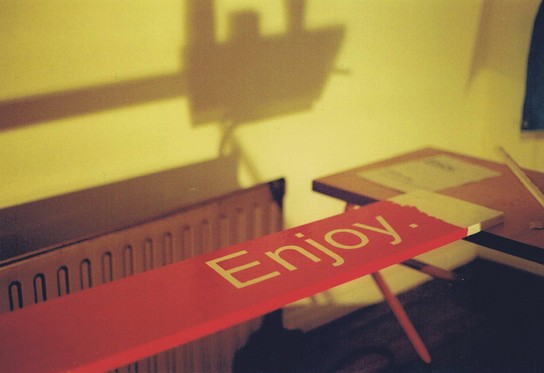 Enjoy's first sign in-progress, 2000, from the Enjoy archive
OPEN CALL TO THE FUTURE
After eighteen years of operation and development from its roots as an artist-run space, Enjoy is contemplating the future. Over the next year, in consultation with our audiences, we will be actively reflecting on the ways our organisation continues to support the development of contemporary art, curatorial and publishing practices in Aotearoa.
As we develop our upcoming programmes, Enjoy is interested in thinking through alternative working strategies and project formats, and collaborating with emerging and established arts practitioners to pose new questions. While we are interested in exploring experimental institutional practices and curation, we also want to ensure that artists and artist-led projects remain at the centre of what we do.
An annual call for proposals has been incorporated into the way Enjoy develops its programming since 2000, and looking towards 2019 we extend an 'Open Call to the Future'. We invite artists, curators, researchers, writers, educators and designers to respond to the possibilities of this provocation by submitting project proposals, which can take any format, including but not limited to:
Exhibitions
Experimental curatorial projects
Offsite projects
Events
Publications
Institutional interventions
Partnerships with other organisations and groups
Other initiatives
We expect practitioners to approach this call from their own perspectives, with scope to pose lateral responses and projects that serve their specific practices.
Proposals are due by 5pm, Friday 9 November. Successful proposals will be scheduled between April and November 2019.
PROPOSAL PROCESS
Please email your proposal submit as a clearly named single PDF file to curator@enjoy.org.nz by the closing date. You will receive an email confirming that your submission has been received.
You will be notified of the outcome of your proposal by 8 December.
Successful proposals will be scheduled between April and November 2019, in conversation with Enjoy Staff.
PROPOSAL GUIDELINES
Please include the following as a single PDF file:
A short, written outline or description of the project you are proposing (max. 700 words).
A bio and CV.
A selection of up to seven images to support your proposal, which could include working images or drawings, previous work, or other material that contextualises your idea.
Please note that Enjoy only accepts proposals for new projects and initiatives. Proposals for projects and work that has previously been exhibited or developed for other art spaces in Aotearoa will not be considered.
Enjoy provides artist, curator, writer and speaker's fees, curatorial and technical support, assistance with marketing and promotion, and a limited selection of equipment, tools, and furniture. Due to the nature of this open call, we will discuss how to best resource successful proposals within our capabilities if they require other kinds of support.
If you require further information, please email curator@enjoy.org.nz.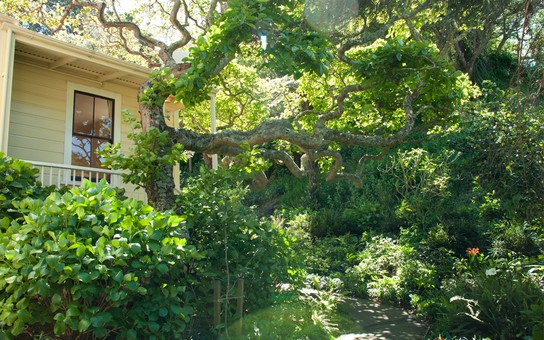 2019 SUMMER RESIDENCY
Enjoy is calling for applications from artists, curators and writers to our 2019 Summer Residency programme, delivered in partnership with the Rita Angus Cottage Trust.
This one-month residency from 1–28 February is an opportunity for a practitioner to develop an ambitious project to be realised with Enjoy while working in Te-Whanganui-a-Tara Wellington.
Enjoy will prioritise residency project proposals that are experimental and speculative in nature. To read more about Enjoy's Mission and Vision and the projects we have supported in the past, see the About page on our website.
The residency includes:
Accommodation and a studio/workspace at the historic Rita Angus Cottage, including access to all household amenities, power and wifi
Logistical, curatorial and research support from Enjoy Staff
$1500 stipend, plus travel to Wellington (from within New Zealand)
A subsequent project or exhibition with Enjoy in mid-2019
Located in Thorndon, the Rita Angus Cottage has considerable historical significance and was home to Angus from 1955–1970. The house and its garden feature in her work from this period, a physical reminder of the influence that these things had upon her.
HOW TO APPLY:
Please submit your application as a clearly named single PDF file, and include:
A project proposal, including aims for the residency and why it is relevant to the development of the specific project
A short biography and CV
Up to eight supporting images or samples of previous work
Applications should be sent via email to curator@enjoy.org.nz. Proposals are due 5 pm, Friday 9 November. You will be notified of the outcome of your proposal by 8 December.
This call runs alongside to Enjoy's Open Call to the Future and practitioners are welcome to apply for both opportunities. Please note that the residency is only open to those living outside of Wellington City.
Artist and designer Ella Sutherland was Enjoy's previous summer resident for 2018. Sutherland used her time in Te-Whanganui-a-Tara to research serial publications in the Lesbian and Gay Archives of New Zealand as the starting point for her project Margins and Satellites, which culminated in a solo exhibition and accompanying publication in July 2018. Read more here.
INTERNING
Enjoy's internship programme supports emerging arts professionals to develop their skills within specific areas of interest. Internships at Enjoy are usually project-based, in order to benefit the intern's professional development in a purposeful way.
If you're interested in interning with Enjoy, please download and complete the form below and contact enjoy@enjoy.org.nz with any questions. Please note that Enjoy is a non-profit organisation and internships are unpaid.