CALL FOR PROPOSALS
Significant ruptures in global stability, economic structure and daily routines have occurred since the world imploded in 2020.* Much of the fallout has been both miserably anticipated and yet dreadfully unnerving. It's impossible not to address this surreal feeling of collapse, but it's also preferably avoided as a topic of dinner conversation. We are seeking project proposals which look with renewed energy upon the position of art in times of crisis, uprising, near-extinction and precarity. Artists, writers and curators have a familiar if unpleasant relationship with instability. Perhaps in using innovative methods of thinking and creating we may share bold hopes for the future or return to old ways of healing that help us to metabolise the present.
*or maybe they've been occurring since Y2K, or since when Tiger Woods was caught cheating on his wife in 2009.
The annual call for proposals has been an important part of our programming ever since Enjoy was founded in 2000. As an independent, not-for-profit contemporary art space, we're committed to supporting exciting and non-commercial artistic projects by emerging and established practitioners.
Enjoy thereby invites proposals for new, ambitious and experimental solo projects, group exhibitions or larger curatorial projects to be programmed between September 2021—March 2022.
Practitioners are encouraged to consider the timeliness and topicality of their project, how this opportunity may distinguish and develop their practice from previous iterations, and wider experimental possibilities around presentation.
Successful proposals will be scheduled between September 2021 to March 2022, in consultation with Enjoy staff. Practitioners will receive artist/writer/curators' fees, plus curational, logistical, technical and promotional support from staff.
PROPOSAL GUIDELINES
Please include the following as a single PDF file:
A one-page explanation of the project you are proposing
An artistic bio and/or CV.
Up to seven supporting images.
OR
Please include the following as a sound or video file:
An audio or audiovisual outline of the project you are proposing (up to six minutes, exported as either an MP3 or MP4 file).
A short PDF file which contains an artistic bio or CV, and up to seven relevant supporting images if not already included within the audio/video file.
Supporting images may include working images or drawings, images of previous work, or other contextually relevant material. Download floorplans of Enjoy here.
Please note that Enjoy only accepts proposals for new projects and initiatives. Proposals for projects that have previously been exhibited or developed for other art spaces in Aotearoa will not be considered. Please make contact if you wish to resubmit an idea that was previously proposed (but not accepted) by Enjoy Contemporary Art Space to see whether it may be suitable for resubmission.
PROPOSAL PROCESS
Please email your proposal as a clearly named single file (.pdf) or as a clearly named sound or video file (.mp3/.mp4) plus attachment to Vanessa Mei Crofskey, Director, vanessa@enjoy.org.nz by the closing date.
You will receive an email confirming that your submission has been received.
You will be notified of the outcome of your proposal by the end of March.
Further questions about the proposal process can be sent to vanessa@enjoy.org.nz
Submissions should be received no later than 11:59 pm, Wednesday 3rd March 2021.
Image: Laura Duffy, !ERROR!, 2020, multi-channel digital video installation, soundtrack by Strange Stains. Image courtesy of Cheska Brown.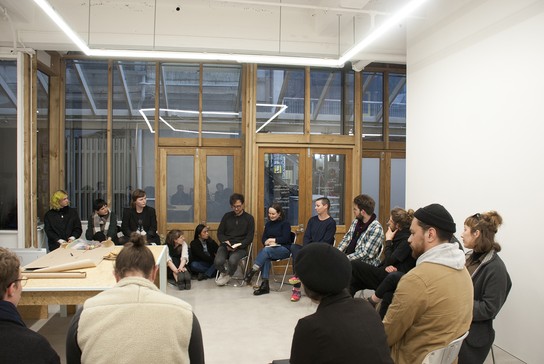 VOLUNTEERING
Volunteers are a vital part of our community, aiding Enjoy's mission to support and challenge artists and audiences.
Opportunities regularly include day-to-day visitor hosting, ensuring people feel welcome in the gallery; assisting with the running of events; assisting with archival and administrative tasks, and can occasionally include assisting artists with research and other projects.
Volunteering with Enjoy is a way of gaining first-hand experience of the behind the scenes work that goes into a contemporary art gallery, developing practical skills and building relationships with artists and those with a shared interest in contemporary art.
If you're interested in joining Enjoy's volunteer programme, we'd love to hear from you. Please tell us a bit about yourself in the form provided below, and email it to Simon at simon@enjoy.org.nz.
Image: Developing an emerging practice with Māia Abraham, 16 October 2019. Image courtesy of Cheska Brown.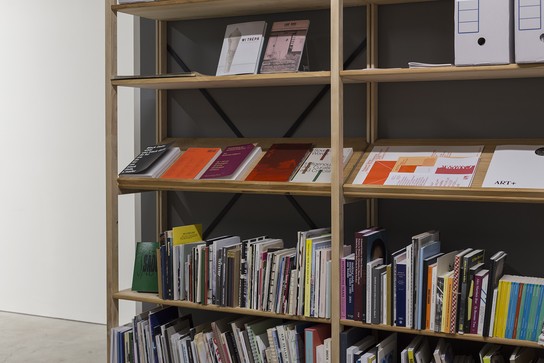 READING AND WRITING GROUP
Enjoy hosts a monthly meeting for people interested in writing around art. Open to all regardless of prior experience, the group is designed to be a peer-led, friendly and informal space for people to discuss their work and reflect collectively on its wider context.
Exploring ideas around how to develop a craft, forms of mentorship and peer-to-peer support and how to rattle and reshuffle the landscape for art writing in Aotearoa, activities include reading published work together, group discussions and feedback sessions.
You're welcome to sign up to join us at any time. Email simon@enjoy.org.nz for further information.
Image courtesy of Cheska Brown.
Stay up-to-date with opportunities at Enjoy, as well as our upcoming exhibitions, public programmes and publications by joining our mailing list.