Enjoy
Blog
Here you'll find interviews with artists, reading lists and more. Contributed by Enjoy's interns, staff, artists and friends.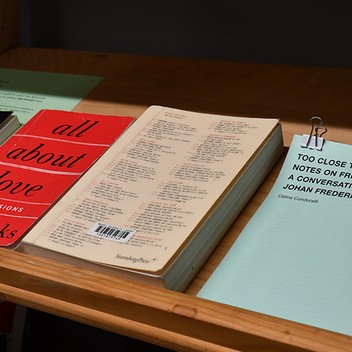 This introductory essay was written by Grace Ryder for Help Yourself an exhibition co-authored by Turumeke Harrington and Grace Ryder with Sarah Hudson, Saskia Leek, Kristin Leek and Greta Menzies (28 May-10 July 2021).
The reading list that follows includes texts referenced in Ryder's writing as well as readings and books instrumental to Harrington and Ryder's respective practices, their friendship and their collaborative work devising Help Yourself. Copies of these texts are available in Enjoy's reading room for the duration of the exhibition.
Read more
Load more