Enjoy
Blog
Contents
Alpha Art Studio
June 30 2014, by Paul Ordish
"All art is communication. It was never intended to operate as a match for the decor."
– Stuart Shepherd
Alpha Art Studio moved into its new home on Abel-Smith Street (next to Toi Poneke) last November. The organisation is set up for people with intellectual and physical disabilities to create and be part of a community. It's a lively space, with a bustling workroom included next to the new gallery.
Team leader and gallery coordinator Joanne Ridley said Alpha usually host between 25 and 30 people daily. "There are about 12 who work solidly on their art but other people come in for workshops and activities," she said.
One of my favourites from the Alpha gallery was The Butterflies by artist Emma Lou. I was actually lucky enough to meet Emma and watch her in action. With a grin that seemed to widen with each brushstroke, it was clear she loved to paint. Everyone can be creative. Whether we're building apps, writing blog posts or painting, it's important for all of it to be recognised in our community and Alpha is certainly a space operating with that at its centre.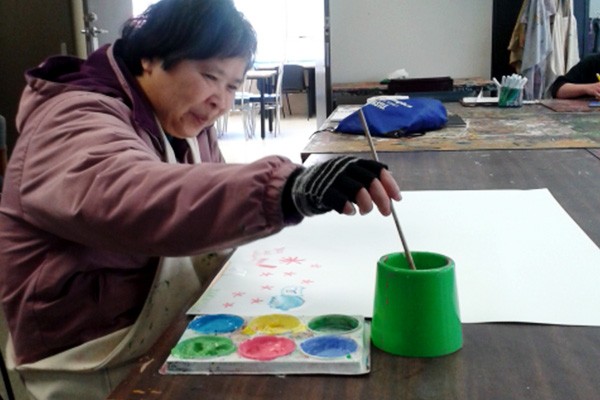 Alpha's diverse weekly schedule adorns a whiteboard in the main workroom. Table tennis, origami and drum circles intermingle with theatre and print making classes. Joanne said having such a diverse range of activities is essential to properly cater for such a broad range of people. "Everything comes from what people want to do. Everybody who comes here has their own goals we help them to achieve."
"Our main focus is arts whether it be fine arts, performance or music," said Joanne. She said the best thing about the place was the diversity and the opportunity to help people communicate in their own way.