Enjoy
Blog
Contents
White Gloves and Paint Skins
September 17 2014, by Jordana Bragg
On Friday 28th of February 2014 at 9:35am I arrived at Enjoy Public Art Gallery for a meeting to discuss the potential of me participating in a six month internship. Admittedly, I was slightly late.
I regained my composure in the street entrance while admiring the big silver door. After ascending the stairs and introducing myself to Communications and Publications Manager Meredith Crowe, general banter ensued regarding my work, studies and availability. On the afternoon of the same day, I received an official acceptance letter and contract via email, and after a brief and no doubt ridiculous celebratory dance it was down to business. From the vantage point of Intern it was immediately evident how much every meeting attended, print run completed and email received and sent contributed to Enjoy as a whole. My role tended to transition from behind the desk to out into the gallery space often, due to my adoration of the exhibition space in general and potentially my employment as a gallery host at City Gallery Wellington.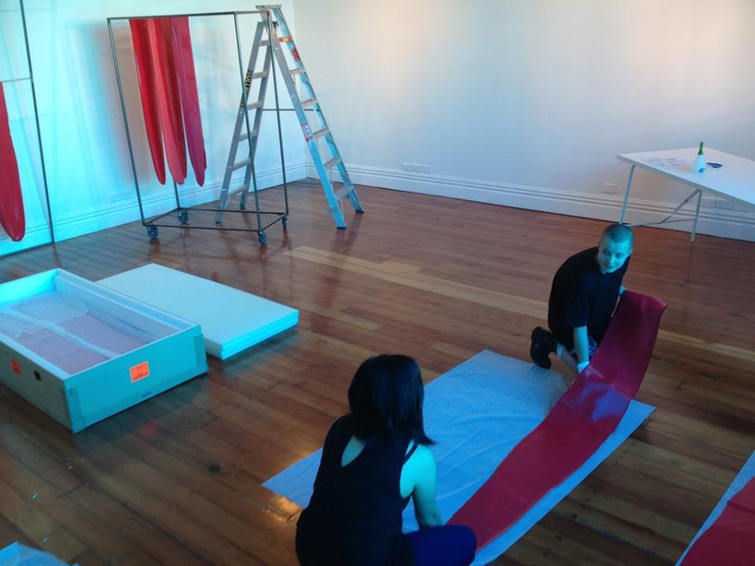 The highlights of my internship with Enjoy were being presented with the opportunity to assist with the installation and deinstallation of artworks, and participate in general gallery maintenance. Beginning at 10am, Monday March 17, I was able to assist with the deinstallation of Helen Calder's 'paint skins', from the exhibition Qualia 760-620λ. This was my first encounter being able to touch art (through white gloves of course), and was a rich and informative introduction into the process of handling and packing fragile artwork.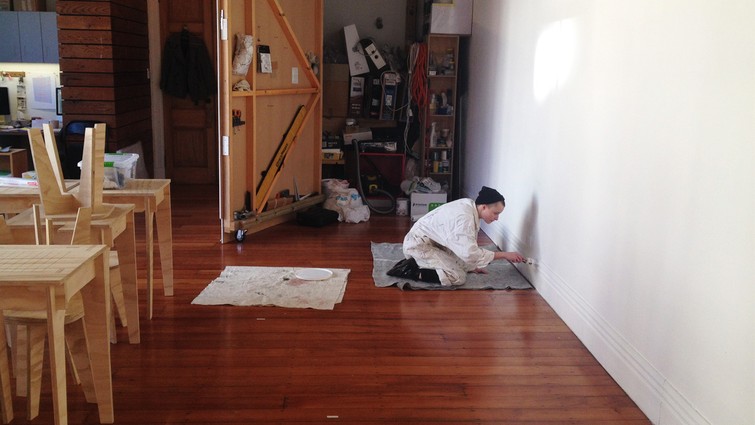 General gallery maintenance was an on-going task, and beginning 9am, Monday July 07, I repainted Enjoys walls and window frames white. With freshly whitened walls to project upon, Angela Tiatia's work Cream featured alongside Shahriar Asdollah-Zadeh's Michael Jackson Motorcade as part of the exhibition 'The Screen' (6 August- 30 August, 2014). It was my favourite exhibition over the duration of my internship. Michael Jackson Motorcade comprised of multiple analogue televisions, with a sculptural presence reminiscent of a store front window display. To source these televisions and actively participate in their transportation up the stairs, and eventually back down again, was both extremely amusing and in testament to the expansive variety of work which goes in to the production of art exhibitions at Enjoy.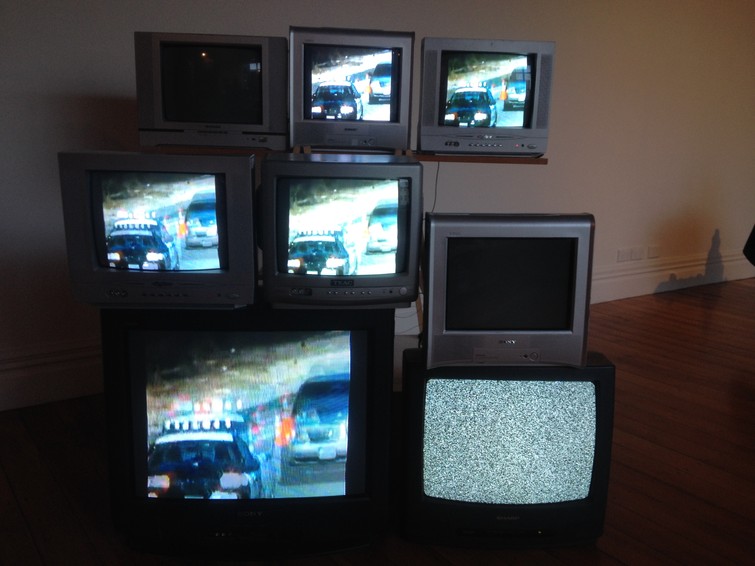 I would like to thank Communications and Publications Manager Meredith Crowe, Curator Emma Ng and my Massey University tutor Simon Morris for facilitating my six month internship. As a non-commercial artist-run initiative, Enjoy Public Art Gallery offers a multitude of opportunities to contribute, intern and volunteer. I intend to continue being a part of the Enjoy Gallery volunteer team, and I encourage anyone looking to lend a hand to contact comms@enjoy.org.nz for more details.