Enjoy
Blog
Contents
An Interview with Ryan Ballinger
December 19 2014, by Jordana Bragg
I'm here with Ryan Ballinger, joining me from New Plymouth as he completes an artist in residency project with 30 Upstairs Gallery.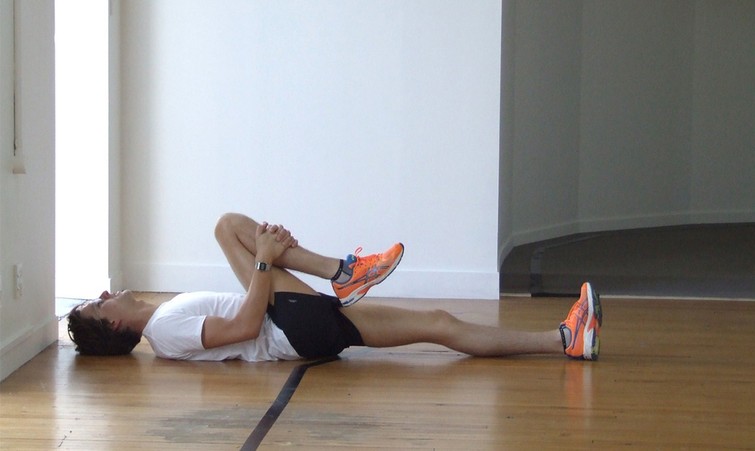 I'm here with Ryan Ballinger, joining me from New Plymouth as he completes an artist in residency project with 30 Upstairs Gallery. Ryan's practice is highly performative, involving physical endurance most often in the form of long distance running. Referring also to a sculptural based practice, insofar as the body is considered by Ballinger to be a malleable sculptural object through exercising.
Jordana Bragg - Hello Ryan, can you offer us some insight into your practice, a broad description including the fact and philosophy behind why you do what you do?
Ryan Ballinger - I grew up in a peculiar situation, where both my parents were top level elite runners, but none of my siblings developed a physique for running except for me, and so I was given the possibility of running as my parents had done due to my physique.
J - An innate ability and a capacity for running due to your genetics (?)
R - Yeah, growing up in that environment with everything being centered around running events and running related topics, discovering performance art gave me a way to pursue my personal interest in the phenomena of physical activity, running and exercise that intrigued me, more so than the pure act of running as an exercise. I found it really fascinating that tens of thousands of people would go to New York every year and run in the NYC Marathon, with these really dramatic documentational photographs of these people running over the bridges. I thought there is something going on there more than just a 'run'. After investigating performance art further running began to standout as a simple performance action, without props. The more I researched the more evident it became that humans are remarkably unique in our ability to be able to do this basic action. Which led me to another question, and another question. Which in brief led me to where I am now.
J - Can you give us a brief description of the work you intend to produce in Wellington, during your time in residency with 30 Upstairs?
R - I moved back to New Plymouth from Auckland two years ago and found an issue with the possibility of running all my old routes, as I wanted something new. Then, as you do, I started noticing people running/walking with their dogs, and thought 'what if I use dogs as a guide to create variable paths through the city and turn those into my new routes (?)'. I thought it was a very practical idea, which also enables an investigation into the history of the relationship between humankind and K9's. I then put an advertisement in the paper and requested a few dogs, and I then didn't have any issue with what routes to take anymore and also realised this action has potential to function as a video work also, once developed a little further. This work in particular became relevant when coming to Wellington on residency, because it can be a way of discovering a new city and as a runner where to run can become quite an issue when your surrounding urban environment is largely unknown.
J - I draw a parallel between this work and one which you performed earlier this year titled: 'Trust Exercise #1'. In this your route was completely dictated by Curator Kenny Willis. Naturally this work opens up a discourse around the power relations between artist and curator and vice versa, in an interview with Justin Gregory for the NZ National Radio, Gregory claimed: "the audience would enjoy or at least expect the curator to give you 'the run around', can you explain how that run went?".
R - You cannot get from New Lynn to Titirangi without going up huge hills, so he ran me quite hard up the hills and also took me past Colin McCahon's house. At one point towards the end of the run we came to an intersection with a left turn leading towards the gallery and a right turn leading away from it, and I was sure he was going to turn me right. But he didn't. Although he also didn't let me enter the gallery automatically, instead opting to make me run straight past it up to the round about at the end of the street, around it and back down.
It was difficult because I didn't know how to pace myself, I wasn't sure if I was going to be running for 40 minutes or 4 hours.
J - With giving your agency over to animals and curators over the distance, time and route of your journey, is there something in particular that draws you to this process? Giving your journey and potential destination over to an external force, does that give you a sense of freedom when you run?
R - It is the opposite, To give agency is also to let them be in total control over me. When I run to train through out the week that is when I feel at my least constrained. In contrast, during my performances I switch roles as an act of objectifying myself, in the offering up of my body as something to be used.
J - For what ever reason sports are often discussed in direct contrast to art, what do make of this apparent divide?
R - I think art and sport are the same thing, I really do. After any major sporting event they always interview the players and comment on their performance, they discuss it as if it were some kind of theatrical production.
J - Potentially also referencing sport as spectacle, or ritual (?)
R - Well yeah, I was reading the other day how playing sport is an active way of dismissing your 'real world', in swapping your constant bill payment, cooking, cleaning, work dependent lifestyle for something more automatic and simple, sports become a form of escapism. Say for example, in badminton there is a set of rules to abide by and when you play badminton you adhere to them as part of your role in the game. Focusing only on the goal to stop the shuttlecock from crossing the line behind you. There are endless similarities between art and sport, especially in relation to sculpture. You see these professionally trained athletes arranging their lives around being the best they can possibly be at one activity, which takes massive amounts of endurance even to sustain eating, sleeping and training patterns. Sculptures, in the true sense of the word, being a malleable object which has been activated to take on a particular form relates directly to these particular bodies as conditioned into a particular state.
J - Excuse my interjection of personal interest, but in 2012 you preformed 'Indoor record attempt #1', in which you attempted the national indoor marathon record in the same time it took your father Paul Ballinger to set. You have noted that during this performance you noticed two people crying, possibly due to what they may have correctly or incorrectly perceived as suffering on your part. As the term 'endurance' piece/art implies I believe the works can engage on an emotive level due to you having to endure/overcome your own physical boundaries directly in front of an audience. As much as physical attributes are of crucial importance, I am presuming mental endurance is a major component also.
R - It is mostly mental
J - Obviously with the utilisation of the body in the production of your artworks as part of a highly performative practice and your interest in the body as a sculpture, your body can easily become fetishised and the importance of mental endurance over looked. Which makes me wonder, what do you think about going into or during a performance?
R - I feel sick all day, and I don't know how or where to place myself. I feel generally uneasy and uncomfortable, but once the performance begins that dissolves, I am intensely focused. In saying this, with the Indoor Record Attempts series which I perform every year, I often fluctuate through a variety of emotions every time due to its personal significance to me and the physical emotional trauma which I undergo and endure. I often run to the point where I am absolutely in shock, which must be strange or difficult to watch.
J - I can certainly see how this work could have moved them to tears.
R - One of them expressed to me after the performance that she felt as though she had just witnessed a birth.
J - What a great response. In preparation for this interview I perused your website (see link attached: http://www.ryanballinger.com ), and found affinity with a short video/performance piece titled: 'Ankles Tied', 2014. I think after all of our discussion around your practice, with the body being your tool, weapon or means of art production, if you will, my interest is in what inspired you then to restrain your feet in this piece, to create a struggle to break free back into unrestrained motion.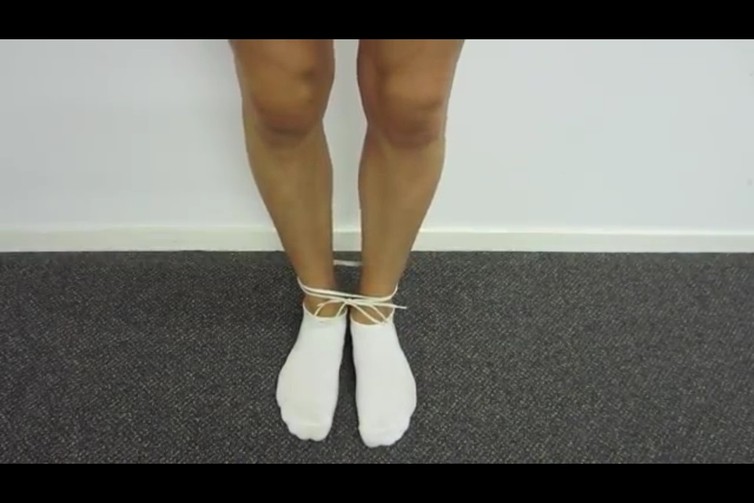 R - Initially the work came out of a trip to New York in 2011, where I encountered a Richard Serra video, which was a very early piece of his called: 'Hands Tied' (1968). I thought it was so amazing, I just had to make a Serra inspired tribute video work. I did not make it automatically, but approximately two years on after accumulating shoelaces from my various running shoes, I had an effective method of constraint to tie my ankles together, from which position I would film myself attempting to break free. The work brings to mind for me physical restriction potentially due to injury. I ended up having to get my legs waxed for it and it became this ordeal where one day I found myself in my studio filming myself in my underwear, alone.
R - I often treat video works as if they are an abstract painting, in the way that colour, repetition and movement are applied
J - The repetitious futility of your action, until you do finally mange to release your ankles is certainly mesmerising. You know, it keeps me focused for the slightest change, and when discussing painting your application of colour in a particular sequence is thoroughly captivating and personally my favourite work of yours thus far, due to its simple yet effective nature.
R - It's a simple idea. Which are the kinds of ideas I'm most often attracted too.
J - Thank you Ryan for allowing me to interview you. I wish you the very best of luck with your residency project for 30 Upstairs, and anticipate the final outcome.