Enjoy
Blog
Contents
Review: Elbowroom's Concoction
January 29 2015, by Peyton Sweeney
We may have five senses, but we don't take note of them equally. As a society we headline our lives with where we ate, what we ate, and whom did it best. When we enter a space we subconsciously attune to what surrounds us.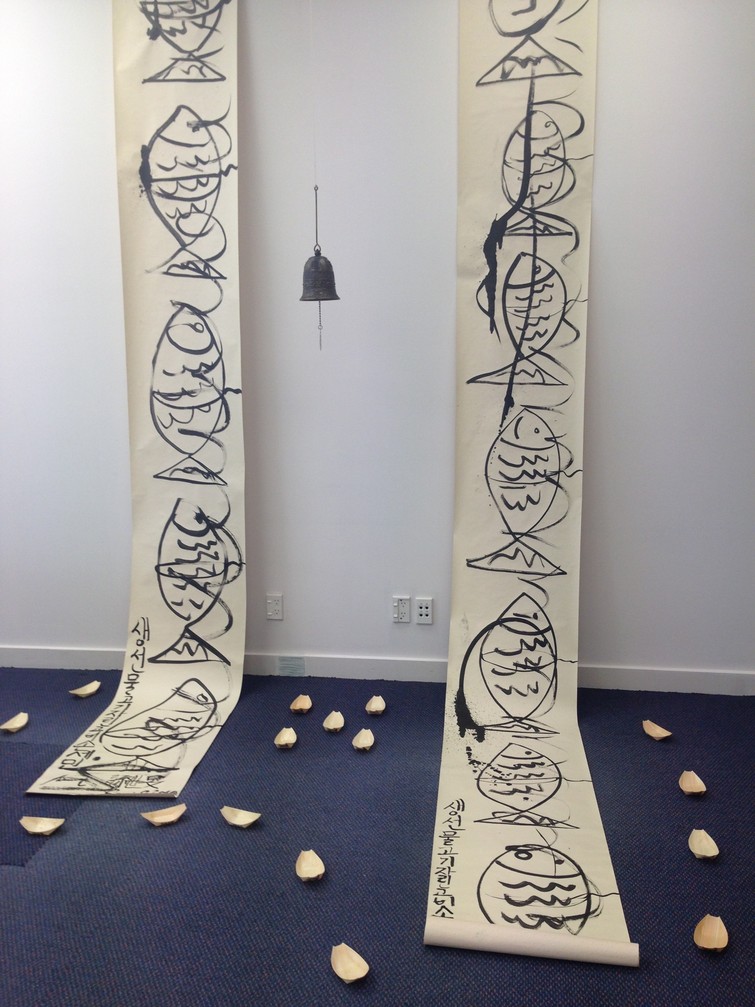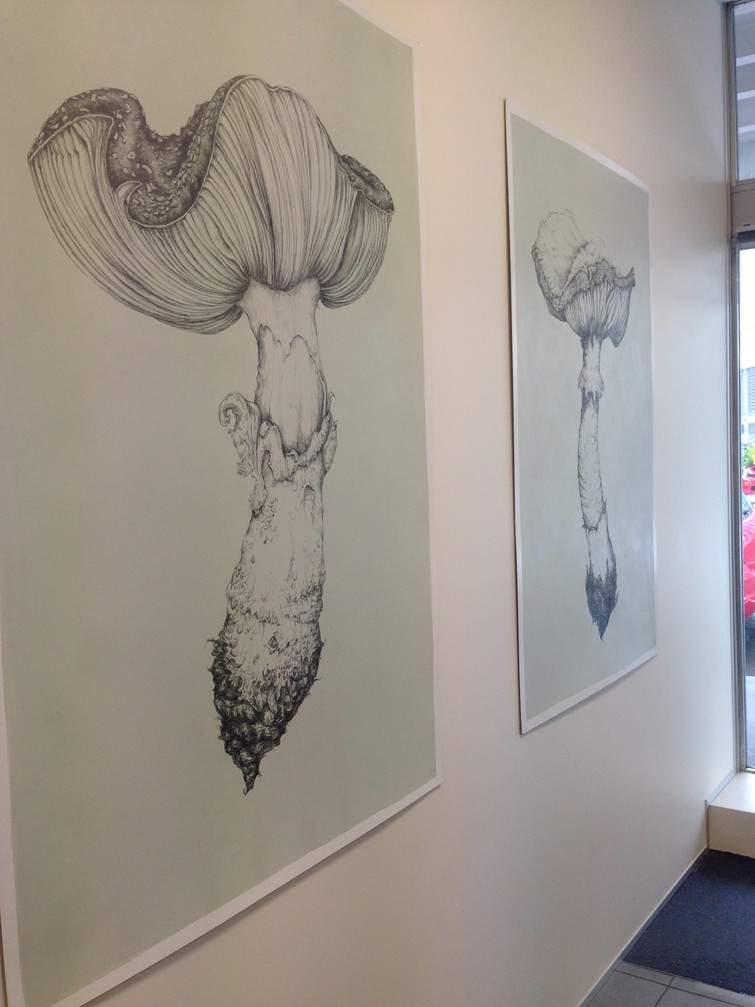 Concoction
noun
To devise, using skill and intelligence; contrive:
To prepare by mixing ingredients, as in cooking.
The Opening
We may have five senses, but we don't take note of them equally. As a society we headline our lives with where we ate, what we ate, and whom did it best. When we enter a space we subconsciously attune to what surrounds us. The appearance of the employees, the smells as we walk in the door; the taste of the chosen dish, the touch of the napkins, glasses and utensils. The ambiance created by the background music and whispers of conversations. These observations help us emotionally connect or disconnect to the experience. Elbowroom Gallery's second exhibition Concoction made its mark upon all senses. Bringing food and art together, the opening event—a dinner with forty people, the work of twelve artists, a conglomeration of multimedia and food—addressed concepts interwoven in design, innovation, food processing, history, and culture.
Upon entering, with our own chairs in tow, we were given a number matching a specific table. Then commenced the cordial introductions with our adjacent diners. The air held an uncertain expectancy of what was yet to come. The wait was not long, and as we helped ourselves to beer and wine artist Riah King-Wall presented each table with a platter of six different chilled terrestrial fungi. Each fungi provided us with a unique texture and shape to explore. We talked about what they reminded us of: kelp, seaweed, and childhood memories of Beatrix Potter and Alice in Wonderland. Some people were pushed out of their comfort zone; others were vying for reasons they liked "this one best." Already, connections were being made; how the tremella fuciformis (a white frond-like fungus) had similar shape and texture to the centrepiece by artist Kathryn Tulloch. Her work Outer Cycle made of paper and wood had a free form about it. A fellow dinner guest commented that it looked like a forgotten receipt or tissue that had been through the washing machine. Kathryn's work investigated the decomposition of materials, and furthermore food. What happens to our food when it gets tossed aside? As it mixes with other materials it loses its identity, much like the objects in Outer Cycle. The paper and wood debris were arranged on specific tables and had a designated area of the floor in the exhibition. You happened upon them as you walked around the room. Later in the evening it was confirmed that her work had indeed been through a washing machine in various materials like socks and tights. Seeing that connection so easily made is credit to the seamless collaboration of this exhibition.
Samin Son's Painted Fish on a Bowl of Rice: 5 rice cookers and 40 bowls of rice set up in the forefront of his works Five Fish Swimming Upstream and Seven Fish Swimming Upstream dominated one wall of Concoction. The simplicity of a small amount of rice in a bamboo bowl made us reflect upon the importance of rice as a staple food in many countries. The minimalistic approach to this part of the meal was a confronting and effective reminder of the excessive lifestyles lived in the western world. Rice was just one course in our three-course meal, but for many people it is all they live off. The bamboo bowls complemented the white of the rice as well as the wallpaper and black ink paintings in Five Fish Swimming Upstream and Seven Fish Swimming Upstream, helping to draw the viewers' eyes upwards. The height of the paintings was domineering, stretching all the way to the ceiling. Yet all elements of Son's work had a soft, organic tone, and naturalistic feeling, embedding itself within Concoction and the paper and wood present at every table.
The main course was a warming, filling, minestrone soup with polenta pesto dumplings by chef Amber Sturtz. This course reflected upon the origins of what we eat. Beans—like rice and potatoes—are a staple food in many developing countries, and of great importance in history. Most of our ancestors would not have survived without these staples, and farming them was a way of life. The use of polenta instead of the traditional flour dumpling was a reflection of the artist's personality and interest in alternative food for nutrition and well-being. The soup was very well received, and made me ponder the correlation between food and emotion. Soup is comforting and the familiarity of soup takes us back to childhood when our mothers are cooking for us and nourishing our growth. In winter when all is bleak and unforgiving we feast on varieties of soup to warm our soul, just as our ancestors did hundreds of years ago. The amalgamation of flavours from such simple ingredients like leeks, carrots, tomato, and garlic as well as the texture of the polenta dumplings left everyone extremely satiated.
The final course was a reflection on the artist's origins, so much so that family members had brought the coconuts with them from Samoa especially for her dish. The Coconut Banoffee Pie with Suafa'i made by Maria Hunt used yet another staple food, fundamental to the people of Samoa. They use everything: the husk, the shell, the milk and the meat of the fruit; Hunt exemplified how versatile the coconut can be. The banoffee pie was incredible and the presentation of the tapioca and suafa'i was a work of art in itself. The texture was light and fluffy and many were amazed this could be made from such a hard fruit. This dessert, like the other courses, referenced the earth and the process food goes through in an inventive way, alluding to the ethnic culture of Samoa, and the islands these fruits come from.
Cultural references connected each course beautifully; from foraging in the forest for fungi, to working in the rice fields, coming home to a family dinner of minestrone soup, and finally feasting on coconut in an innovative way. The food served all guests with pangs of nostalgia and moments of wonder. Taste, sight, smell, touch, and sound as the whispers of: "how good is this," "how interesting does that taste?" and "what is that?" filled the room to make Concoction's opening a very unique and provocative experience.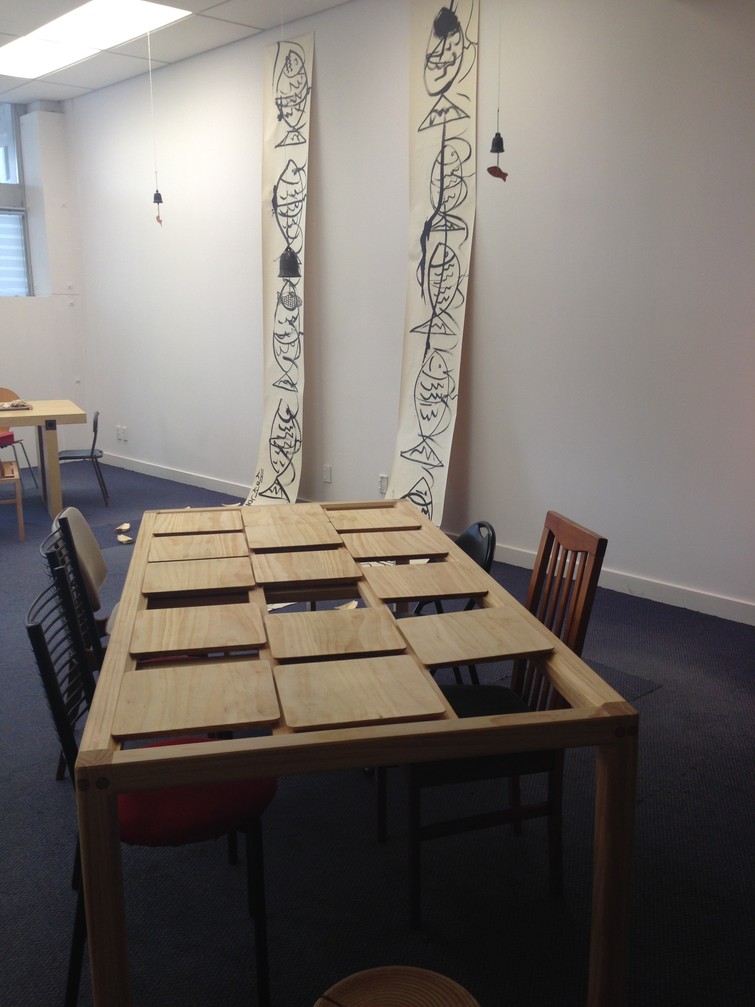 The Exhibition
There was none of the usual solemn feeling after a dinner is over. With no dirty dishes to clean, the opening event transcended into a beautiful, aesthetically pleasing exhibition. Without the guests and food the space was left with five beautiful handmade tables. They all delivered different aspects of dining, and the social experience it creates. The Origami Tables by David Aravena and Chris Winwood; geometrically shaped planes of wood, some painted yellow and green, held together with G-clamps, were beautiful examples of furniture as art. The colours on the underside made you want to crouch down and climb underneath; as if a drawing had come to life. To see art as something versatile, with the physicality of touching the work and usefulness of being able to dine off it, proved a popular topic of conversation. Guest also loved Plane Frame the table by Matt Fanning, as it put a playful twist on the traditional dining experience. The solid pine table had 14 interchangeable tiles that sat on rungs in the surface of the table, turning dinner almost into a game not unlike Tetris - you could move your tile to another rung, thus changing your perspective of dinner.
With only two of the five tables having a familiar, rectangular shape, Sketch for a Winter Picnic by Tim Larkin and Contrastable by Derek Winwood both ask us to contemplate how the spaces in which we live are changing. Oval Table by Duncan Sargent exemplified the middle ground between the traditional and modern, linking the five designs together. Oval Table had 13 different sides yet somehow claimed to be round, a familiar dining table shape. These more traditional designs were so geometrically precise (specifically Contrastable) they reminded me of Piet Mondrian's Composition with Red, Blue, and Yellow paintings. Every line, groove and joint is meticulously aligned to make these dining tables very functional works of art. Therefore, since what aesthetically pleases us is unique and intrinsic to the individual, our dining table can now become a reflection of that.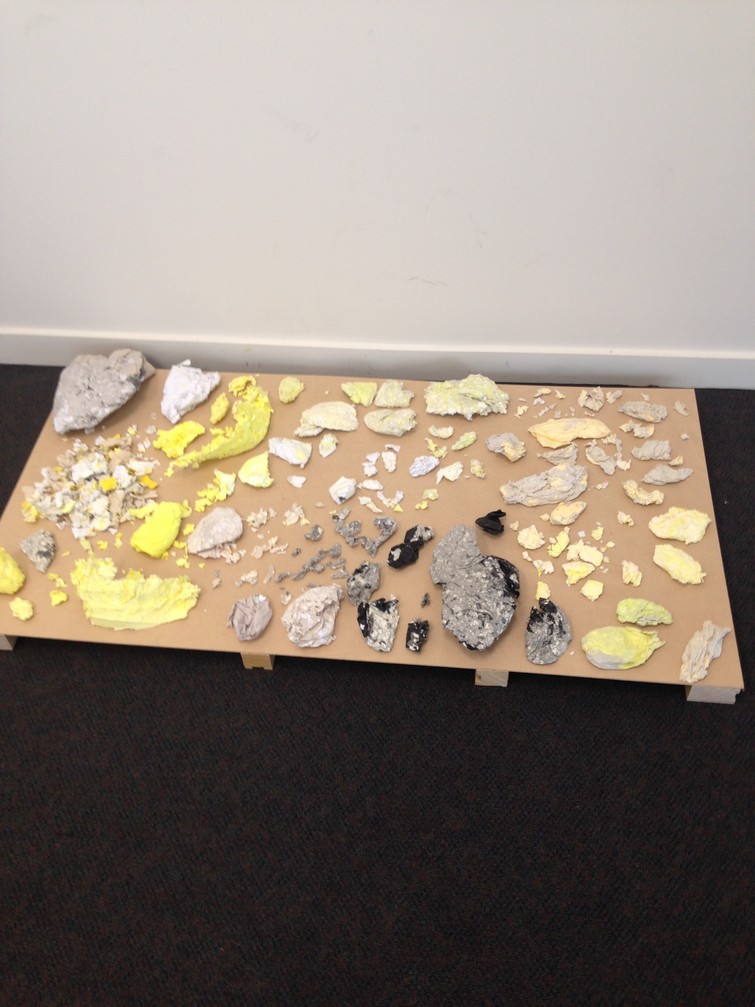 Cedric J. Baford, Kathryn Tulloch, and Riah King-Walls works were separate entities in the exhibition, but also interwove with concepts like food origins and food processing. These topics were front and centre throughout the dinner and furthermore helped all the pieces of Concoction to come together. Lear is Cedric's close-up abstract video projection of a jar labelled Canola, with oil being dripped into it. The video was confronting in a way where one could almost feel the viscosity of the oil, as the video looped the same clips shot from different angles. The labels "CAUTION", "Hazardous to humans and domestic animals", "First aid if swallowed" and "Environmental hazards" challenged us to question the ingredients in our food and brought forward the issues of food production like genetic modification and selective breeding.
Akin with Lear, Riah King-Wall's scientific drawings, Amanita Muscaria and Tricholoma Ustale delivered details of something small and often overlooked: the everyday toadstool. Her graphite drawings were large in scale and so intricate that one could see every frill underneath, and almost feel the velvety tops. She exemplified the idea of food as art, taking something we eat and turning it into an aesthetically mature, meticulous drawing. Not only was it dominating in scale, its presence on the wall of the exhibition furthermore helped establish the link between the opening of Concoction and the exhibition that followed.
The presentation of food during the event and what art remained for the exhibition all collaborated to leave the visitor revelling over their experience. Concoction presented food as art, by further prodding us to become knowledgeable about what we are eating, where it came from; and what cultural significance it has in the wider world. Art as food, shows us that eating and feasting, something so essential to humanity has its own connotations that transcend everyday culture. This was an incredibly unique experience and a thought provoking exhibition to behold.