Enjoy
Blog
Contents
Betwixt and Between
May 14 2015, by Kayla Ward
Kalya Ward discusses the research behind her work The Ghost of William Harper as part of the group exhibition Something felt, something shared.
I.
I had always thought my first memory, or that which I had located as my first memory, was simply a byproduct of extreme fear.
Not a fear of anything immediately life threatening, or perilous in a tangible sense, but rather of an intangible fear of a haunting.
Fear of an invisible and unknown entity that watched me in my sleep, and who stalked me through the hallway, creeping up on me, exhaling icy prickles down my neck. Never to be revealed.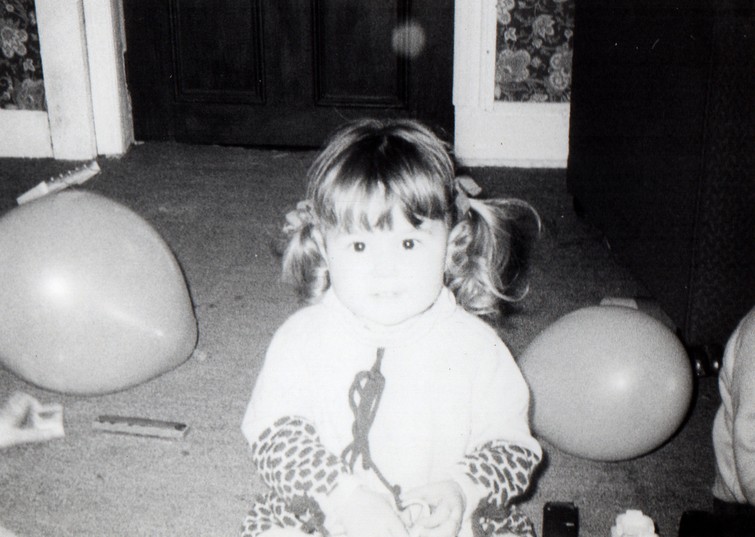 This haunting is why, I believed, I could so readily recall the white details of the white walls, the ornate decoration upon an ornate fireplace––perhaps out of place in an early working cottage––the precise position of my parents' bed against the exact window. The itchy wool of a wedding-present blanket––one of an orange set of two––chaffing at the heels of tiny tucked legs folded under roughly grazed knees.
A Continental chocolate box––white with embellishments of pink, purple and gold­­––filled with either chess pieces or the black and white snapshots of my immediate past––I can't remember which––sat just out of reach. Its bounty never revealed.
From the present I am sometimes caught in this momentary past, hovering in anticipation. Haunting along side (with knowing complicity) the apparition whose home we had invaded, and who had owned it always. The workingman whose working cottage begrudgingly held an occupancy of four un-workers.
Something my four-year-old elder brother confirmed whilst pointing at the shadows of the sitting room, seeing two invisible eyes glowering back it him.
II.
Memory purportedly appears in the developing child between the ages of two and four. To which end I can in hindsight assume that it is merely a coincidence my ghost and that terrified sentience intersect. But, it remains that the convergence of those two phenomena are indelibly linked with a moment in space and time whose connection to time and place lurks within my relationship to my own haunting.
III.
On August 17th of 2014 I think I found my ghost.
One Pvt. William Harper whom, at 12.15am on August 17th, 1898, met with a calamitous end.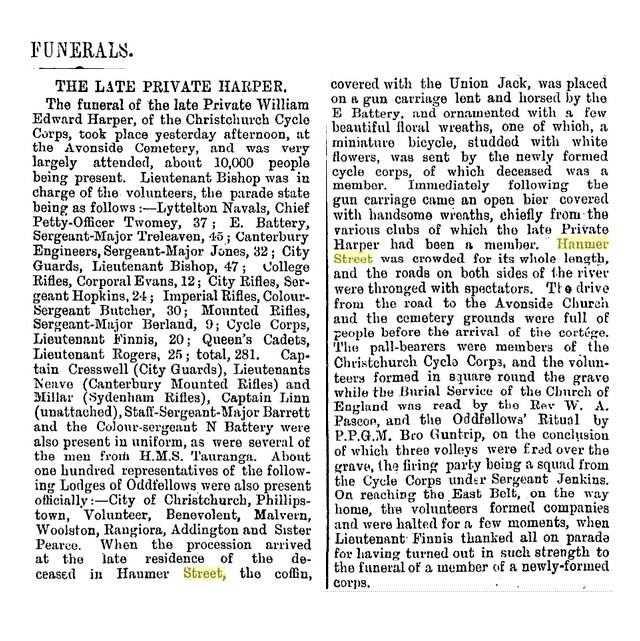 A member of the recently formed Christchurch Cycle Corps, 23-year old Harper was beginning his cycle home, after escorting a young lady to her premises in Sydenham, when he promptly rode into the back of a Night Soil Cart. The carts' lantern (against policy) was nowhere to be seen and Harper had no inkling it was before him.
His body was returned to his mother and his room at 28 Hanmer Street, Linwood (near Avonville).
This room was later mine.
IV.

In essence this is a story. And a story is something that determines through re-tellings and re-imaginings a sense of connection (temporarily dislocating temporality), so that in the here and now one can be in the there and then. However truthful.
The house, to which I attribute that first set of recollections, is a stone's throw from the Avon River.
The corner of Hanmer Street meets Avonside Drive between the bridges of Kilmore Street and Stanmore Road. A stretch of land I am familiar with from stroller trips grown into bike trips, and then on to teenage meandering.
Both Hanmer Street and Harper Cottage date from the 1860's and are contemporary to the ill-fated adventure of the first Avon-trawling paddle steamer, Maid of the Avon.
On her maiden voyage (destined for the fledgling pleasure beach of New Brighton and stuffed with a full company of VIP passengers, as well as the game few who had coin enough to hitch a ride) the Maid met with an embarrassing conundrum. The engineers had misjudged––and not for the first time––the height of the Stanmore Bridge and that of the steamers' boiler. One could not, it appeared, pass unmolested through the other.
This was no malleable boiler, nor insubstantial bridge.
Begrudgingly, and after much too-ing and fro-ing it was decided that her grand unveiling must wait, and the passengers were forced to disembark, thwarted (yet, rather fortuitously, Wards Brewery was just across the way so the afternoon was not a dead loss). Once moored the maid was discreetly relieved of her boiler and tethered to the bank.
But that was not the end of her ordeal. Story has it that once darkness fell the Maid met with an even greater misadventure. Overnight some undisclosed saboteur loosened a bolt or two from her hull, and by morning the grand lady was up to her knickers in silt.
An unseemly end to a chaste adventure.
V.
In the spirit of a good story, I've often wondered if the original inhabitants of my cottage watched the steamer debacle from their porch, or even ambled down to the banks at the end of their street. Rightly curious about the misadventure met by a grand lady, perched in a most unladylike fashion on her side, with petticoats splayed.
I wondered if that evening they sat, snug tight in those (memory) familiar rooms that later housed the co-author of my infant experience, and wagered on the trickster's identity. The fire (whose place later took up residence in my first recollection) licking shadowy forms upon the white walls still (almost) brand new and paint-shiny.
Perhaps these same inhabitants were the forebears of the later Harper who shared my first memory? Whose later still, 'late' of number 28, funeral procession (of some 10,000 folk) lined those same banks, watching on from the shadows as his funeral cart trundled past, festooned with wreathes (most notably a miniature replica bicycle), over Stanmore Bridge toward the Avonside Anglican Cemetery.
I'd wager that Harper drew an even greater crowd than the embarrassed Maid.
But, those are stories for another time.
VI.
In 1898 (or thereabouts) it was thought by some that one could hear the voices of the dead over the radio waves––the 'invention of the wireless being based on the notion that an invisible yet material ether permeated the universe1. It was concluded that, furthermore, upon this ether (logically) traversed 'all vibrations, including light, sound and electricity'2. In short, the dead remained, as matter and light amid the intangibly tangible plateau of sound and silence, and of absence and presence.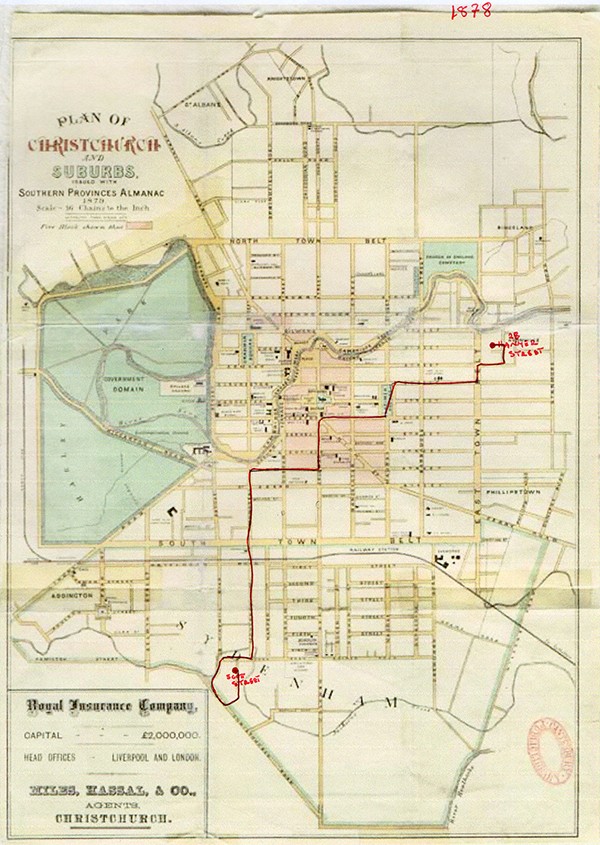 In an attempt to commune with my ghost I retraced his steps, or rather, I endeavored to complete his steps. I wondered if I might find him lurking somewhere in the ether? If I finished his bicycle journey home––from Scott to Hanmer Streets (audio recording all the while)––might he perhaps reveal himself over the radio waves? And as I listened back through my childhood transistor (straining for sounds of ghostly maws and fissures of electricity) would he also reveal the mysteries of my haunting, and the origins of my infant memory?
Anthony Enns, "Psychic Radio: Sound Technologies, Ether Bodies and Spiritual Vibrations", Sense & Society 3, no. 2 (2008): 138.

[2] Ibid