Enjoy
Blog
Contents
Welcome to our new website!
April 19 2016, by Emma Ng
We're incredibly excited to share it with you.
We hope you'll enjoy exploring its nooks and crannies and rediscovering the archive. It's rich, interconnected, easy to search, and holds 16 years worth of exhibitions, events, and publications.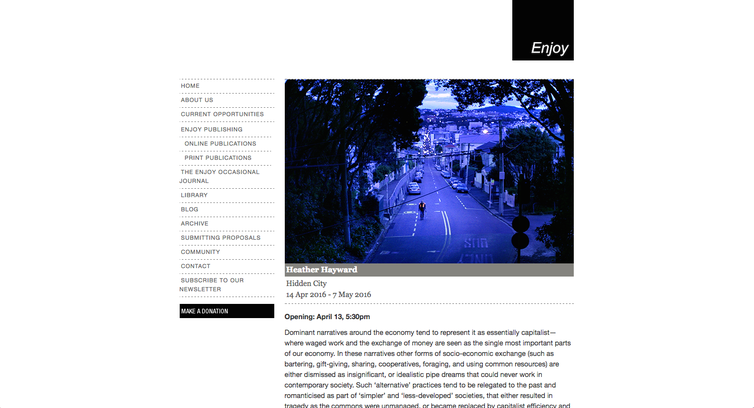 Many hands make
light

less work

This has been a huge undertaking, and we have many, many people to thank:

The team at Sons & Co.

All 70 of our supporters who donated to our Boosted campaign.

Enjoy's Trustees and Staff, past and present, with special thanks to:
Gary Peters (x1000), Louise Rutledge, Meredith Crowe, Clémence Vole, Jessica Hubbard, Ann Shelton, and Bryna O'Brien-Kiddey.

Our volunteers, interns, uploaders, and testers:
April Brimer, Ruth Stanton, Lara Lindsay-Parker, Shona Nielssen, Yvette Velvin, Sylvia Stump, Carolyn Harrison, Alexander Cheeseman, Airini Gordon, Amanda Simpson, Karena Hall, Tanu Agrawal, Jeff Hunt, Molly Gilpin, Nina Dyer, Rachel Cassey, Ruby Joy Eade, Gabrielle Amodeo, Ellyse Randrup, Hugh Chesterman, and Aria McInnes.

Assurity, Boosted, Creative New Zealand, Vicki Allpress-Hill, and Wade Pearson & Kate Anderson at Minter Ellison.
Check we've spelled your name right
As you roam over the next few weeks, we'd be grateful for some extra error-spotting. Whether it's a tech glitch or a typo, let us know by emailing Louise at comms@enjoy.org.nz. Those who find unusual errors (or are particularly talented at error-spotting) will be rewarded!