Enjoy
Blog
Contents
Dwelling in the margins: Katie Kerr reflects on A working week
December 05 2018, by Katie Kerr
Between 24 and 29 September 2018, designer Katie Kerr was in residence at Enjoy as part of the project A working week. In this blog, Kerr reflects on her time using the gallery as a site of development for her soon-to-be-published project Dirt with GLORIA.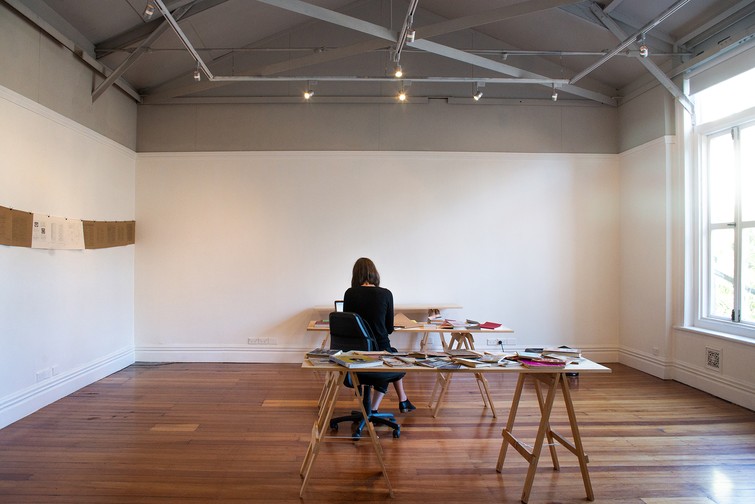 Conception

Editorial Research

Collection

Edit

Curation

Design Research
Design
Production
Promotion
Distribution
Regeneration
Initiated by Berlin-based photographer Alice Connew and myself in 2017, GLORIA is an intercontinental publishing platform that is interested in the possibilities of the artist-made book. Instead of collaborating with the external parties that are typically involved in the publishing process—editors, publishers, printers, distributors, marketers—Alice and I integrate a multidisciplinary approach that embraces the full arch of book-making. For better or worse, sourcing content, editing, designing, printing, distributing and promoting every book in the GLORIA canon is under our creative control. The artist/designer is deeply involved in every phase of the publishing process, meaning that we can produce objects that are a true expression of our intention.
I dwell somewhere in the margins between editor and graphic designer. When I develop a publication through GLORIA, I attempt to simplify the process by thinking of it as two lines of enquiry—one line is editorial research and produces content; and one line is aesthetic research and frames the design of the book. At a certain stage of the process, the lines come together to form the publication.
A working week came in the midst of my current project, as one line ended and the second began. The project, Dirt, is a collaboration with plant-based chef Gemma Walsh that experiments with the conventional recipe book. As well as showcasing some of Gemma's delicious dishes, the project speculates on an alternative narrative for New Zealand cookbooks from both an editorial and visual perspective.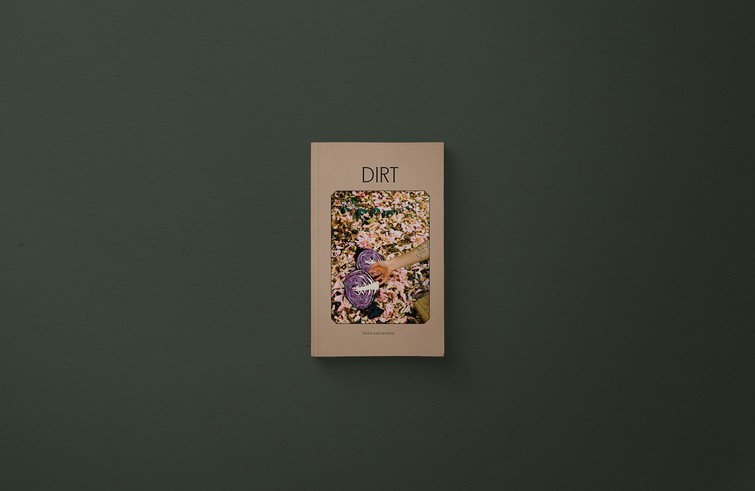 The editorial aspect of my work typically involves some form of "meeting"; an interview, a discussion, an event. For Dirt, Gemma and I hosted a series of dinners at her shared villa in Grey Lynn. On each occasion, a writer was invited to join us for the meal—a plant-based recipe artfully concocted by Gemma. After the meal, the writer was asked to respond to the experience with a piece of writing. The resulting work is a collection of stories, poems and conversations from the likes of Courtney Sina Meredith, Dominic Huey, Vanessa Mei, Lana Lopesi and Rosabel Tan, set alongside twelve recipes.
As a graphic designer by trade, GLORIA acts as antithesis to what I see as the downfalls of service-led graphic design. When I approach the design stage of a GLORIA project, I employ an orchestrated form of design research that incorporates deep-dive investigations into the form of the book. It often takes months to complete. The publications I consequently create look to the likes of Quentin Fiore and Richard Hollis in terms of experimenting within the standardised format of the paperback book. In opposition to the breadth of output produced in a commercial design practice, I focus on a single format, hoping to gain some form of tacit knowledge through the act of designing with craft-like repetition.
To some, it may seem counterintuitive to design a cookbook in paperback format. Most cookbooks we see and use today are glossy, hardcover mammoths. Decadently, recipes are given a whole page, coupled with a highly stylised photograph of the perfectly arranged dish. Both the food and the book are intended to be seductive. But our recipe books weren't always like this. Before the 1980s, New Zealand cookbooks were smaller affairs—spiral-bound, instructional pamphlets with up to six recipes per page—The Edmond's Cookbook is an example that endures. Community cookbooks were produced by various local bodies from sport's clubs to women's groups in act of collective, underground publishing, almost zine-like in nature. Using a selection of fifty or so local cookbooks from this era—which I borrowed from anthropologist's David Veart's incredible collection of 600 odd—as reference material, Dirt imagines an alternative future for cookbooks, one that is more aligned with that history.
Pre-order a copy of Dirt by visiting GLORIA at www.gloria-books.com or emailing Katie at studio@katie-kerr.com.