Death Workshop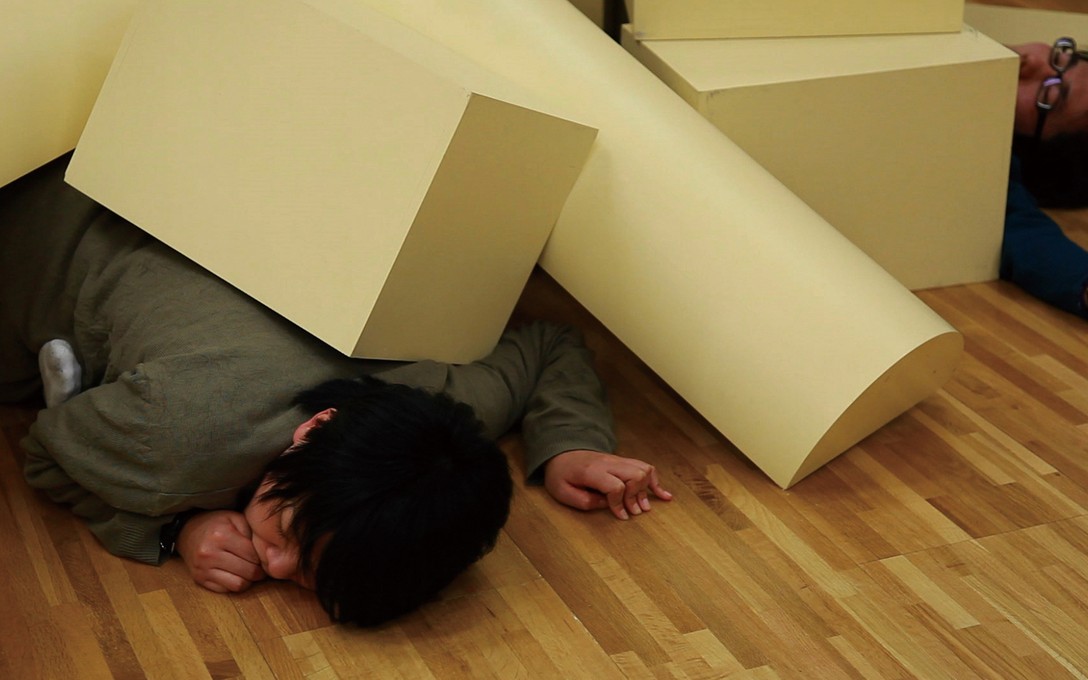 archived
14 Oct – 7 Nov 2015
Hiroharu Mori
Death Workshop documents a workshop project Mori undertook with a group of student actors over the course of several months. The students were asked to imagine how they will die (not how they wished to die) and direct other student actors in enactments of these scenes as a short play.
More
Forgoing a focus on dramatisation and creative theatre, the workshop instead asks the students to create scenes that are as faithful to their ideas about their own deaths as possible. The work vascillates between the mundanity of the workshop and rehearsal process, and the psychological challenges of the subject matter – pushing the students to occupy a position somewhere between acting and not acting as they consider their own mortality.
Another version of Death Workshop was made in New Delhi, India, with a group of students in 2012.
Read Kari Schmidt's review of the exhibition on the Up and Adam blog
About the artist
Hiroharu Mori works largely in video, installation and public interventions. His work has been exhibited widely internationally and in Japan, and he has undertaken residencies in Australia, USA, Germany, Poland and South Korea. His selected solo exhibitions include: Speech Rehearsals: students, housewives, politicians, Monash University Museum of Art, Caulfield, Australia, 2010; his speech, hiromiyoshii, Tokyo, 2009; and Hiroharu Mori is detached from the outside world, Artspace, Sydney, 2007. He has participated in numerous group exhibitions include: Invisible Energy, ST PAUL St Gallery, 2015; Dazzling, Garandô (Dazzling, Hollowness), The University Art Museum, Tokyo University of the Arts, Tokyo, 2010; Echigo-Tsumari Art Triennale 2009, Niigata, 2009; The City As a Stage, Royal Academy of Arts, London, 2008 and Think with the Senses - Feel with the Mind. Art in the Present Tense at the Venice Biennale in 2007.
He currently lives and works in Yokohama, Japan, and holds a Bachelor of Art from Tama Art University, Tokyo, a Masters of Fine Art from Cranbook Academy of Art, Michigan, and a Master of Science (Visual Studies) from MIT, Cambridge Massachusetts.