Document Scales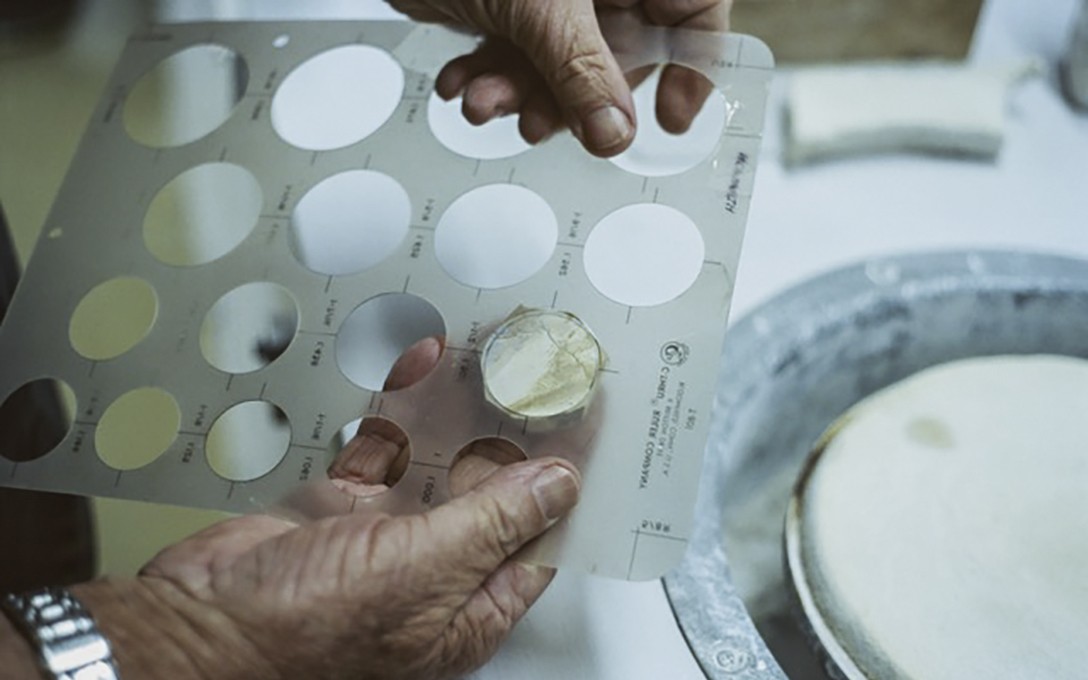 archived
29 Jul – 15 Sep 2022
Ziggy Lever
There is an awkwardness to the way in which a sheet of A4 paper fits inside of a foolscap filing box. 'Foolscap' in the name refers to the foolscap folio, a paper size that is uncommonly used and yet boxes made to its specific measurements are ubiquitous. Though they feel slightly too long for the A4 scale, the foolscap filing box has become standard in the storage of documents, receipts, notes and exchanges.[1]
On a visit to the North Shore Rockhounds, Ron holds a slice of rock up to a cabochon sizing chart. Here a series of holes are used to guide the shaping of the rock into predetermined scales.[2] The guides sit in old ice-cream containers, alongside the home-made tools and collections of the other rockhounds. Slices of rock, ready to be shaped are filed in trays under workbenches.
In the Neues Museum in Berlin, a display of delicate stone tablets and sheets of papyrus slide back and forth from within a series of hidden drawers. Pressing a button on the side of the cabinet labelled "Knowledge: Mathematics and Astronomy", the third drawer from the top slowly moves out and past the camera. After a short time, the drawer retreats, reducing its exposure to sunlight.
[1] The foolscap filing box usually measures 15x10x3.3" (381x254x84mm) and can be found in abundance in offices, archives, and homes.
[2] Cabochons are judged on their conformity to scale, as well as their subjective qualities
More
Image: Ziggy Lever, Site Visit, Rockhounds, 2021. Image courtesy of the artist.
Exhibition Essays
By Flora Feltham
Read online
Watch Neuse Museum Slides, the video component of Document Scales on Vimeo.
MATERIALS LIST
"blue rock" lino flooring (10x2m, partially unrolled), powered speakers and stands (grey), foolscap filing boxes IMPACT (cardboard yellow unfolded and stacked), foolscap filing box nets (aluminium, acrylic, lead), replica cabochon sizing guide (clear acrylic, from memory), extension cord (orange), pallet racking (steel, orange beams, green uprights), concrete removed from Enjoy Gallery floor (front room), document IN tray (grey, two levels), lead sheets (cut to foolscap folio 8x13"), half-room lights, photographic darkroom contact print glass (finger prints), aluminium sheet (orange, pen marks), cube and other "NOT-ROCK" objects found at Sulphur Beach, Tāmaki Makaurau (oyster shell, concrete), black glass (plaster drip), shadow aligning with video (at times), acrylic shelves, foam (green, circle), steel rod, counterweight, motor (clockwise rotation), oscillations and counter oscillations produced by the interaction of rotating steel rod and extension cord, quake wax, speaker wire, extension cords (black), Neues Museum Slides (digital video 4:05mins, 2019), WALL TEXT COPY: DRAWER 4: ART. The interest of the Greeks for Fine arts is demonstrated by the formulation of lists which, besides enumerating the most famous works of art and nature, also name sculptures, architects and painters (1). Designs and paintings are likewise attested on papyri and parchments (2-6). Some of these served as designs for weaving (2, 5, 6). DRAWER 3: MATHEMATICS AND ASTRONOMY. Arithmetic and geometry were strongly developed in Egypt (2) because of the importance of land surveying. Different levels of knowledge including higher mathematics (6) are attested by school texts (4), manuals and arithmetic tables (5,7). Mathematics was also the basis for astronomical calculations in order to ascertain the position of planets (1) and to compose horoscopes (3). DRAWER 2: SCHOOL. The pupils in Egypt had to copy letters, words and numbers as well as literary texts in school. A demotic papyrus preserves the earliest example of an alphabet (3). Written accents placed between the words, to facilitate the reading, are preserved on a school tablet inscribed with verses from the Iliad (5). Knowledge in writing and drawing could be applied in the administration, but also for the creation of reliefs and inscriptions (1,2). DRAWER 1: WISDOM. Teachings (1-4, 7) communicate the ides of behaviour and action according to the divine righteousness (Maat). They often take the form of a letter or of a text addressed to a son or a pupil. Such concepts of wisdom also found their way into non-Egyptian texts, as for example the Wise Words of Achiqar (6). The Dialogues of Plato also deal with ethically sound behaviour (5)., stereo sound of visitors to the Neues Museum (northern wing) and objects coming into contact with steel structures momentarily during installation (2019-2022), asphalt from outside ST Paul St Gallery, Tāmaki Makaurau (green loading zone), risograph prints of tables from G. Brocardo, Minerals and Gemstones of the World, (Italy: David & Charles, 1982) on pages 2. (Meteoric Iron), 8. (Galena), 16. (Hematite), 15. (Magnetite), 21. (Sulphur), 40. (Turquoise), 72. (Beryl), and 145. (Copper).