Join us for the launch of Thomasin Sleigh's new novel, Women in the Field, One and Two.
Set in London and Wellington of the early 1950s, Thomasin Sleigh's fascinating new novel, Women in the Field, One and Two, follows Ruth Bishops and Irina Durova, two very different women who are united by their professional and personal struggles within the patriarchal art world.
Ruth Bishops, an assistant keeper at the highly regarded Fisher Gallery in London, is unexpectedly given the role of London representative to the National Art Gallery in New Zealand. Her job is to recommend European and British artworks to be purchased for New Zealand's national collection. When Ruth ventures into the basement of Irina Durova, a charismatic Russian painter three decades her senior, she discovers a solution that reconciles her idea of that far-away country and her own modernist sensibilities.
Women in the Field, One and Two traverses both London and Wellington and explores broad themes such as post-war migration and reconstruction, how exhibitions and collections reflect a national consciousness, and the structural constraints that inhibit women's creativity and freedom.
"Behind every item in a museum or art gallery there is a fascinating story about how it came to be there," says Sleigh. "Collections are not static or neutral, they are reflections of the society in which they were created. Though the story this novel tells is fictional, I wanted to place it in the real world to explore how women's art has been treated by history, and the methods women have had to employ in order to be heard and for their artwork to be seen."
Brannavan Gnanalingam, an author and production manager with Lawrence & Gibson, will launch the book at Enjoy Public Art Gallery on August 10. He says, "Women in the Field, One and Two charts a trans-hemispheric journey as relevant to today as to the time it was set. Thomasin holds at arm's length our expectations of London and Wellington in the 1950s and instead reveals the complex ways in which culture is formed: often by serendipity and personality, as much as planned decisions."
PRE-ORDERS are now open and will be sent out the week of the launch: http://www.lawrenceandgibson.co.nz/p/women-in-field-one-and-two.html
For review copies and more details please contact Lawrence & Gibson:
lawrenceandgibson@gmail.com
www.lawrenceandgibson.co.nz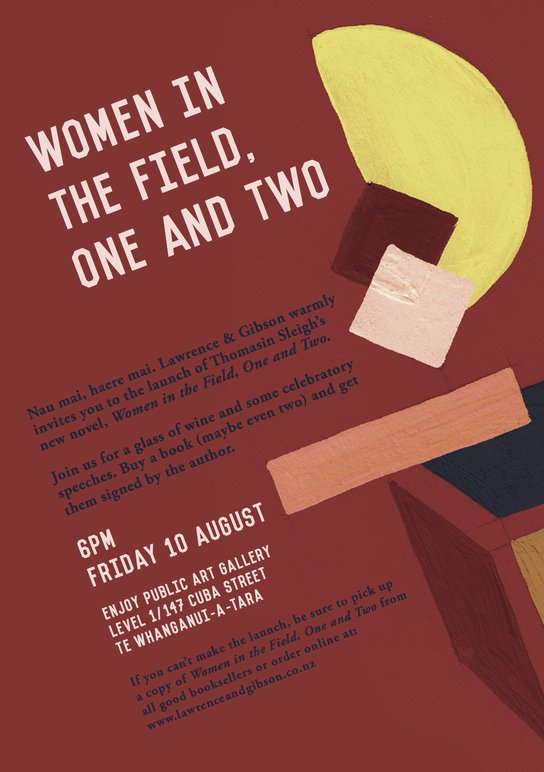 Thomasin Sleigh's art criticism and commentary has been published widely. Her debut novel, Ad Lib, was selected by the New Zealand Listener as one of the top 100 books of 2014. Her two novels are extensions of her art writing, as commentary on visual culture and the nature of art, making her a unique voice in Aotearoa's literature.