Join us for a free composting workshop with Seeds to Feeds on Saturday 5 August.

Learn how to take climate action with your food scraps, make great compost, and keep the rodents away! A strong focus will be on doing this in a small space like an apartment or office.
Composting done responsibly creates a great garden resource while reducing household waste, carbon emissions, and protecting native species.
This workshop will answer your composting questions, including what composting set-up would be best for you, and how to make sure you're not attracting rats.

Suitable for beginner and experienced composters alike.

If you're a Wellington City Council resident, we will give you a rat-proof compost kit free of charge.

Supported by Wellington City Council, Wellington Sustainability Trust, and KaiCycle.

REGISTRATIONS ARE ESSENTIAL:
https://www.tickettailor.com/events/seedstofeeds/964267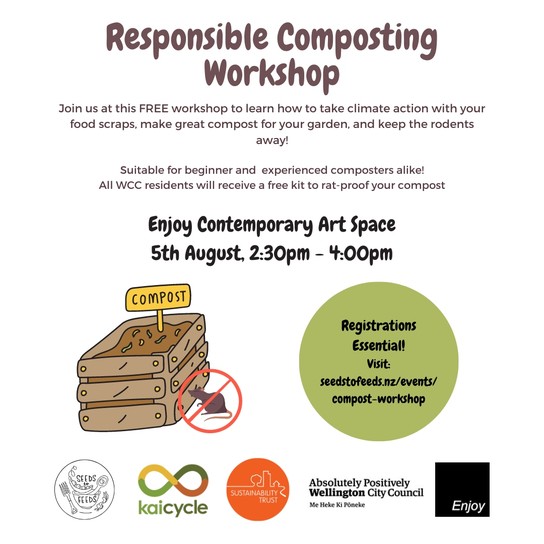 ABOUT SEEDS TO FEEDS:

Seeds to Feeds aims to provide a safe environment where people can develop new skills, build their confidence, and gain a sense of achievement with their community which in turn creates strong bonds and a greater sense of whānau and belonging.

Their programme is largely based around community-led events consisting of workshops, working bees and educational talks, which coincide with the timing of necessary garden actions including planting, fertilising, foraging, harvesting, preserving, and so on.
Read more about Seeds to Feeds here.