On the last day of the Enjoy Art Book Fair, Enjoy is pleased to host an afternoon of conversations that consider the distribution of art and creative practice through printed and online media. With presentations from Cassandra Barnett (Black Marks on a White Page), Matthew Galloway and Caitlin Patane (Art+Australia), the talks will consider visual art's place alongside literature, self-publishing as an artistic and political practice, and the shifting role of art magazines within our current publishing climate.
11:00am – Matthew Galloway
Matthew will discuss his recent project The Ground Swallows You and its recent presentations in the refugee camps of Western Sahara part of ARTifariti 2016/After the Future (2016); Provincia 53. Art, Territory And Descolonization, Leon, Spain (2017); and Melfas. Línea orgánica, Buenos Aires, Argentina (2017). As graphic investigation into the geopolitical implications of our economic systems and the trade agreements that connect New Zealand to the disputed territory of Western Sahara, The Ground Swallows You (Parts I & II) has been presented as poster works, wall drawings and sculptures, accompanied by self published, freely distributed newsprint publication.
2:00pm – Caitlin Patane
Caitlin is a practicing artist who currently works as a research assistant at Art + Australia and will discuss the recent changes and relaunch of the publication. Established as Art in Australia in 1916, Art + Australia has recently been renlaunched as a bi-annual print journal; a digital platform (A+A Online); a small books imprint (A+A Publishing); and a series of other discursive activities and residency opportunities (A+A Publics) following its presentation to the Victorian College of the Arts (VCA) at the University of Melbourne by Eleonora Triguboff in 2015.
3:00pm ­– Cassandra Barnett
Recently published in the Oceanic anthology Black Marks on a White Page, Cassandra will reflect upon her own work Pitter Patter Papatūānuku: Monologues of 3 Gods, which takes it's initial inspiration from the work of Alex Monteith, and the place of visual arts within the publication, not as an illustration, but as another mode of storytelling.
Publications from the fair will be available for purchase, cash sales only.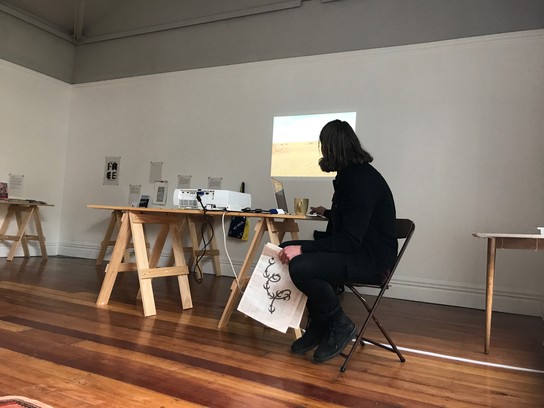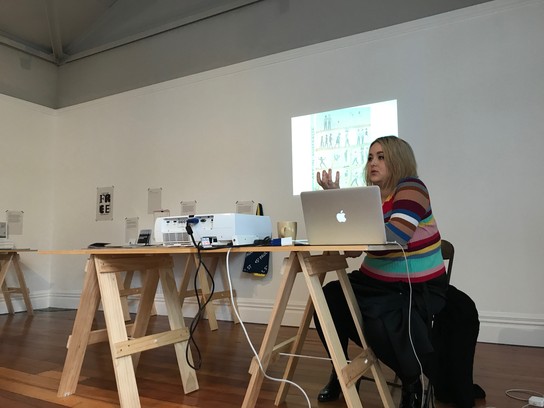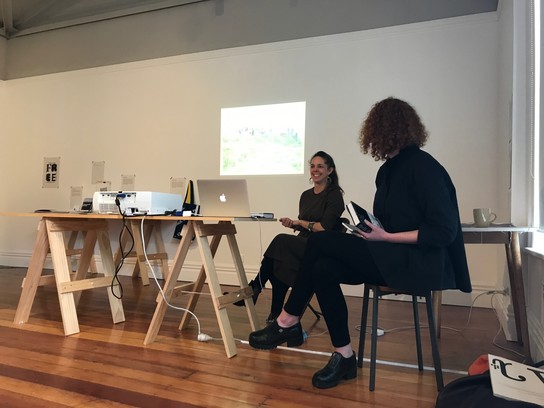 ABOUT THE PRESENTERS
Cassandra Barnett is a writer and theorist raised in Auckland but with roots in the Waikato (Raukawa ki Wharepūhunga). She writes ficto-poetry, ficto-criticism and scholarly essays about contemporary Aotearoa and beyond, exploring questions of indigeneity, belonging, Whakapapa, diaspora, cultural multiplicity and the endless flux of identity. In keeping with this flux, Cassandra's work weaves together Māori cosmologies, fictive practices and molecular, rhizomatic and decolonising Western philosophies. She holds an MA (Continental Philosophy, Warwick)a and a PhD (Media, Film and Television, Auckland), and is a Lecturer in the School of Art at Massey University, Wellington.
Matthew Galloway is currently based in Dunedin, New Zealand. His research-based practice employs the tools and methodologies of design in an editorial way, and within a gallery context. This way of working emphasises design and publishing as an inherently political exercise and involves an interdisciplinary approach to producing publications and art objects. In 2016 he was a selected participant in Talente International Craft Fair, Munich, Germany; and ARTifariti 2016, Tindouf Algeria. Recent and upcoming exhibitions include; Provincia 53. Art, Territory And Descolonization, Museo de Arte Contemporáneo de Castilla y León, Leon, Spain (2017); Melfas. Línea orgánica, Museo de arte contemporáneo del Sur, Buenos Aires, Argentina (2017); This Time of Useful Consciousness, The Dowse Art Museum, Wellington, NZ (2017); Beyond Exhausted, The Physics Room, Christchurch, NZ (2016); grammars, Dunedin Public Art Gallery, NZ (2016); Beachhead's PEACE OF MIND, Artspace, Auckland, NZ (2016); The Ground Swallows You, Blue Oyster Art Project Space, Dunedin, NZ (2016).
Caitlin Patane is a practicing artist living and working in Melbourne. Her work focuses on writing, drawing, and an engagement with text and texts. She is interested in publication and editing as artistic practice, and the space between literature and conceptual art are investigated. Her practice is concerned with ideas around translation and the social potentials of language in its many forms.