I Live Here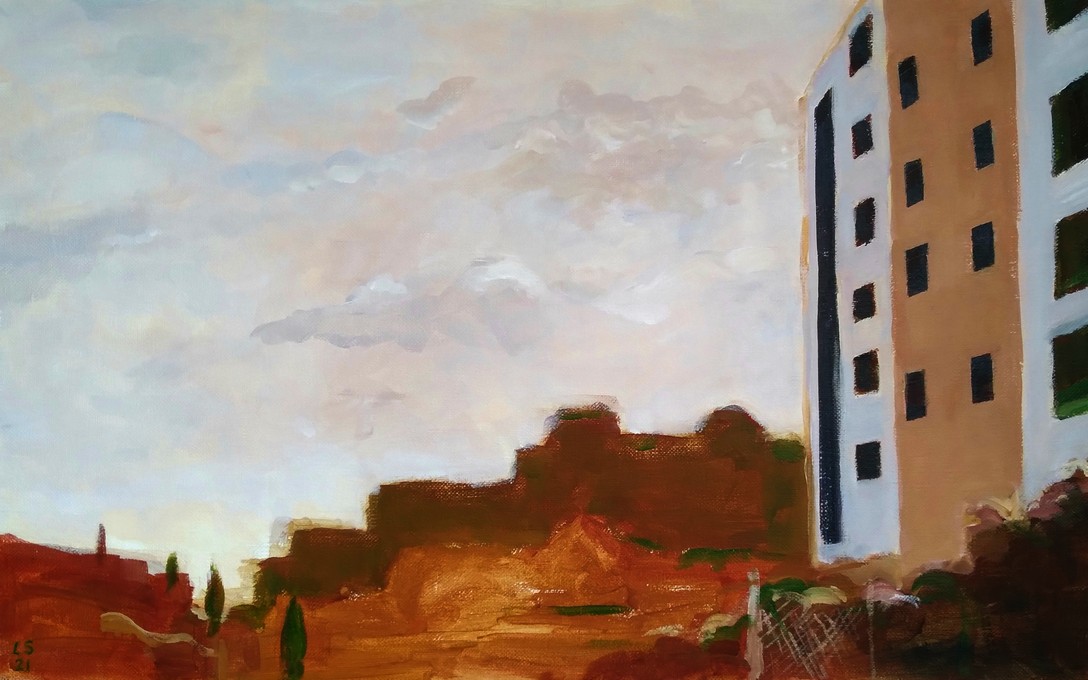 archived
29 Apr – 24 Jun
Donna Jenkins, Luke Sullivan, Ngata Reihana, Reece Tong, Rosemarie Bowers, Tzukeet Newman
I Live Here is an exhibition organised by Pablos Art Studios featuring the work of Ngata Reihana, Luke Sullivan, Donna Jenkins, Rosemarie Bowers, Tzukeet Newman and Reece Tong.
More
I Live Here is an exhibition by Pablos Artists who make work about homes, houses and dwelling. Among the hugely diverse range of artists who use Pablos Art Studio, there are some who produce work illustrating an intuitive draw towards the lived environment of Pōneke. Through a variety of mediums, the exhibition sensitively presents perspectives of living in the region that are rarely heard or seen.

The artists exhibiting in I Live Here carry distinct voices through their photography, sculpture, drawing, painting, collage and printmaking. Ngata Reihana creates absorbing freehand op art and lovingly crafted bird houses. Donna Jenkins has created an intimate village mixing diorama, model and assemblage that reflects rural life. Rosemarie Bowers' drawings weave together the familiar and unfamiliar scenes from urban and suburban Wellington in such a way we can see the passing of time. Luke Sullivan captures both charm and challenge in a collection of masterful and evocative paintings and sculptures. Tzukeet Newman's illustrations make an accessible translation of immense complexity to palpable simplicity. Reece Tong brings a lifetime of art making to distill the architecture of Robert Scott in paintings and sculptures.

Pablos Art Studio is a free-to-use community art studio that the public can access to achieve mental wellbeing. The space has been operating for nearly 30 years and has served hundreds of artists over that time. Many of the artists that use the studio live on the breadline and have experienced a great deal of stigmatisation and prejudice. These artists are tāngata mātau-ā-wheako, people who have lived experience of mental health, housing insecurity, incarceration and homelessness. Within their own lives and within the studio, they have developed inspirational resilience. Pablos recognises the importance of affirming identity through art and similarly, these artists affirm their identities in Wellington's strenuous housing landscape in I Live Here.
Header image: Luke Sullivan, Cityscape, hazy sky, 2021, acrylic on canvas, 610 x 400mm.
Curated by Pablos Art Studios
Past Event
Views from the place where we live: a discussion with creative Pōneke housing tenants.
More info
Ngata Reihana
Ngata Reihana (Ngāti Porou) is a self-taught artist who works fluently with sculpture, 2D visual art and music. "You do the best you can and sometimes it's pretty good, and other times it's ... well .. You know. At least he tried."
Luke Sullivan
Luke Sullivan is a long-standing member of the Pablos Art Studios community and prolific cross-disciplinary artist. He paints and sculpts based on sketches he makes at sites like Manners Street Burger King, St Thomas' City Mission, where he was volunteering and more. Luke has lived in different types of accommodation in Wellington, from a halfway house to shared private rentals and council housing. "Sometimes the artwork is about memory."
Donna Jenkins
Donna Jenkins has been attending Pablos for a number of years. Before that she was attending King Street Artworks in Masterton. She works across media from sculpture to animation, from textiles to painting.
Rosemarie Bowers
Rosemarie Bowers has been attending Pablos for over 7 years. Her work predominantly consists of residential scenes within a real and imagined Wellington from her unique perspective.
Tzukeet Newman
Tzukeet Newman is a Wellington musician and visual artist who proudly engages with her Autism. Both her visual and audio art is narrative and intimate.

Reece Tong
Reece Tong is a career artist and Pablos is his studio. He currently lives in supported housing in Miramar. Reece's work has been exhibited and sold in Sydney, Melbourne, Paris and New York as well as New Zealand. Reece was one of nine artists representing New Zealand at the 2009 New York Outsider Art Fair.
"I paint, draw and do 3D work, on found objects. I often use one image or symbol in a painting or sculptural piece before moving onto another symbol in the next thing I do. I also use words in my paintings."