Le 'Welsh' Man's 24hour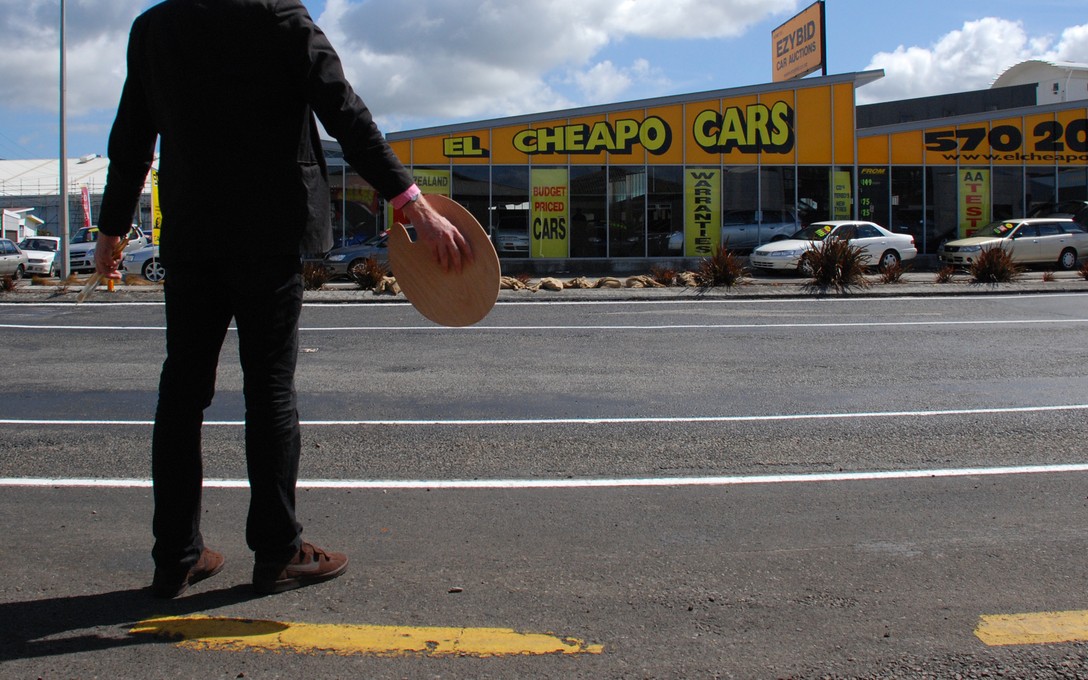 archived
12 Feb – 12 Feb 2009
Bedwyr Williams
One Day Sculpture
Feeling that every one of the 24 hours should count, Bedwyr Williams' contribution to the One Day Sculpture series brings us the union of motor-sports and art.
More
Williams' work will take the form of an art gumball rally around Wellington, a rally where he is the only contestant. Requiring exceptional endurance, this event will see him attempting to complete 24 paintings in 24 hours travelling from location to location in a used station wagon.
The subjects of Williams' paintings will vary—from people and landscapes, to pets and buildings. Working spontaneously, Williams will lay himself bare to the rattle and unpredictability of everyday life on Wellington's streets and byways, creating a build up of both anticipation and art. Growing over the day, Le 'Welsh' Man's 24hour will culminate in a grand unveiling of 24 paintings - the physical and visual interpretations of his subjects.
When producing his One Day Sculpture project, Williams will draw on the quirky banalities of his own autobiographic existence—an extraordinarily tall Welsh man and artist arriving in New Zealand for the first time. He'll spend his research time trawling the streets of Wellington to map out a one-man marathon, and following that will attempt an epic and mobile reproduction of his encounters and experiences of life in Wellington. The results of his intense art rally will accumulate by the hour, stored in a rack on the roof of the car to speed up the drying process.
The curator of Le 'Welsh' Man's 24hour Siv B. Fjærestad notes: "the project can be viewed equally as a race against the limitations of art itself, or being an artist today and the pressure of applying an artistic/anthropological observation to place and locality."

Join the mad dash at any point during the 24 hours—from midnight (Weds/Thurs) and the starting line outside Enjoy, or Mt Victoria lookout or Watusi for a drink at the start of Williams' mission. Later locations will include the Brooklyn wind turbine at sunrise, the lion enclosure at Wellington zoo, a pie shop in Petone and Breaker Bay at sunset as he travels to both the picturesque and the idiosyncratic.
Keep an eye on Bedwyr Williams' daily blog at bedwyrwilliams.wordpress.com for updated info about his movements, plans and encounters in Wellington, or see the One Day Sculpture website for full dtails, times and locations.
Read David Cross' response to the work on the One Day Sculpture website.
Curated by Siv B. Fjærestad
Catalouge
Edited by Jeremy Booth
View PDF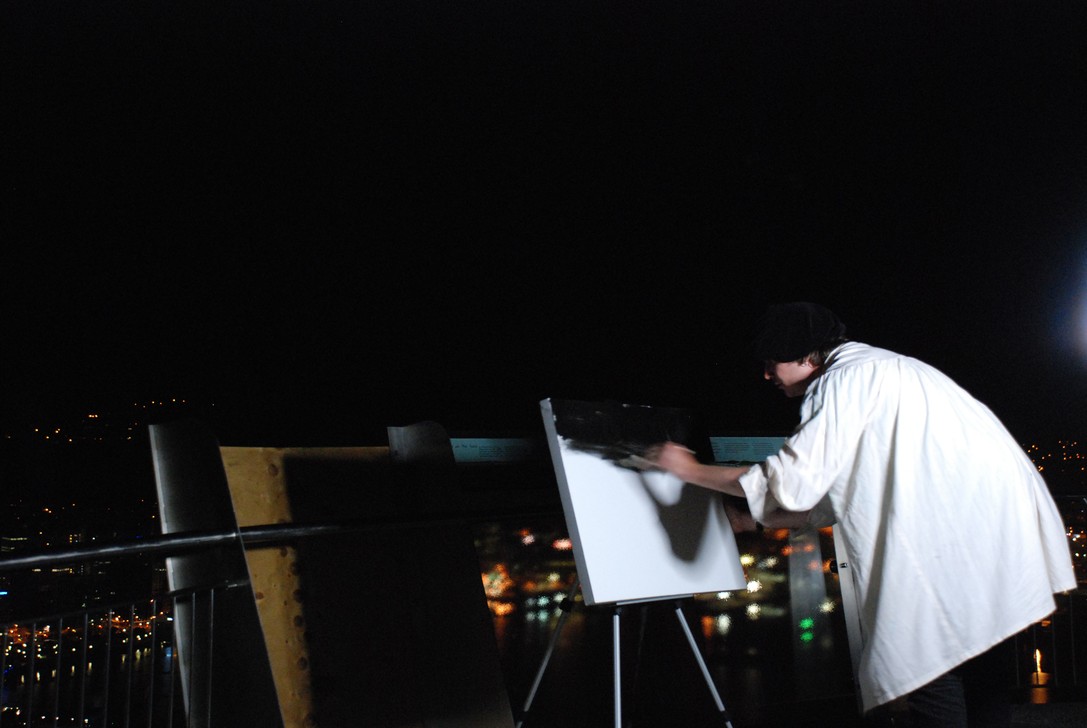 One Day Sculpture is a nationwide series of 20 individual temporary artworks by leading New Zealand and international artists. It is a Massey College of Creative Arts, School of Fine Arts, Litmus Research Initiative.
Bedwyr Williams' One Day Sculpture project Le 'Welsh' Man's 24 hr is made possible by generous support from Wales Arts International, British Council, Wellington City Council's Public Art Panel, Creative New Zealand and the Enjoy community