Wishing Well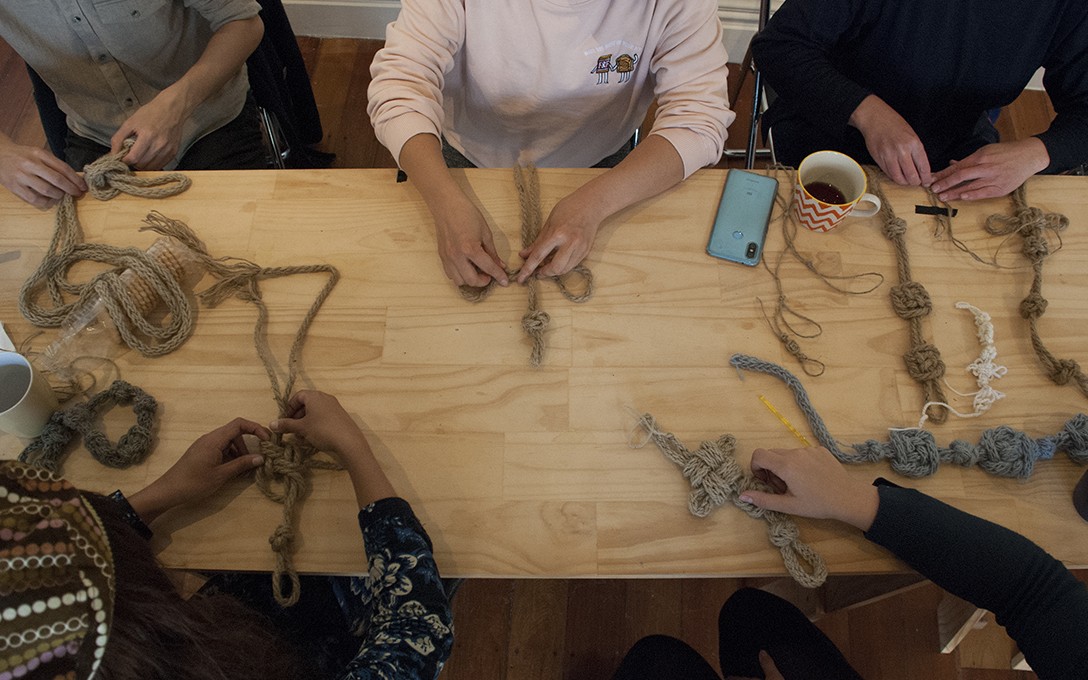 archived
10 Aug – 7 Sep 2019
Wai Ching Chan
The Button knot: holding what was separated together
The 'Caisson' knot: establishing connection to the 'world' and us
The Endless knot: Typically seen as the 'good luck knot'; ultimate, eternal blessings, friendship and connection
More
Wishing Well is part of an ongoing research project by artist Wai Ching Chan that takes Chinese Knots 中国结 as a starting point to explore relationships between tauiwi and Tangata Whenua in Aotearoa New Zealand.
The installation is developed following two one-day workshops held earlier this year at Enjoy, during which the artist led a range of participants in learning three traditional knots. These events also acted as an invitation to make conversation and to broadly consider the symbolism of knots—and whatever else came about through the learning process—in dialogue with others. While Chinese Knots are sometimes misunderstood as merely decorative objects, they create material links between the past, present and future.
Wishing Well collates knot-making by workshop participants with new and existing work by the artist, extending this enquiry to the space of the gallery. Traditionally made using red thread, the knots that make up the installation are instead made with materials that are accessible in craft and convenience stores, including brown twine used by the artist's family to send care packages from Hong Kong to Tāmaki Makaurau Auckland.
Approaching knotting as a means to bind fragments of heritage, remembrance and connection, Wishing Well proposes the practice as a material language that has the potential to "speak between" shared values while respecting difference.
Publication
Includes contributions from Arapeta Ashton, Simone Kaho, Hēmi Kelly, Vea Mafile'o, John Vea and Kirsten Wong.
More info
Wai Ching Chan, interview by Don Luchito, The Amplifier Show, RadioACTIVE, 8 August 2019.
ABOUT THE ARTIST
Wai Ching Chan's research revolves around defending, embracing and respecting differences in culture. Recent projects include: Fluid Borders 流动的边界, Audio Foundation, Tāmaki Makaurau; A temple, a commons and a cave, MEANWHILE, Te Whanganui-a-Tara Wellington ; The River Remains; ake tonu atu, Artspace, Tāmaki Makaurau; What We Do in the Shadows, TONENTON Artspace, Hamburg; BITE ME- Decolonising the Diet, Lowtide Studio, Tāmaki Makaurau, Rabbit on the Moon, Hapori vol. 6, 157 Symonds Street, Tāmaki Makaurau.