and my heart is soft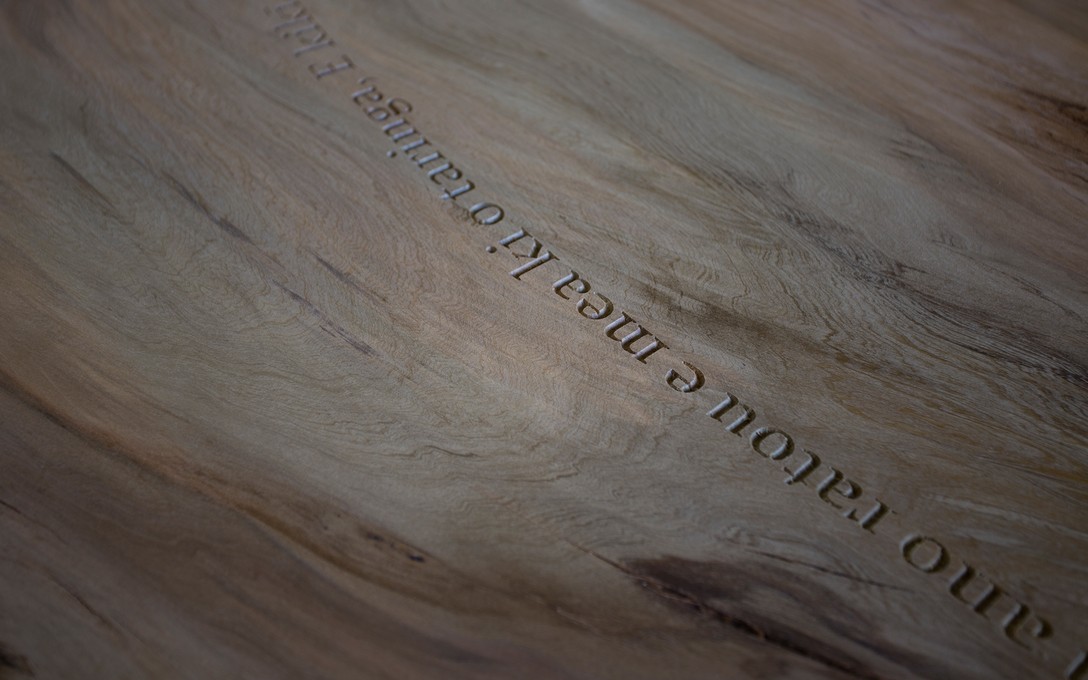 archived
12 Apr – 6 May 2018
Ange Perry, Bronte Perry
and my heart is soft is an installation of sculpture and weaving by Ange and Bronte Perry. As mother and child with Pākeha, Māori and Croatian heritage, their collaboration confronts the ideas of unknowing and re-learning, exploring gaps and incommensurabilities in cultural knowledge and whakapapa through an open-ended, materially-driven dialogue.
More
For this exhibition, Bronte has worked predominantly with text and timber, sourcing large cross sections of Pohutukawa and swamp Kauri and engraving passages of text into the wood. Based on English and Te Reo Māori translations of religious psalms from the Croatian Bible Novi Zavjet i Psalmi, the texts reveal the uncertainty of translated language as different poetic meanings are used to describe experiences of loss and mourning. For instance, the notion of being 'broken hearted' or 'soft hearted' referred to in these translations creates room for vastly different interpretations.
While Pohutukawa is often recognised its strength and beauty, swamp Kauri, large forests of felled trees preserved underground in the swamps of Northland, is a particularly charged material—an ancient tāonga, a scientific resource committing environmental changes in Aotearoa to carbon, and a precious commodity as one of the world's most expensive timbers. It also has particular significance within the artists' family history. As Bronte notes, the Kauri "gumfields brought my tupuna together, Māori, Croatian, Pākehā…they earned a living stripping and tearing at the earth with great ferocity to harvest the gum beneath."
These timber works are presented alongside two woven tāniko by Ange, which take the stories of her Croatian Grandfather and Māori Grandmother as starting points. For the artist, the process of learning how to weave has been intertwined with developing a reconnection to Te Ao Māori after years of discouragement within colonial and religious contexts.
Working with this challenging weaving technique—where coloured horizontal threads are introduced to the whatu twining technique, combining full and half twists to bring one or another colour to the front to create intricate geometric patterns—both tāniko represent family meetings and stories and are linked by the sea and migration. The first, a creamy muka (Harakeke fibre) colour with a blue and yellow Croatian star pattern, is based off the design and palette of a blue leather bottle that belonged to Ange's grandfather and was brought from Croatia to Aotearoa. The design of the second—rendered in traditional black and red—represents a "pathway to the sea"—the location where Angela's grandparents first met.
Presented in the gallery laid over basalt rock and other natural materials, the work of both artists refuses to claim a single authoritative identity, but instead brings successive generations and cultural ideologies into active discussion.
Read Jane Wallace's review Intimacy and the Environment in Salient
Exhibition Essay
by Heidi Brickell
Read online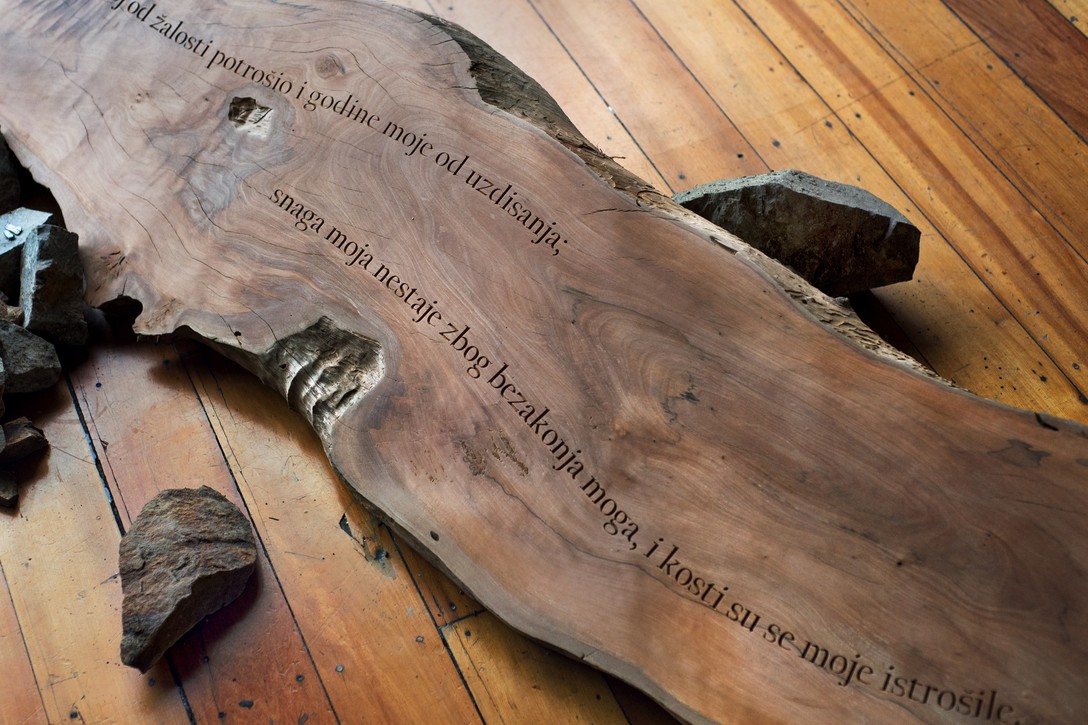 About the artists
Bronte Perry is an artist based in Tāmaki Makaurau. Born 'n' bred in South Auckland, Perry is interested utilising the ideas of whakapapa, whanaungatanga and lived experiences to explore socio-political contexts through immersive installation and sculpture. They have recently graduated with a Bachelor of Fine Arts Honours, from the Elam School of Fine Arts at the University of Auckland.
Ange Perry is based in Tāmaki Makaurau. Emerging from a highly religious upbringing, Perry uses raranga (weaving) to relearn her whakapapa and cultural heritage as a way to heal. Perry has completed her Kāwai Raupapa level four certificate in Māori visual arts at Te Wānanga o Aotearoa and is currently completing her Toi Paematua Diploma.