Enjoy
Blog
Contents
Erwin Olaf: The Suggestion of a Story
August 23 2013, by Clare Callaghan
Erwin Olaf is a unique Dutch artist who creates his work through often haunting, cinematic drama. His photographs possess an emotional stroke of brilliance throughout each artwork, connecting the photographs together to create a cohesive and expansive story; or rather the idea of a story, the suggestion of a story. He does not explicitly inform the viewer, he creates his work for interpretation, to suggest narrative rather then impose it.
One glance of his work allows us to become submerged in another world, one he has created to make us fall into his psychological cosmos of emotional remorse, grief, sadness and loneliness.
The despair lies in correlation with a fantastical twist, the beauty and contemporary influence that informs his pieces. He explores how a particular, emotive moment looks, and he delves into the psychological impact behind the imagery. Olaf's artwork creates a dystopia of flawless beauty evolved from pain.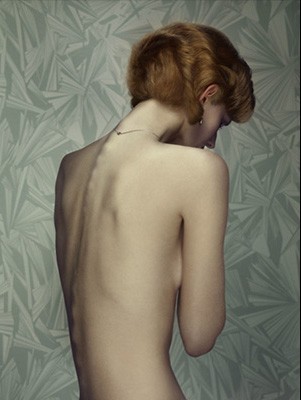 This image from Olaf's series 'Keyhole' embraces the theme of shame, as we the viewer become a voyeur on this journey of private humiliation. We conceive the possibility that we are seeing the self reflective, quiet time of Olaf's subjects who, like many, feel detached and alone within this world. This beauty confuses us at first as we try to push past the impeccable aesthetic of the image itself.
As we continue through the images within the series, this constant show of regret, longing and pensive hopelessness tugs at the heart of the deep-rooted meaning in these artworks.
Erwin Olaf is a Dutch photographer with numerous international group and solo exhibitions, including George Eastman House, Rochester, USA; Maison Européenne de la Photographie, Paris; Chelsea Art Museum, New York; Museum voor Moderne Kunst Arnhem; Kunsthalle, Winterthur, Switzerland and the Museum of the City of New York, New York. Solo exhibitions include the Stedelijk Museum, Amsterdam, Bilbao Art Centre, Bilbao, Spain; Groninger Museum, the Netherlands; MonteVideo, Amsterdam; Modern Art Gallery of Bologna, Bologna, Italy; Museum of Modern Art, Moscow, Russia; The Hague Museum of Photography, The Hague; Photo Museum Antwerp, Antwerp; Institut Néerlandais, Paris; Domus Artium, Salamanca; Hermitage, Amsterdam; Rijksmuseum, Amsterdam.