Enjoy
Blog
Contents
Deanna Dowling at VideoARI, Melbourne
September 27 2015
VideoARI brought together single-channel video works selected by artist-run-initiatives from across Australia and New Zealand. With a focus on artist-run-initiatives from outside of Melbourne, the exhibition operated as a platform through which the participating artist-run-initiatives could highlight a single video work from their region and present this within the Melbourne context. The works are displayed simultaneously across a dozen monitors, in a cacophony of video.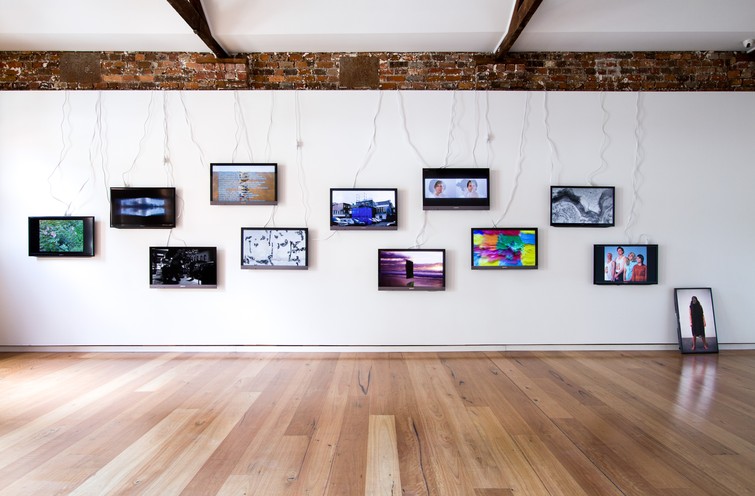 This exhibition was been organised by Screen Space Co-Directors Simone Hine and Kyle Weise and presented as part of Channels: The Australian Video Art Festival
List of Works and ARIs, Left to Right
Wellington St Projects (Sydney)
Rafaela Pandolfini, Wind, 2014, 02:59. Sound - Dominic Kirkwood
Sawtooth ARI (Launceston)
Darryl Rogers, Metascape Launceston #2, 2011, 5:14.
MOANA (Perth)
Casey Ayres, Untitled, 2014, 15:12.
Pilot (Hamilton)
Karl Bayly, Instructions for further development, 2015, 5:02.
MOP (Sydney)
Peter Nelson, Landscape Tractate, 2015, 10:16.
Enjoy (Wellington)
Deanna Dowling, Bay 133, 2014, 11:57.
The Walls (Gold Coast)
Jason Haggerty, Perlin Emanation, 2015, 2:35.
FELT Space (Adelaide)
Jenna Pippett, Mother Mask, 2013, 00:24 second loop.
Paper Mountain
Lauren McCartney, Tearing Down The Grid With My Breath, 2014, 1:28 (loop).
Rm (Auckland)
Sonya Lacey, By Sea, 2015, 9:07.
BRUCE (Dunedin)
Ted Whitaker, How to Check For Melanoma, 2014, 03:24.
Boxcopy (Brisbane)
Anastasia Booth, Portrait of Baubo, 2015.
Screen Space is an independent not-for profit art gallery that opened in 2010. Screen Space is rent-free for artists and curators and incorporates four exhibition spaces within a converted warehouse in Melbourne's CBD. The gallery has a curatorial focus on exhibitions that incorporate screen technology or which engage with screen culture, regardless of medium. The 2015 Screen Space program includes exhibitions by local, interstate and international artists and curators.