Enjoy
Blog
Contents
Reading List
October 01 2015, by Louise Rutledge
If you have walked up the stairs to visit the Book Fair this week, you may have noticed a computer sitting in our library space. As reading is on our minds, we thought we would share with you some of our favourite online haunts.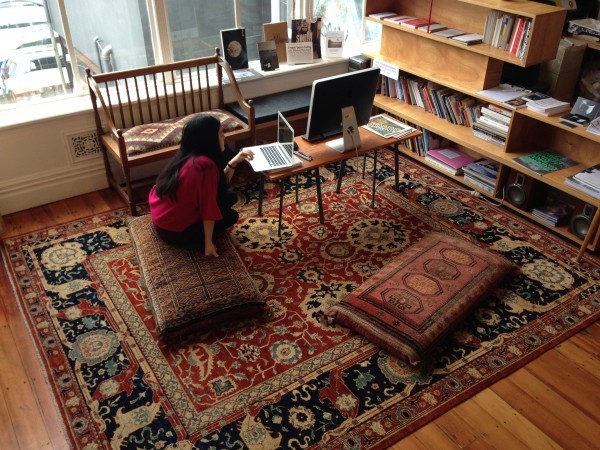 West Space Journal (2013 – current)
The design of this journal alone is enough to place it top of the list. With four issues published, the journal offers an online platform for criticism and commissioned works. Published by West Space (a non-profit artist-led organisation based in Melbourne, Australia), each issue presents a different thematic focus (e.g. Issue 2: Human geography and the translation of form, Issue 3: The production and experience of time) and incredible interactive homepages to navigate.
un Magazine (2004 – current)
un Magazine is a free, independent contemporary art magazine published in Melbourne, Australia. With new editors and sub-editors yearly, each bi-annual issue has a different editorial premise and brings together essays, art works, poetry and arts writing in all its idiosyncratic and experimental forms. Since un Magazine in usually* only available in print in NZ from The Blue Oyster and The Physics Room, thank god they publish their back issues online.
*we may have the latest issues available for free at the gallery…
Matilda Fraser: Against Efficiency and other texts (2015)
Responding to the question 'is criticism still relevant?', Matilda Fraser's collection of texts considers how we read, what we read, the ways we experience and attempt to understand art, and the role of criticism within the value-exchange systems surrounding current approaches of critique. Commissioned by the Blue Oyster Art Project Space and The Lumière Reader as part of their 2015 Summer Residency.
www.lumiere.net.nz/against-efficiency
Newcall (2008 - 2010)
Newcall Gallery was a studio-based collective and artist-run space situated in Newton, Auckland. Alongside an exhibition programme of exhibitions, the gallery developed a critical programme that included show texts, essays and reviews. Highlights from their texts include an account of the 2008 NSFW "reunion show" and an essay by John Ward Knox on Fiona Gillmore.
You can also find more texts by John Ward Knox on his website
Natural Selection (2004 – 2010)
Natural Selection is somewhat of a time capsule. Designed by Warren Olds and edited by Gwenneth Porter and Dan Arps, the magazine focused on creating a platform for art reviewers across Australia and New Zealand. From the reviews to poetic responses and rambling accounts, interviews, conversations, artist pages, a poster issue and even a telepathic drawing session, all seven volumes are available online as "a PDF that people can print out and assemble as a craft project." (we have the printed versions in our library, if you're feeling craft-less). Keep an eye out for Enjoy in Issue 1.
Artspace (1986 – current)
Since 2013, Artspace (Auckland, founded in 1986) has commissioned a series of critical essays in response to their exhibition programme. Designed by Index and available free online, the PDFs offer subject, critical and expanded views for eight of the gallery's group and solo shows.
Robert Leonard
The website of Robert Leonard, the current Senior Curator at City Gallery, brings together on a rich archive of catalogue essays, interviews and reviews from 1989 – 2015). Featuring multiple essays on some of the big names in NZ (such as Michael Stevenson, Peter Robinson, et al. and Yvonne Todd), the collection of writing charts his career from the National Art Gallery to Artspace, over to Brisbane, the Biennales and back. Dedicated to the artists he admires and a sharp commentary on the direction and focus of the New Zealand art scene, be prepared to be lured in by the provocative titles Feminism Never Happened, Peter Madden: Orgasm and Trauma, Nostalgia for Intimacy or Simon Starling: Please Explain.
And don't forget:
The Pantograph Punch (a particular favourite of ours)
Ubu Web: AN Anthology of Conceptual Writing
Triple Canopy
e-flux journal