Enjoy
Blog
Contents
In the papers
April 27 2016, by Louise Rutledge
Over the past fortnight the gallery is lucky to have had two beautiful newspapers delivered to us: Speaking Places: How to work and The Ground Swallows you. Copies of both publications are still available from Enjoy.
Speaking Places: How to work by Ella Sutherland and Mathew Galloway is the resulting publication from a year long public art project the duo were comissionsed to do in Hamilton, funded by Wintec and the Hamilton Council and curated by Kim Paton. Unfortunately, the council canned the public art series. Ella and Matthew decided to publish the newspaper regardless, changing the focus of the publication to reflect on their experiences of the project.
The paper features essays by Kim Paton, Matthew Galloway, Ella Sutherland and Peter Gibbons and questions how graphic design might offer alternative perspectives of a city, as both a concept and communal space. It reveals why Hamilton was once bizarrely known as 'The City of Fountains', alongside discussions of urban planning, civic identity and the expectations of what public art should look like and seek to accomplish.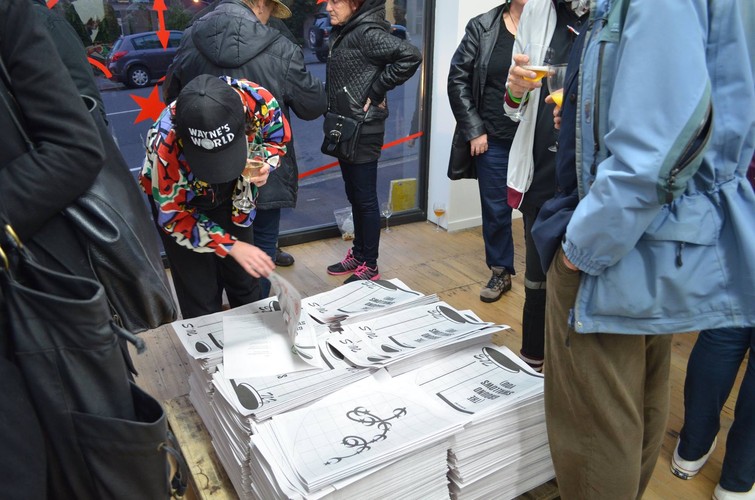 The Ground Swallows You is another newspaper, this time from Matthew Galloway's solo exhibition of the same name on at The Blue Oyster art project space, 6 April 2016 - 30 April 2016.
The exhibtion and paper is a graphic investigation into the geopolitical implications of shipping on the high seas, beginning with a simple observation of a docked ship in Dunedin and landing in the far more complex, disputed territory of Western Sahara. The project tracks New Zealand's economic reliance on this disputed territory, questioning our nation's unconscious participation in an illegal occupation in exchange for keeping our place in the modern world and supplying our agricultural industry.
The paper features an essay by Mathew Galloway and interviews with Jacob Mundy and Ian Urbina.
You can read Ian Urbina's op-ed piece Stowaways and Crimes Aboard a Scofflaw Ship online, published by the New York Times.
Thank you to our friends at The Blue Oyster!