Enjoy
Blog
Contents
Awards Season
May 25 2016
Current opportunities for artists.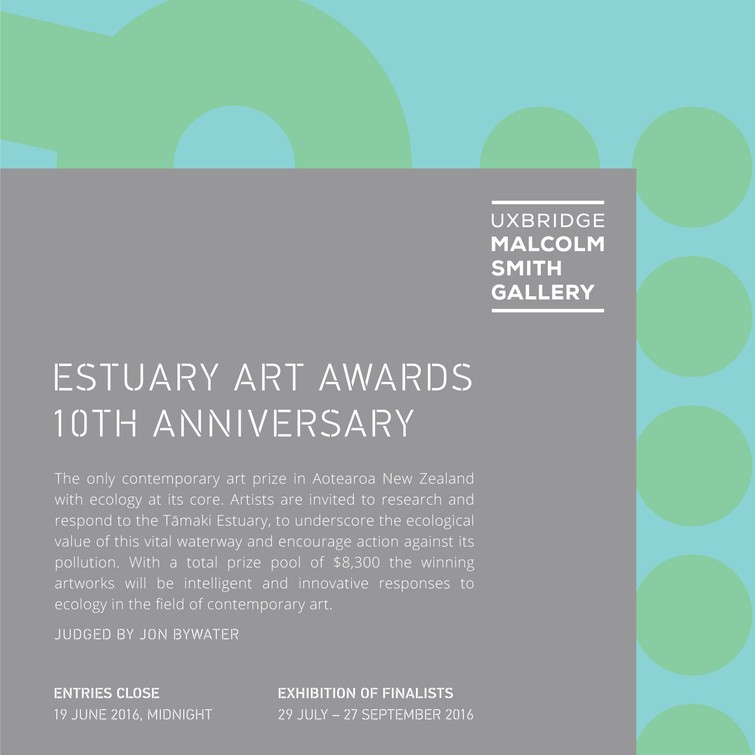 Estuary Art Awards
Malcolm Smith Gallery
Entries close: Sunday 19 June 2016
New Zealand's only contemporary art prize to focus on ecology. Artists are invited to research and respond to the Tāmaki Estuary, to underscore the ecological value of this vital waterway and encourage action against its pollution. This year's award will be judged by Jon Bywater.
View the entry form for more details
National Contemporary Art Award
Waikato Museum
Entries close: 12pm Thursday 9 June 2016
Promoting and celebrating contemporary art, this year's award will be judged by Misal Adnan Yildiz, the Director of ARTSPACE NZ. The winner will receive $20,000, with three merit award prizes of $1,000 also being rewarded to other finalists.
Previous winners include Ann Shelton, Bronwyn Holloway-Smith and Denna Dowling.
See the Waikato Museum website for full details
Olivia Spencer Bower Foundation Art Award
Entries close: Thursday 30 June 2016
The Olivia Spencer Bower Foundation Art Award provides a year-long residency in Christchurch for an emerging artist. The recipient receives a stipend of $30,000 and a studio at The Physics Room.
See the Foundation's website for more details
Parkin Drawing Prize
Entries close: Friday 17 June 2016, 4pm
The award promotes excellence in drawing in all its forms, with the winning entrant receiving a prize of $20,000. 10 highly commended prizes of $500 each will also be awarded. The finalists will be selected by an advisory panel consisting of Dick Frizzell, Warren Feeney, Judy Darragh and Kelcy Taratoa.
See the Parkin Prize website for more details
Wallace Arts Awards
Entries close: 26 July 2016, 5pm
The Annual Wallace Art Awards aim to support, promote and expose New Zealand contemporary art and artists across painting, sculpture, video, drawing, photography and print. The awards look to encourage and develop the visual arts in New Zealand, and in particular to reward artists creating outstanding work with international residencies and support.