Enjoy
Blog
Contents
Snapshot #3: On Reflection: Clare Noonan's Pilgrim Tourist
August 30 2019, by Imogen Simmonds
Between May 2018 and April 2019, Enjoy's former archives and library intern Imogen Simmonds catalogued and rehoused our archive, making it easier to navigate and accessible to visitors in our new reading room. In this series of blog posts, Imogen reflects on interesting moments from Enjoy's 19-year history, and considers how our past projects have helped shape who we are today. Read Snapshot #1 here. Read Snapshot #2 here.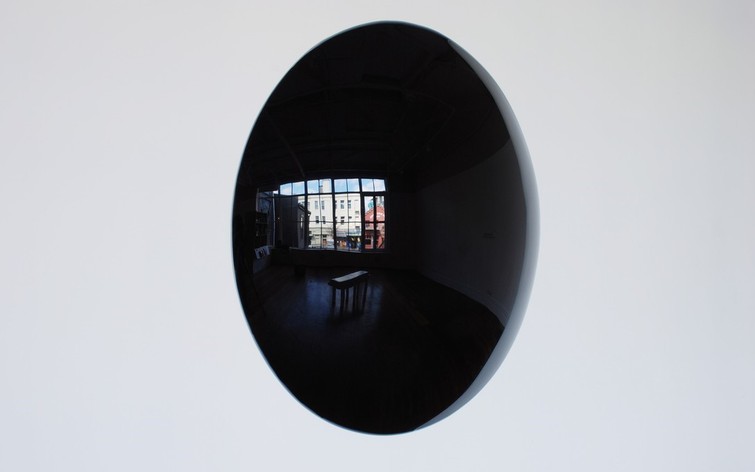 Mirrors are deceptive. At first glance, they appear to reflect a sharp and unbiased picture of the here and now, the objective truth. But take a closer look. Push past the sheen of sincerity and consider how these fickle instruments might distort reality. Exactly how trustworthy are the visions they cast back at us? Do they clarify or confound? Or might they exist somewhere in between these extremes? It is precisely these questions that Clare Noonan set out to answer with her exhibition Pilgrim Tourist (6–22 September 2007). This is the second part of my investigation into how artists have handled space and time at 147 Cuba St, Enjoy's home from 2006–2019. Catch up with part one where I unpack Fiona Connor's Inner City Real Estate 174/147 (8–21 July 2006) here. Noonan, like Connor, disregards boundaries, challenges binaries and through her practice promotes diverse viewpoints.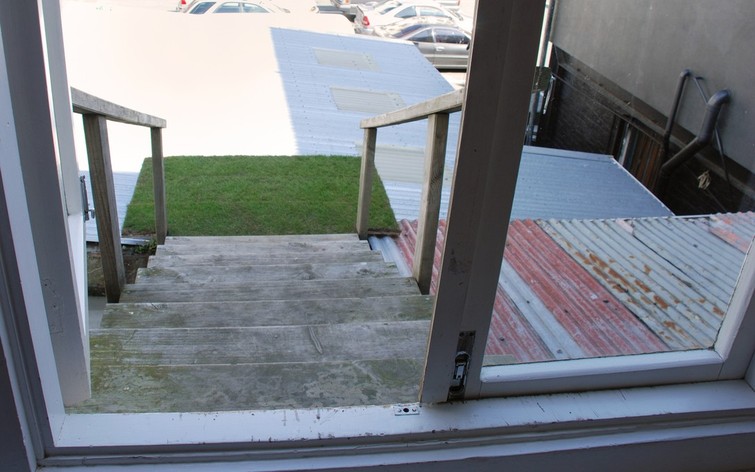 Upon walking into Pilgrim Tourist the viewer was confronted by a spectrum of iridescent lenses–Claude Glasses–fixed to the gallery walls. Buckled and brilliant, they drew the eye and cast surreal, funhouse impressions of the space back at visitors. A black orb hung prominently in their midst, eerie and absorbing. Opposite sat another black mirror: a squat TV monitor. On it looped footage of the artist mapping a landscape, surveyor's wheel in hand. By the entranceway a shabby rucksack strapped with rolls of turf rested against the wall as if recently shrugged off. At the gallery's far end, rickety steps led from an open window down to a grassy carpet on the corrugated roof below. Photographs of the exhibition conjure both a sense of exploration and domesticity, the scene feels at odds with the public car park and urban hues beyond. Drawing the outside in, the show was an interface between different spaces and places.
In Pilgrim Tourist, Noonan spoke simultaneously to the past and present. She did so via the convex lenses of Claude Glasses. These Eighteenth-century optical tools were historically employed by travelling painters to (re)frame unfamiliar landscapes and bend them to the conventions of the European Picturesque. Noonan, however, used them quite differently; to transcend the built limitations of the gallery space, warping it. Her devices projected both gallery and viewer into a new, dreamy realm of representation inside yet distanced from reality.1 Softened, rose-tinted visions of the contemporary, at first glance these images appear hyper-nostalgic and romanticized. However, Noonan's mirrors–tied irrevocably to imperialist expansion–also reflected back Aotearoa's colonial history. In a deliberate act of unmasking, Noonan exposed the Claude Glasses' modus operandi. By demonstrating how they operate in "real" time and space, she identified them as vehicles of objectification and the images they have sanctioned as interpretations rather than facsimiles of reality. Challenging these oppressive visual narratives, Noonan underlined how Western rhetoric has dominated understandings of space and how one worldview has been imposed upon people and places subject to European colonial regimes.
Noonan's glasses asked viewers to be self-reflexive and to consider which other "distorted truths" people subscribe to unquestioningly.2 In dispelling a single overarching perspective, Noonan's exhibition spoke to diverse ways of seeing; each viewer's unique perspective conditioned the image thrown back at them. Straddling the past and contemporary, Pilgrim Tourist disrupted and undermined binary logic. It called here/there and real/representational into question, and defined the gallery as a charged zone within which contradictions co-exist.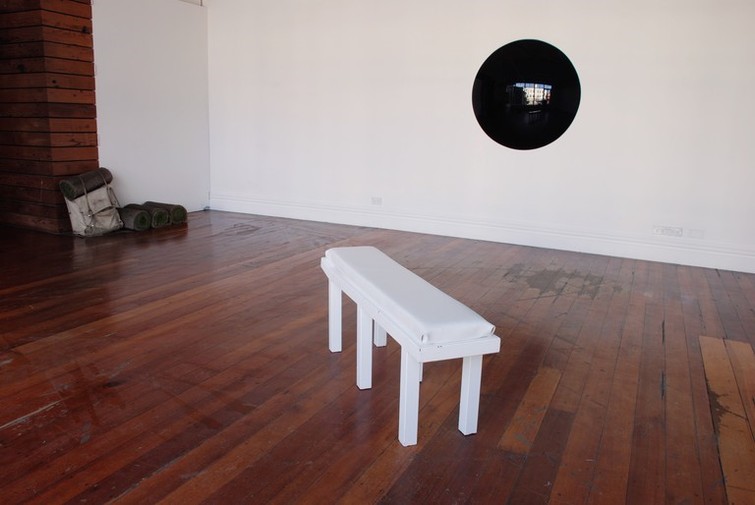 Like Inner City Real Estate, Pilgrim Tourist can also be understood as a vehicle for placemaking–the act of creating meaning and defining space through action. While Connor's placemaking was institutional, about redeveloping the organisation's identity during a period of transformation, Noonan mobilised placemaking to personal effect. Noonan incorporated components of her own past into Pilgrim Tourist so as to bridge the gulf between different phases of her life. Uprooting rolls of living turf from her home in Christchurch and re-placing them in her exhibition, Noonan spliced and reconfigured space/time through representation.3 Playing off the black mirror's function as an aid in consolidating place, Noonan used the tools to identify her past as a component of her Wellington-based present.4
Both Connor and Noonan's exhibitions underline the possibilities that working critically with nuanced ideas can afford us. Their installations shook the neutrality of the gallery space, contorted reality and animated alternative spaces inside Enjoy. Melding together different points in space/time in order to confront tradition, they approached the gallery as a critical space with layered and intersecting meanings. In their manipulation of abstract concepts they emphasize the importance of flexibility, testing boundaries and diversifying perspectives.