Enjoy
Blog
Contents
Lockdown Studio Visits #4
November 25 2021, by Tallulah Farrar
Haere mai whanau and join me, 2021 Tautai arts Intern Sophia Amore Coghini, while we indulge in the fourth in our series of artist interviews.
Pōneke based artist Tallulah Farrar has created the digital illustration He Kanohi Kitea that now enlivens our communal reading room. Tallulah works across multiple mediums, such as digital illustration, textiles, mosaic, murals and animation. Drawing inspiration from the everyday, she uses bright colour and pattern to capture moments of ordinary beauty. Tallulah uses her practice as a tool for playful escapism, influenced by nostalgia and growth. Let's see what she's been up to.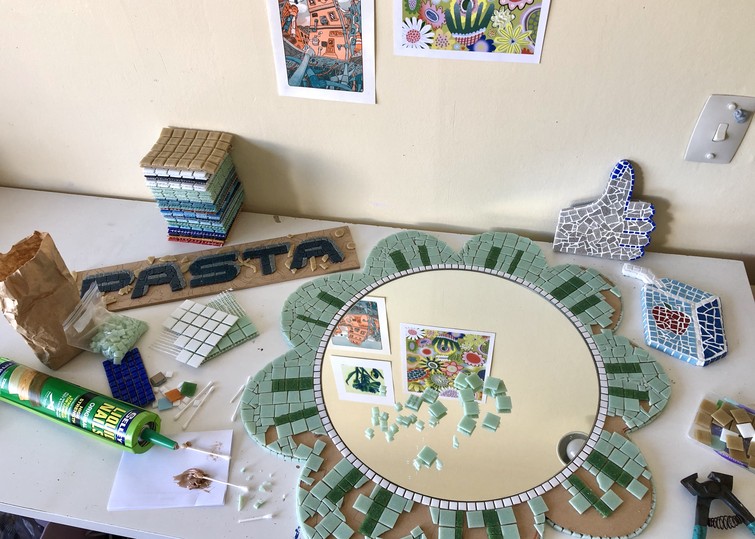 S.C. What's one thing in your room that you find yourself looking at?
T.F. I have quite recently begun making mosaics. It's been so fun discovering a new medium that is slower than my usual digital/screen-based mahi, but its pace means that my bedroom is always covered in mess and half-finished projects. Lately I've found myself looking at a flower mosaic mirror that I've been working on for about three months now, wondering whether I should clean up the mess on my desk as I go or just let it accumulate until it's finished.
S.C. What are you cooking?
T.H. I'm not usually a recipe-follower but I bought this cookbook, I Can Cook Vegan on a whim earlier this year, and I now probably make one recipe a week from it. My fav right now is this crispy buffalo cauliflower which I make the most colourful tacos with. Yummm. I think I've probably made about 15 out of 100 recipes in the book so my plan is to go Julie & Julia on it and make them all.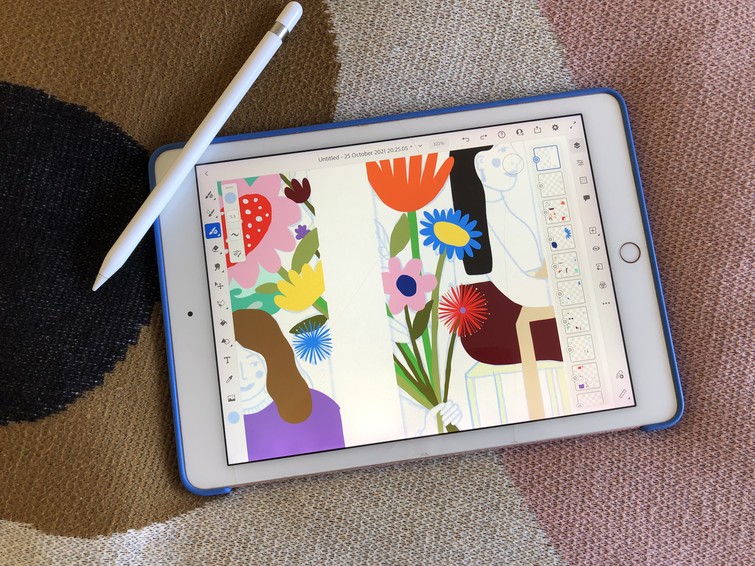 S.C. What is it about the tools or the mediums you are using currently that make them good for your art?
T.F. My illustration work is mainly done on a second hand iPad I bought 3 years ago, with some final sizing/file prep on my computer. Working digitally has been great for my art as it allows me to alter things like colour and scale really easily, and iterate ideas without wasting materials/resources.
Having this ability to change my art so easily makes everything seem less final/permanent, it gives me freedom to experiment and try things out without repercussion. I can also work from anywhere without having to haul heaps of materials around, which makes it so easy to change my working environment.
S.C. What makes you happy about what you do?
T.F. That I can bring joy and energy into spaces- whether through my small art prints on bedroom walls, or large-scale mural work like this commissioned piece for Enjoy! I love seeing my work having a life beyond my little screen. It also makes me happy when I can help people communicate important things.
When I'm designing/illustrating for a campaign or cause that I believe in, it makes me happy to know that the creative element I provide might be the tipping point for someone to engage/read on. I'm a visual learner, so it's cool to know that I am able to make something more digestible/accessible for others like me.
S.C. What are you listening to?
T.F. Most of the time I'm listening to a podcast! I have a list of solid favourites but the one that I always return to is Beautiful Stories From Anonymous People, where the host Chris Gethard talks to a stranger on the phone for an hour each week. I'm definitely an episode repeater and love coming back to the ones that make me see things differently. I was also recently recommended another podcast called You're Wrong About, which discusses all these people/events that have been "miscast in the public imagination." Highly recommend listening to the episode "The Obesity Epidemic" which is so well researched and deep-dives on misinformation and privilege surrounding weight.