Applications for this workshop have now closed.
Thinking beyond a standard artist portfolio or archive, this one-day workshop will consider what a website offers as a site for creative production. With a focus on demystifying how the web functions, participants will be introduced to the language of the internet and provided with further resources for self-development.
The first session will examine the forms and strategies for presenting work online, beginning with a focused discussion on the internet as an autonomous platform and case studies of existing projects. Following this, participants will be introduced to the mechanics of the internet, the structure of a web page and the basics of CSS and HTML.
The workshop is open to artists, designers, curators, writers and other interested people but places are limited. To apply, please send a CV and brief statement (max. 400 words) outlining your interest in the workshop to comms@enjoy.org.nz by 5pm Sunday 22 October 2017.
Please note this workshop is free to attend and lunch will be provided. Please advise the gallery if you are unable to bring your own laptop.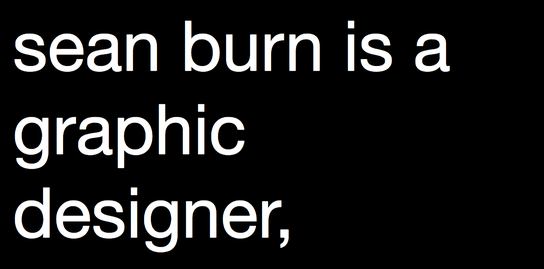 ABOUT THE PRESENTER
Sean Burn is a graphic designer, musician and creative facilitator based in Wellington, Aotearoa New Zealand. They are the lead facilitator and primary graphic designer for JPEG2000, a collaborative multi-disciplinary collective that create and disseminate internet objects throughout digital and physical spaces. They are a primary facilitator, graphic designer and online exhibition co-ordinator for MEANWHILE, an artist-run initiative that facilitates and promotes emergent and experimental writing, curation and contemporary art practice, in all forms, on and offline. They have co-curated and organised exhibitions and events at play_station gallery, Seventeen Tory Street and the New Zealand Portrait Gallery.