past event
The Region: Online Symposium
Wednesday 22 Sep 2021
2:00pm
WEDNESDAY 22 SEP–FRIDAY 01 OCT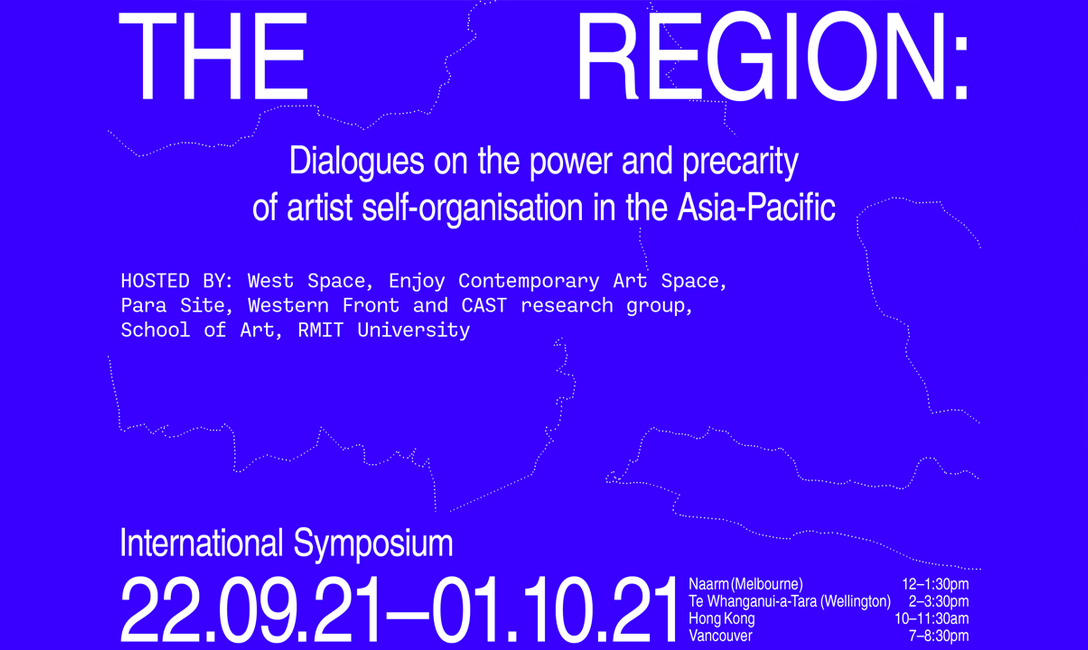 The Region: dialogues on the power and precarity of artist self-organisation in the Asia-Pacific is an international symposium, co-created by West Space (Naarm / Melbourne), Para Site (Hong Kong), Enjoy Contemporary Art Space (Te Whanganui-a-Tara / Wellington) and Western Front (Vancouver), and co-facilitated by CAST research group, School of Art, RMIT University (Naarm / Melbourne).
Co-created and presented by four of the longest-standing arts organisations in the Asia-Pacific region, The Region is a digital symposium that examines pressing questions of power and precarity, with a focus on artist self-organisation. The symposium will consider the objectives, freedoms and responsibilities of small institutions as they exist across contemporary contexts of urban gentrification and Western hegemony, whose shared futures are informed by local and specific histories, and which are expressed today through new forms of curating and collectivity.
In 2001 West Space, with 17 international peer organisations, convened Space Traffic, a global conference that aimed to "bring together alternative art spaces from around the world to discuss, tackle, and explore issues surrounding non-mainstream art and culture with a focus on the Asia-Pacific". On the 20th anniversary of the original symposium, West Space, in partnership with two of the original participants, Western Front and Para Site , and a new partner, Enjoy Contemporary Art Space, will revisit this agenda from our current context.
The five partner organisations will each host an online session, conducted in English over Zoom, with live AUSLAN interpretation and English closed captions. The sessions will be recorded and made publicly available after the Symposium's end.
Admission is free. Registration is required.
September 22:
Illusions of structural change? Resisting the cultural identity of western institutions in artist-run spaces
Hosted by Enjoy
Speakers: Tamsen Hopkinson, Dr Tania Willard, Vanessa Kwan
Chair: Vanessa Mei

September 23:
Working in place: Cultural perspectives and responses to the complexity of gentrification
Hosted by West Space
Speakers: Keg de Souza, Elisapeta Heta, T'uy't'tanat-Cease Wyss, Seelan Palay
Chair: Andy Butler
September 24:
Collectivism and new forms of curating in the Asia-Pacific
Hosted by Para Site
Speakers: Zoe Butt, Gridthiya Gaweewong, Grace Samboh
Chair: Celia Ho

September 30:
Legacies: acknowledging histories, imagining futures
Hosted by Western Front
Speakers: Ringo Bunoan, Lyna Kourn, Dr Lana Lopesi, Anthony Yung
Chair: Susan Gibb

October 1:
The scene: future friendships, possibilities and partnerships
Hosted by CAST research group, School of Art, RMIT
Speakers: Vanessa Mei, Andy Butler, Celia Ho, Susan Gibb
Chairs: Marnie Badham and Tammy Hulbert
All sessions will start at the same time:
Naarm (Melbourne) // 12-1:30pm
Te Whanganui-a-Tara (Wellington) // 2-3:30pm
Hong Kong // 10am-11:30am
Vancouver // 7-8:30pm
ABOUT THE ORGANISATIONS
Enjoy is a leading non-profit arts organisation based in Aotearoa New Zealand, dedicated to developing contemporary art practice, and the audience and discussions around contemporary art. We achieve this through our exhibition programme, events, publishing, artist residencies and other activities. Established in 2000, Enjoy is located in central Pōneke Wellington, with a rich history as an artist-run space. Our artistic programme prioritises artists, writers and curators who are early-career or interested in growing experimental practices in a supportive and challenging environment. Governed by a board of trustees, our organisation strives to honor Te Tiriti o Waitangi through its strategic leadership and approach to arts participation.
Para Site is Hong Kong's leading contemporary art centre and one of the oldest and most active independent art institutions in Asia. It produces exhibitions, publications, and discursive and educational projects aimed at forging a critical understanding of local and international phenomena in art and society. Founded in early 1996 as an artist-run space, Para Site was Hong Kong's first exhibition-making institution of contemporary art and a crucial self-organised structure within the city's civil society. Throughout the years, Para Site has grown into a contemporary art centre, engaged in a wide array of activities and collaborations with other art institutions, museums, and academic structures in both Hong Kong and the international landscape. In early 2015, Para Site moved to greatly increased premises in Quarry Bay, Hong Kong. Para Site celebrates its 25th anniversary in 2021.
Western Front is a non-profit artist-run centre located in Vancouver, Canada on the unceded territory of the xʷməθkʷəy̓əm (Musqueam), Səl̓ílwətaʔ (Tsleil-Waututh), and Skwxwú7mesh (Squamish) nations. We support a multidisciplinary program that provides opportunities to artists working across music, media art, visual art, performance, and literature to create and present work. Through commissions, exhibitions, performances, concerts, publishing, residencies, and workshops, Western Front promotes public exchange at a local, national, and international level. We also preserve and provide access to an ever-growing audio-visual archive that documents the organization's history of artistic programming and production.
CAST Contemporary Art and Social Transformation is a research group based in the School of Art at RMIT University. CAST produces art research that critically engages with environmental, social and public spheres with a particular interest in how artistic practices intersect with issues of equity, access and democracy. CAST is a hub for critical thinking, collaboration and the exchange of ideas, knowledge dissemination, practice-led artistic research and socially-engaged art practice. CAST engages on local and international levels by collaborating with practitioners, communities, industry, and government partners
West Space works locally, regionally, nationally, and internationally, across artforms and sites, to expand the possibilities of exhibition-making. Over our three-decade history, we have evolved as a distinct organisation that combines an artist-centric ethos with the supportive infrastructure of a contemporary art institution.

The Region is made possible with support from the City of Melbourne, and RMIT University, Australia. Enjoy would like to extend particular thanks to the CAST Research group at RMIT and West Space for covering the speaker fees for their session, enabling participation.