History reserves but a few lines for you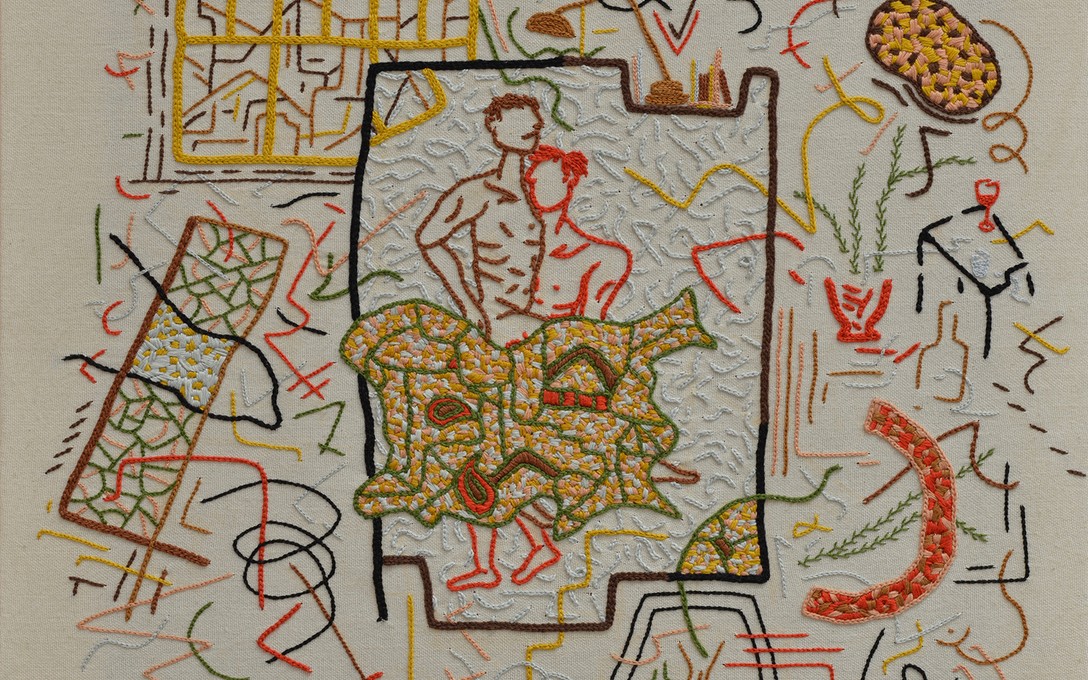 archived
19 Feb – 3 Apr 2021
Areez Katki
For History reserves but a few lines for you, Areez Katki presents a series of textile works which build upon the artist's ongoing enquiries into craft traditions, sites of queer intimacy and the complexities of migratory experience.
More
This exhibition includes works produced and exhibited over the past three years, alongside a suite of new embroidered handkerchiefs. Together, Katki's works gesture towards the narrative potential of textile practice—drawing from autobiographical episodes and Parsi needlecraft traditions—as well as to a reconsideration of feminised forms of labour within the domestic sphere.
Common household textiles—tea towels, handkerchiefs, upholstery silk—provide the ground for Katki's elaborately sewn arrangements, which are here laid out in the gallery to suggest a space of refuge, communion or dwelling. Drawing upon a litany of queer figures, from David Hockney's lithographs, to the writing of Constantine P. Cavafy and Ocean Vuong, Katki's works examine the sites at which expressions of queer desire intersect with unresolved histories of social and legal prohibition and the colonial gaze.
Read Andre Chumko's interview with Areez for The Dominion Post.
Exhibition Essays
By Paul G. Johnston
Read online
"Embroidering unseen histories: Lema Shamamba and Areez Katki in conversation," CubaDupa Talks, 17 March 2021.
Areez Katki, artist talk, part of Curators of Cuba, 27 March 2021.
ABOUT THE ARTIST
Areez Katki's practice explores his genetic heritage and landscape through processes that include writing, embroidery, weaving, painting and printmaking. Born into a Persian Zoroastrian family in Mumbai, India, his work addresses the social constructs of spirituality, postcolonial identity and sexuality while, at the same time, raising questions about the political nature of craft itself.
Areez has a Bachelor of Arts from the University of Auckland and recently completed a Masters in creative writing from Victoria University's International Institute of Modern Letters. Recent projects include Thieves' Market, The National, Ōtautahi Chrictchurch, 2021; On Chroma, Sumer Gallery, Tauranga, 2020; Notes & Methods, Tim Melville Gallery, Tāmaki Makaurau Auckland, 2020; Even the birds are walking (group), Latitude 53, Edmonton, Canada, 2020; Some Retained Delights, RM Gallery, Tāmaki Makaurau, 2019; Uncruising (solo culmination after a 3-month-long gallery residency), Phoenix, Athens, 2019; Come, Remember (with Ophelia King), Window Gallery, Tāmaki Makaurau, 2019 ; Making Conversation (group), The Dowse Museum, Te Awakairangi Lower Hutt, 2019; Bildungsroman, Malcolm Smith Gallery and the Otago Museum, Ōtepoti Dunedin 2019-20; Marabar Caves (group), The Gus Fisher Gallery, Tāmaki Makaurau, 2017. Areez's work is held by various public and private institutions across Aotearoa.