It's a Wonderful Tonight
archived
24 May – 9 Jun 2007
Louise Clifton
It's a Wonderful Tonight is a new installation by Louise Clifton. Over the past two years the artist has created a series of photographic portraits based around a mysterious figure in a red suit.
More
Clad head to toe in a skin-tight material resembling lycra, the red-man is recognisably human but removed of all distinguishing features.
In her installation Clifton transforms Enjoy Gallery into an soft cocoon of hushed lighting and ambient sound. Central to the exhibition It's a Wonderful Tonight, is a projected portrait of the red-suited figure interacting with a similar figure. Although the characters are recognisably human their heads are replaced with swollen featureless pods, and the image suggests emotions ranging from warmth and vulnerability to distress.
Clifton takes a hands-on approach to her portraits sewing her own costumes and making props. After photographing her subject she alters the image. She says digital technology is "cheap and accessible and it seems to suit my brightly coloured aesthetic."
On Saturday May 26th at 2pm Clifton presented an artist's talk at Enjoy in which she discussed her other portraits of red-suit person and the influence of Japanese artist Yayoi Kusama on her work. The red suit also makes an appearance in Mestar's music video 'Konked Out' which is currently being exhibited in Radio with Pictures at the Hirschfeld Gallery in City Gallery, Wellington.
Exhibition Essays
1 essay
By Mark Williams
Read online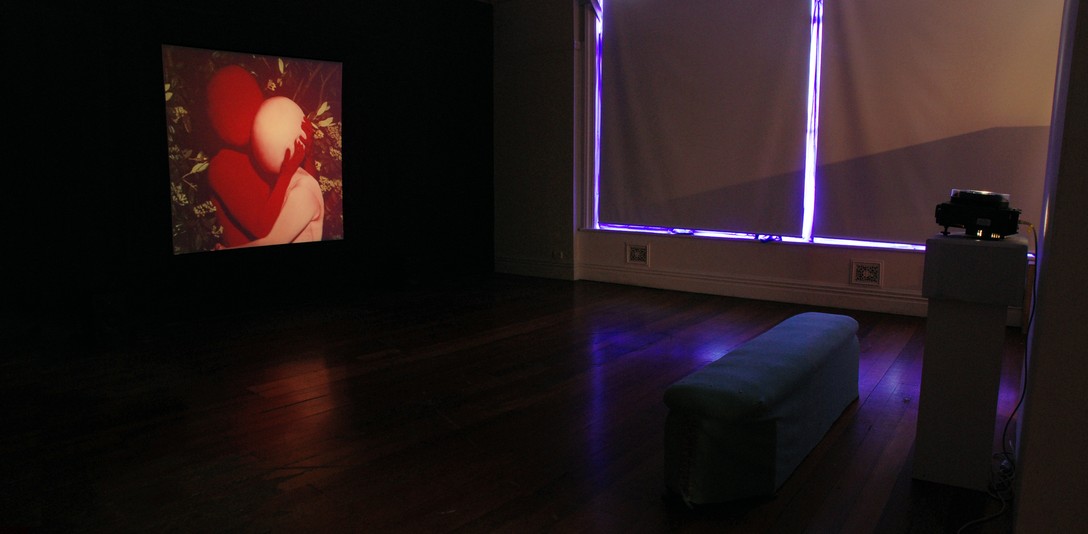 About the artist
Louise Clifton graduated from Massey University in 2004 with an honours degree in Photographic Design. She describes the red-man as a model of "stylistically fanatical design, living in an idealised world of consumer goods. He comes home late at night to his white apartment and feels lost and frustrated - for no reason at all."