Looking in, breathing out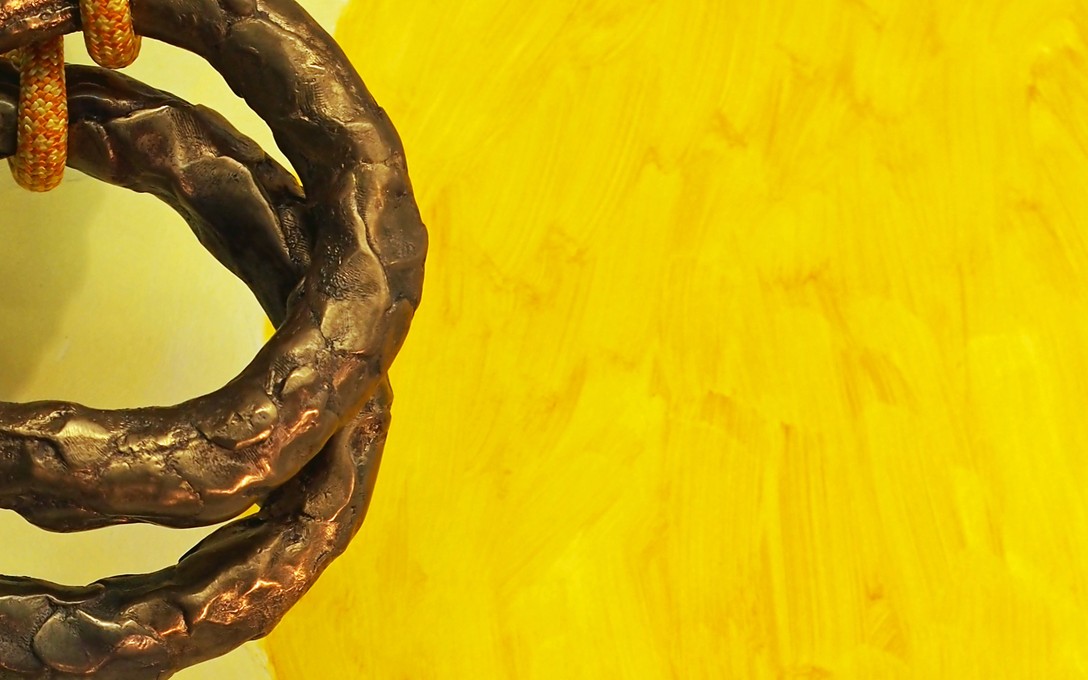 archived
7 Jun – 30 Jun 2018
Hannah Valentine, Vivienne Worn
Bringing together the work of Hannah Valentine and Vivienne Worn, Looking in, breathing out focuses on the physical actions and gestures of the body. By looking closely at painterly gestures, Worn considers how to negotiate art histories. For Valentine, physical action is a way to explore the material conditions of contemporary life.
More
Valentine's sculptural practice interrogates the conditioning of the human body within a digital and capitalist landscape. Contemplating notions of desire, endurance and value, her recent work has focused on the production and display of bronze objects cast from hand-moulded wax. These objects show remnants of the artist's fingerprints and moments of touch, pressure and temperature from the casting process. Resembling equipment such as dumbbells and gymnastic rings, Valentine's sculptures recall the space of the gym—a space understood by many as an outlet for stress or refuge from contemporary life. Looking in, breathing out includes a series of these cast objects, presented on metal stations that recall retail display systems. Visitors can caress, carry and move these objects around the gallery space and between stations. In choreographing this encounter, Valentine explores the affective qualities of weight, temperature, texture and desire.
For Looking in, breathing out, Worn delves into the life and work of painter Rhona Haszard (1901–31), who was born in New Zealand and immigrated to Europe in the early twentieth century. This research is a continuation of Worn's engagement with the lives and work of women who were painting within a heightened moment of Western modernism, but who still remain relatively overlooked within this canon. Spending time with Haszard's archive and painted works, Worn samples what she describes as "clippings" or close readings of particular brushstrokes and painterly moments. These moments act as beginnings for her own works as she zooms in on the rich mosaics of Haszard's painted landscapes, re-rendering the artist's mark-making at a much larger scale. Operating somewhere between abstraction and figuration, the physical gestures of both women are decidedly present within the resulting work.
Download the floor sheet for the exhibition, which features the essay Chords of Contact by Emma Jameson
EXHIBITION ESSAY
By Jane Wallace
Read Online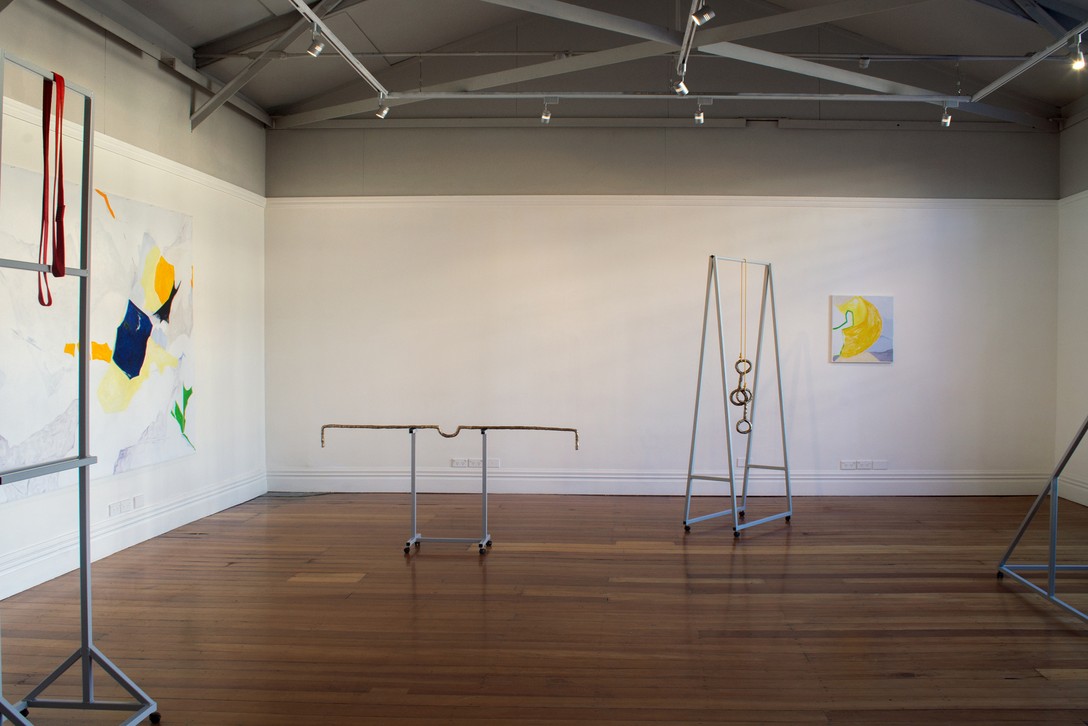 About the artists
Hannah Valentine lives and works in Tāmaki Makaurau. Her practice is based around the body, movement and participation. Hannah is interested in the impact of new technologies on our physicality, and the way we use and think about our physical self-in-space. Her work takes form primarily in object, installation and documentary style film. Hannah graduated from Elam School of Fine Arts with an MFA (Hons) in 2017. Recent exhibitions include: Flex, Small Space, Te Uru Waitakere Contemporary Gallery, Auckland, 2017; Grips, slips, of space, a memory, Drawing Wall project, Te Tuhi, Auckland, 2016-2017; New Perspectives, curated by Simon Denny, Artspace, Auckland.
Vivienne Worn also lives and works in Tāmaki Makaurau. She graduated from Elam School of Fine Arts with an MFA (Hons) in 2017. Worn's practice works towards a process of painting that sits somewhere between abstraction and a contemporary digital version of the figure, referencing small moments or details from online reproductions of historical paintings. Navigating this flattened online imagery through paint and gesture, Worn's work offers a stilling of real-unreal space. Recent exhibitions include: Never an Answer, The Vivian Gallery, Auckland, 2018; Re-reading Laurencin, Window Gallery, Auckland, 2017; The Graduate Art Fair, Guangzhou, China, 2017; Back to Fore, George Fraser Gallery, Auckland; 2017.