maybe i'm just like a gust of wind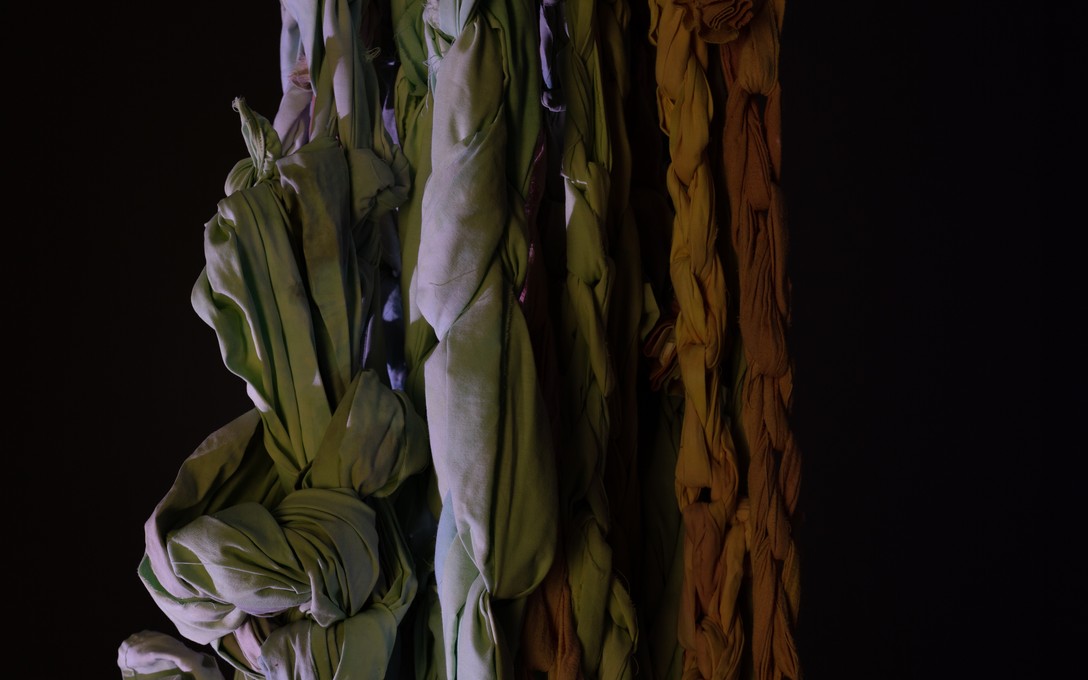 archived
18 Feb – 15 Apr
Wesley John Fourie
maybe i'm just like a gust of wind is an exhibition by Tāmaki Makaurau based artist Wesley John Fourie.
More
Using large-scale soft sculpture, performance and poetry, Fourie processes experiences of love, loss and queerness in relation to the natural landscape.
As an extension to their exhibition, superstar (and so I lay here for you) is a performance by Fourie available to view online only. Here, the artist sings about being helplessly in love with someone, while feeling helplessly in love with someone.
superstar (and so I lay here for you), Wesley John Fourie, 2023, video performance duration 4:33.
In superstar (and so I lay here for you) Fourie performs in their studio next to their artwork exhibited in maybe i'm just like a gust of wind. The indentations on the floor work mark where Fourie and their lover lay together the last time they saw each other.
Objects used as a microphone in the performance include size 16 knitting needles, a hammer, linseed oil, poster paint, banana, and turpentine.
Past Event
Join us to celebrate the opening of two new exhibitions on Saturday 18 February, anytime between 11am - 4pm.
More info
I screamed his name
From the top of the fucking mountain
Into the wind
A call of love
To remember
Dreaming of him
The sun set long ago on this fantasy
So i scream
The wind howls
It roars
Calling your name
A memory
And with his delicate touch he pressed himself into me
And from his skin i was born again
Maybe im just like a gust of wind
Maybe im just like a wave of love
Crashing
Over the earth
A song for a thousand suns
The wind roars
Maybe like im just the waves of the sea
A force
A phenomena
A flash of lighting
I called your name
Screaming it at the top of my fucking lungs
And so the wind roared for you
I whispered into the ethos
I miss you
I love you
Always
Forever the first morning
Again and again and again
- Poem by Wesley John Fourie
Wesley John Fourie

Wesley John Fourie is an artist currently based in Tāmaki Makaurau. Primarily working with textiles, they also write, perform, draw and paint. Their work explores themes of nature, spirituality, and sexuality, often manifesting as large-scale "soft sculptures". In Fourie's words they "see art as a vehicle to raise awareness of the sacred status of our natural environment."

Recent solo exhibitions include Red Night Wanderings, Broker Galleries, Tāhuna; They Came To Me In The Night, RDS Gallery, Ōtepoti and I followed you into the sea, Te Kōpotu, Te Whanga a Toi Whakatane. They exhibited in the 28th Slavonian Biennale, and have participated in several residencies including Venezia Contemporanea and St Petersburg Art Residency (SPAR). Fourie's practice includes collaboration, having recently worked intimately with artist and writer Hana Pera Aoake and artist Taarn Scott. The three artists have exhibited together in An Endless Sky of Honey, Meanwhile Gallery and Projectspace, Pōneke; Invasive Weeds (or I wish I could give you the world, but I was only given mud, rot, and the bones of a half-eaten fish), The Physics Room, Ōtautahi; and The Future of Dirt, RM Gallery, Tāmaki Makaurau.
https://www.wesleyjohnfourie.com/
Enjoy would like to thank The Chartwell Trust for generously supporting this project.