Ngā hau o Tāwhirimātea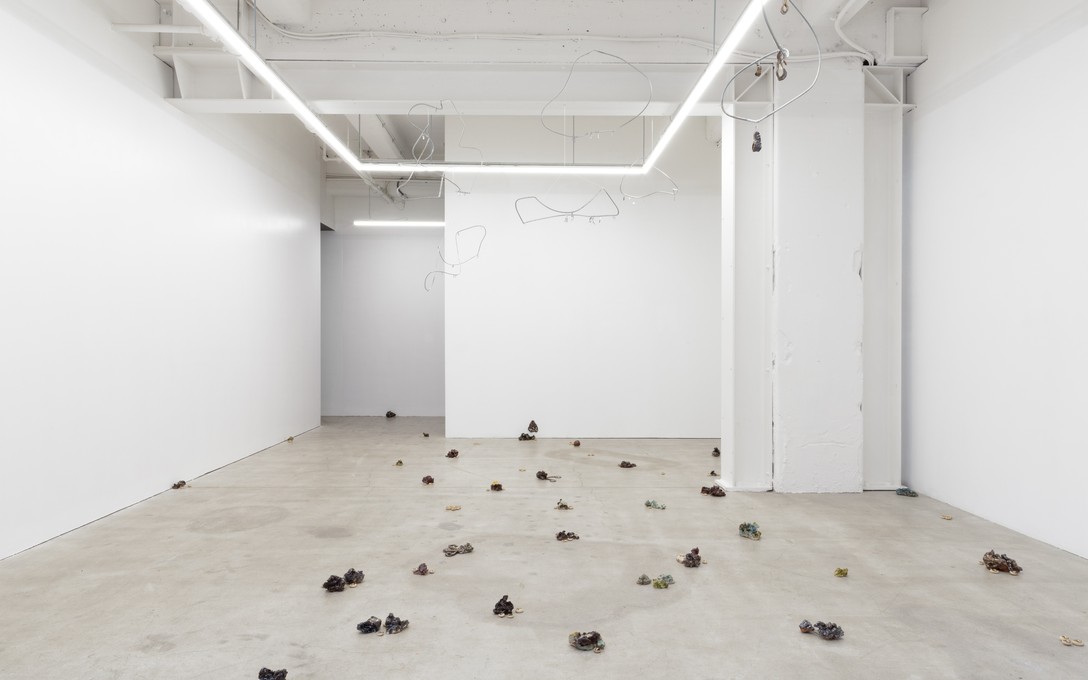 archived
18 Feb – 15 Apr
Hana Pera Aoake, Taarn Scott
Ngā hau o Tāwhirimātea brings together work by Hana Pera Aoake and Taarn Scott, in collaboration with Riki Gooch.
More
Through an expanse of ceramic and metal works, Aoake and Scott contemplate the diverse whakapapa of ngā hau (winds), especially as they relate to Te Whanganui-a-Tara. The artists consider hau as both a temperamental and destructive force, and one of potential and protection, with awareness of how ngā hau have shaped the south coast and Te Whanganui-a-Tara landscape and identity.
Rippling through the exhibition is a composition by musician Riki Gooch, designed using four types of sound sources, each representing a wind direction: hauraro, tonga, hauāuru and marangai. Together the works in Ngā hau o Tāwhirimātea encourage their audience to slow down, be humble, consider their relationship to their immediate surroundings, and in turn the broader environment and weather systems.
Header image: Ngā hau o Tāwhirimātea, Hana Pera Aoake and Taarn Scott with Riki Gooch, 2023. Image courtesy of Cheska Brown.
Ngā hau o Tāwhirimātea by Riki Gooch
This sound piece was designed by musician Riki Gooch to accompany the exhibition 'Ngā hau o Tāwhirimātea' by Hana Pera Aoake and Taarn Scott. Gooch has used four types of sound sources to represent each wind direction: hauraro - blowing pūtātara and felted piano; tonga - swinging microphones; hauāuru - harmonic/overtone flutes; marangai - feedback from guitar and organ.
Past Event
Join us on Wednesday 15 March, 6pm, for a sound performance by Riki Pirihi-Gooch (Ngāti Wai/Ngāti Māhanga Hourua).
More info
Hana Pera Aoake (Ngaati Mahuta, Ngaati Hinerangi me Ngaati Raukawa, Tainui/Waikato, Ngaati Waewae, Waitaha) is an artist and writer. Their practice examines tensions between Indigenous and European epistemologies, threading these together to weave new meanings. Aoake works across many mediums including textiles, raranga, ceramics, painting, performance, film, sculpture and writing.

Aoake completed an MFA at Massey University Te Kunenga Ki Pūrehuroa and took part in the Independent Study Programme at Maumaus Escola de Artes Visuais, Lisbon. Their book of selected writings A bathful of hot water and kawakawa (Compound Press) was released in 2020. In 2021-22 Aoake was a participating artist in Regional Arts Australia's inaugural Regional Assembly.
Also active as a curator and educator, Aoake currently co-organises Kei te pai press with Morgan Godfrey.



Taarn Scott is an artist from Ōtepoti. She graduated from Elam School of Fine Arts with a BFA (Honours). She is interested in the Tactile, illustrative practices and community art. Recent exhibitions include joint shows with Hana Pera Aoake and Wesley John Fourie, Invasive Weeds (or I wish I could give you the world, but I was only given mud, rot, and the bones of a half-eaten fish), The Physics Room, Ōtautahi; The Future of Dirt RM Gallery, Tāmaki Makaurau; and An Endless Sky of Honey, Meanwhile Gallery and Projectspace, Pōneke. Scott's solo exhibitions include Outlining/ Shifting Channels, Refinery ArtSpace, Whakatū, and Transient Places, ADJO, Ōtepoti.

Riki Gooch

Riki Pirihi (Ngāti Wai/Patuharakeke/Ngāti Māhanga Hourua) is a musican based in Te Whanganui-a-Tara and performs under the moniker Cave Circles and DJ Oboe. He is currently researching and developing the Conduction method with the Taonga Puoro ensemble, Te Ātea Nui and plays drums with Al Fraser, Mara TK, Orchestra Spheres and with different configurations from the Noa Records collective.