Never Completely Still
Laura Preston, Paula Booker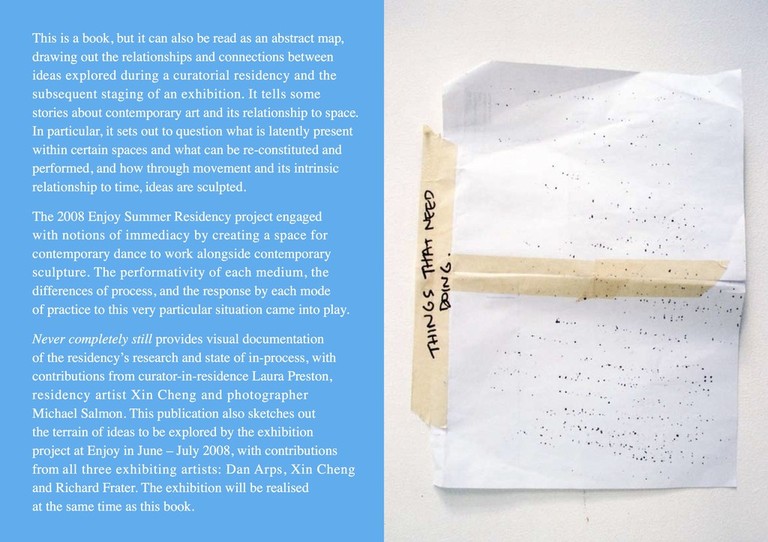 Curated by Laura Preston
Edited by Paula Booker
Contributors: Dan Arps, Xin Cheng, Richard Frater, Michael Salmon
Design: Jayne Joyce
Cover image: Richard Frater, 2008
Proofreading: Gabrielle Amodeo
ISBN: 978-0-473-13626-0
This is a book, but it can also be read as an abstract map, drawing out the relationships and connections between ideas explored during a curatorial residency and the subsequent staging of an exhibition. It tells some stories about contemporary art and its relationship to space. In particular, it sets out to question what is latently present within certain spaces and what can be re-constituted and performed, and how through movement and its intrinsic relationship to time, ideas are sculpted.
The 2008 Enjoy Summer Residency project engaged with notions of immediacy by creating a space for contemporary dance to work alongside contemporary sculpture. The performativity of each medium, the differences of process, and the response by each mode
of practice to this very particular situation came into play.
Never completely still provides visual documentation of the residency's research and state of in-process, with contributions from curator-in-residence Laura Preston, residency artist Xin Cheng and photographer Michael Salmon. This publication also sketches out the terrain of ideas to be explored by the exhibition project at Enjoy in June – July 2008, with contributions Dan Arps, Xin Cheng and Richard Frater.
Soft cover (brown card), 150 x 210 mm
59pg
THIS PUBLICATION IS OUT OF PRINT