SPEAKER'S CORNER
archived
17 Sep – 4 Oct 2007
Speakers Corner is an Enjoy Public Art Gallery project that brings together members of diverse Wellington communities to discuss with the public the one thing they all have in common - experiences of living in Wellington.
More
A selection of Wellington-based organisations and societies presented public talks, guided tours and discussions, in a series of lunchtime events in Molesworth Street. The project saw groups as diverse as Action for the Environment and the Chinese Community talk about the histories, people and even the plants of the Molesworth Street precinct.
Run from September 17 - October 5 2007, Speakers Corner was part of the city wide INSite 2007, Wellington City Council's Urban Design Project.
Operating out of a container located on Molesworth Street, Speakers Corner was one of two container projects run by Enjoy Public Art Gallery during INSite.
The project curator Siv B. Fjcerestad considers that the Molesworth Street Container is situated in an interesting socio-political context due to its proximity to prominent Wellington sites like the National Gallery and the State Services Building.
"We want to bring a number of organisations and societies together with an audience, for an informal event, in which both parties will benefit from each others knowledge." The Chinese Community, who a have long and rich history in the area, will be setting up apple crates outside significant locations and undertaking interviews. Fjcerestad says that all the groups "offer a range of useful perspectives on current and future urban planning in Wellington".
The Enjoy project Speakers Corner was created with the aim of extending INSite from an architecturally focused urban design project to one that directly engages the people who inhabit, enliven and strengthen their local community. Speakers Corner was a project that is interested in citizens guiding and shaping the local city environment.
In collaboration with the Wellington Chinese Association, Enjoy Gallery produced the 2008 documentary 90 Years of Chinese Trading in Molesworth Street as a result of this project.
Curated by Siv B. Fjærestad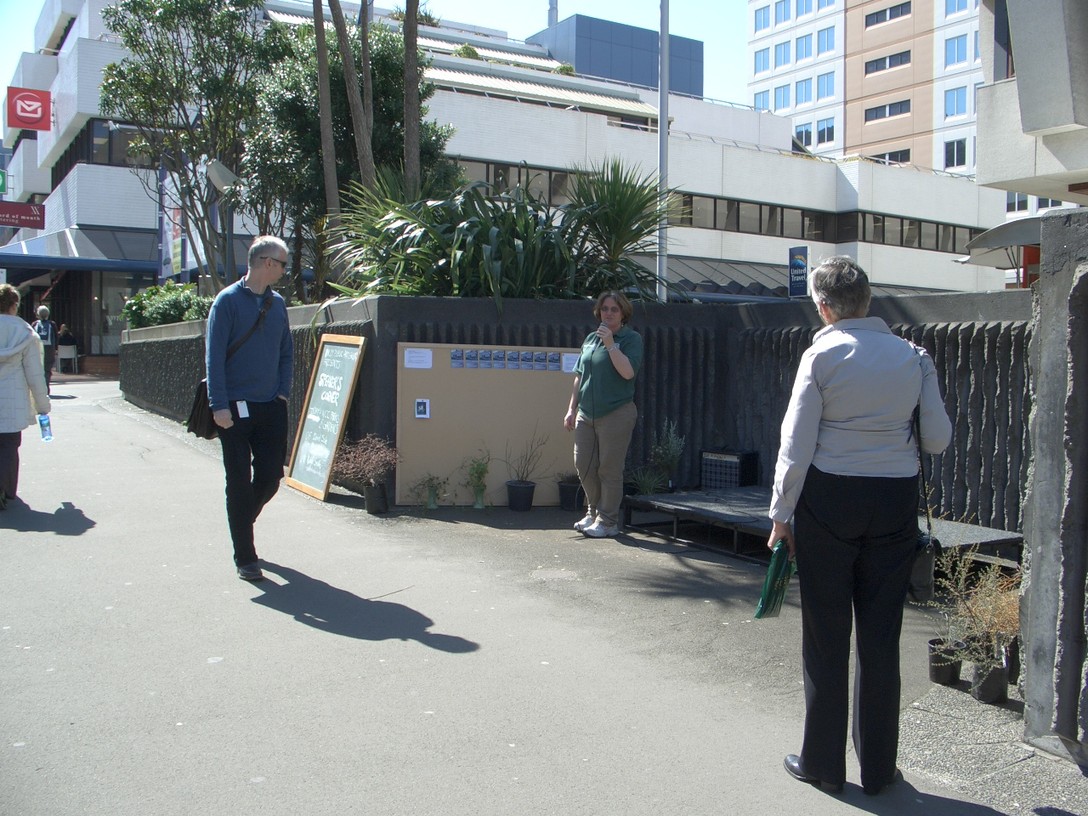 Schedule of events
WCC PARKS AND GARDENS
20 Sept 12 .00pm
David Sole - Native and Exotic Plants - A Happy Union?
Rewi Elliot - Urban revegetation
WELLINGTON CHINESE ASSOCIATION
(Interviews with community members)
Interviewer: Steven Young Friday 21.09 - time to be arranged
LIVING STREETS AOTEAROA
Spokesperson Celia Wade-Brown
Mon 24.09 12.15pm
WCC PARKS AND GARDENS
25 Sept 12 noon
Robyn Smith - Muhlenbeckia in the city
Myfanwy Emeny - Urban Biodiversity
ACTION FOR THE ENVIRONMENT INC.
Spokesperson Carrick Lewis
12.30 Wed. 26.09