T & G Building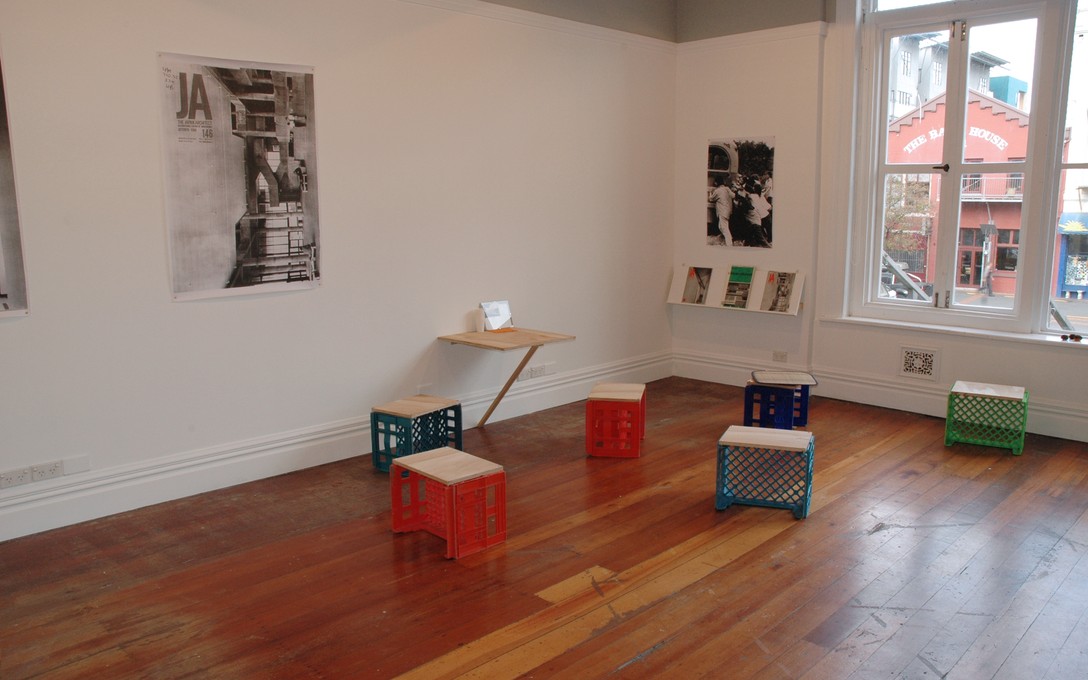 archived
20 Jun – 7 Jul 2007
Gaelen Macdonald, Tim Coster
With an interest in the process of construction and design, utopian plans, and quotidian ideas of interactivity, T & G Building briefly inhabited the gallery as a working studio.
More
They set up an installation that draws from the gallery's physicality and their time in the space, as they examine the uses and furnishing of the place.
T and G Building's investigations into the site involved temporary and flexible structures that responded to the layout of the Enjoy space, dislocating the local ambient sounds both inside and out of the gallery and processed and grew from raw materials.
As Coster and Macdonald responded to the brevity of their visit in Wellington they built on the recourses currently available and marked the passage of time. Visitors to the gallery could expect to see a variety of memorabilia, vegetables growing in the sunshine, a portable kitchen producing environmental elements, folding tables, and imagery and aesthetics sourced from the zeitgeist of 1970's Architecture magazines and free-press commune literature.
Occupying Christchurch's High Street Project in the winter of 2006, the pair developed a working methodology which consolidated their independent solo works to date, functioning as a comfortable space and selective "best of", through the lens of social practice. Later they were commissioned to quickly renovate and create a reading room in the HSP space. In Wellington T & G Building will expand upon this with more up to date results and refinements of their research. Hinged on a mixture of site-specificity and process, the artists discuss their project as "a travelling show, exploring kitset etiquette and ways of organizing space and ideas."
Exhibition Essays
1 essay
By Rachel O'Neill
Read online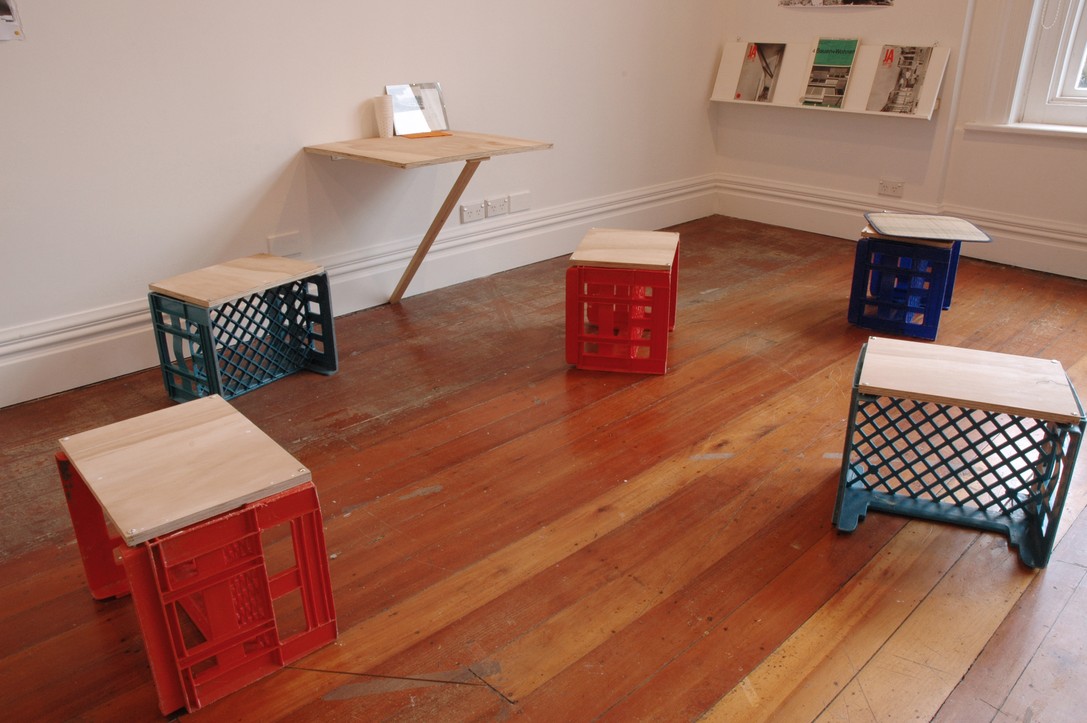 About the artists
Tim Coster graduated with a BVA from Auckland University of Technology (AUT) in 2002. He curates the experimental sound label CLaudia, and is regular contributor to and organizer of experimental live audio events in Auckland. Recently Coster has exhibited as T & G Building at HSP and independently at Canary Gallery and rm 103, where he organised the 'Audio Pocket' evenings.
In 2001 Gaelen Macdonald graduated from AUT with BVA, and also gained a Masters at Elam in 2004. She recently showed in 'Moment Making' 2007, curated by Laura Preston at Artspace, where her installation activated in-between spaces in Artspace's galleries. In 2005 Gaelen created a solo show, A Zoo in My Luggage at Canary Gallery. This exhibition unpacked some areas of interest including Paleontological practices, town planning, animal husbandry and archiving, and these ideas will be further investigated at Enjoy through her T and G project.
T & G gave an artist talk amidst construction of their installation at Enjoy on Saturday 16 June, 4PM. The artist talk was followed by a sound performance featuring Tim Coster, Ben Spiers and the Stumps.