Bush coat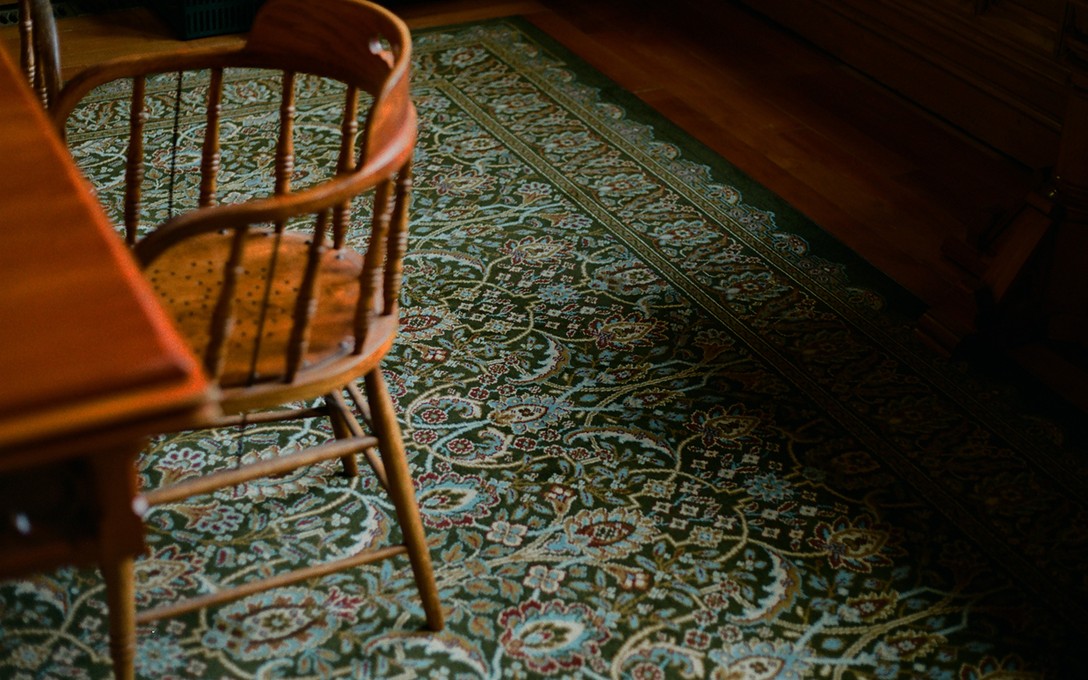 archived
31 Jul – 12 Sep 2020
Daegan Wells
Summer Residency
Bush coat is an exhibition of new sculpture, moving image and textile work by Murihiku Southland-based artist Daegan Wells. Taking the social politics of wool as its starting point, Bush coat playfully interrogates the role of natural materials—and the craft forms and industry around them—in our shared and personal histories.
More
The exhibition follows two very different tangents: the memory of a woven bush coat the artist wore as a child, made by his grandmother on her loom from hand-spun wool, and a 2017 campaign launched by Winston Peters calling for wool carpets (replaced by synthetic imports) to be put back onto the floors of government departments and statehouses.
Bush coat focuses on a material entangled in Aotearoa New Zealand's history, economy and the construction of a settler identity. Drawing on carpet plans and furnishing within government spaces in Wellington city, the exhibition explores both the national symbolism and myth-making around wool and the decline of its production in regional Aotearoa, tracing the state's relationship to the sector and the increase of international imports and synthetic alternatives since the mid-1980s.
Against this backdrop, Wells considers the many resonances of wool and fibre craft within our daily lives. This investigation is driven by several of the artist's own experiences, including the ongoing mentorship of a skilled weaver and spinner; experiencing Southland's changing agricultural economy; and the feeling of wearing and working with handwoven garments.
Bush coat is an outcome of Wells' research in Pōneke Wellington as the 2020 Enjoy Summer Artist in Residence at the Rita Angus Cottage, an opportunity supported by Enjoy with Creative New Zealand Arts Council Toi Aotearoa and the Thorndon Trust.
The artist would like to acknowledge: Isobel Bates, Megan Brady, Sam Clague, Sebastian Clark, Margaret and Chris Cochran, Sophie Davis, Simon Gennard, Sarah Jacobs, Ana Iti, Teoti Jardine, Scott Mathieson, Grace Ryder, Rita Angus Cottage Gardeners, Jennifer Snell, Speakers Office, Thorndon Trust, Lucy Wardle.
Listen to Daegan discuss Bush coat with Lynn Freeman on Standing Room Only, RNZ, 26 July 2020.
Read Lucy Jackson's profile of Daegan for Art News NZ.
Read Rebecca Fox's article on Bush coat for Otago Daily Times.
Past Event
On the first Saturday of Daegan Wells' new exhibition Bush coat, join the artist in conversation with Enjoy's director Sophie Davis.
More info
About the artist
Through his artistic practice, Daegan Wells uses storytelling as a way of illuminating key political, environmental, social and cultural events from recent history. Wells graduated from Ilam School of Fine Arts, Canterbury University in 2015. In 2017, he was the recipient of the Olivia Spencer Bower residency award. Recent projects include Start with a Vase (group), Hastings City Art Gallery, Heretaunga Hastings, 2019; Catch, Tinning Street Presents, Naarm Melbourne, 2019; Hut for a Sensuous Gold Miner (with Sophie Bannan), MEANWHILE, Pōneke Wellington, 2018; A Gathering Distrust, Ilam Campus Gallery, Ōtautahi, 2018; Private Lodgings, Blue Oyster Art Project Space, Ōtepoti Dunedin, 2016.