What looms large
Francis McWhannell
It's not about making the best thing, it's about that process of learning, of having a conversation with someone who knows what they're doing.1
—Daegan Wells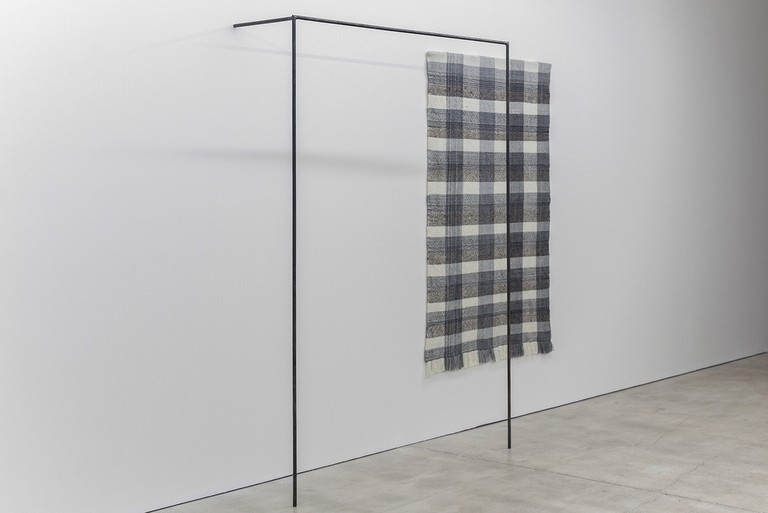 Truth be told, I do not know what a bush coat is. I picture something akin to a Swanndri. Heavy cloth, with squares of saturated colour neat as pastureland seen from the sky. The sort of jacket that I imagine might be worn by a character in a Barry Crump story—not that I can recall ever having read one. In any case, when Daegan Wells speaks of the departure point for his exhibition, Bush coat, I have no difficulty understanding where he is coming from. He describes his infant self clad in the coat, a garment made by his grandmother, Penny. Wool from her own sheep spun and woven by hand. Stiff fabric snapping his wee arms straight. The scratchiness of it, wool being fundamentally practical. Which is not to say that the coat was not comforting as well. If one of the typical qualities of crafted objects is utility (art turned to use makes craft), another is surely reassurance. Handmade things convey care from maker to user. The situation is more pronounced when the user is a child and the maker an elder. When Penny gave Daegan the bush coat, she was cherishing him, both because the garment would protect him—keep him warm, if not always dry—and because it enfolded her love-labour. Hours in the spinning of the thread. Hours in the making of the cloth. Hours in the piecing together and finishing. All that time adding up to an entity with a relatively short use-life (since little people do not stay little), but a long memory.
At my childhood home, in suburban Tāmaki Makaurau, there is a camphor box. I knew the name of it long before I had any notion of what camphor was. Old habit: I tend to slur the words together, pronounce them as one. A camphorbox is where old clothes live. The one at my parents' place is ornately carved. It must be a terrible trap for dust. Inside, there are tiny cardigans in pale colours. Jerseys with lively stripes on. Things made by relations now passed, and largely, by me, forgotten. The assumption is that the bits and pieces will have another life one day. Other babies will come along to wear them, and, in a process at once deeply sensible and deeply poetic, generations that have never met will be tied together. I picture crepe-skinned but dextrous hands threading peach ribbon through almost-the-same-peach knitted booties. Truth be told, I do not know who made them. My Akaroa grandmother or one of her sisters? Whoever it was likely was not so very old. Let us revise the image then. The hands can be younger. They remain dextrous. Perhaps one day my partner and I will decide to circumvent our homosexuality and find a way of having children. It occurs to me that I am today the same age my father was when I was born, almost to the month. I am late to the party. I might never arrive. What to do with the woollens?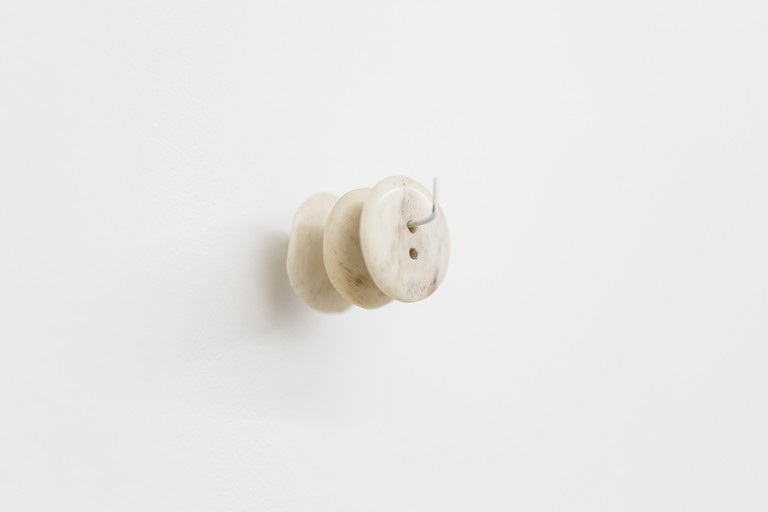 Bush coat depends on several instances of looping back, of revisiting. Daegan was born in Aparima Riverton in 1989. Penny was an important figure in his early life. She was a maker, a crafty kind of person, and wool-weaving was one of her things. She was supported in her interest by a woman named Isobel Bates, who had been weaving since the late 1970s.2 As a child, Daegan visited Isobel's studio in nearby Ōraka Colac Bay, where, as he recalls, he "cut all the threads to one of her looms."3 In 1996, he moved to Manapōuri, when his stepfather took a job at the power station.4 Playing on the lake's edge one day, he sank into a seam of soft clay. The memory of that event resurfaced years later, while he was living in Ōtautahi. As recipient of the 2017 Olivia Spencer Bower Foundation Art Award, Daegan examined the relationship between Spencer Bower, a painter, and her friend Yvonne Rust, a ceramicist. He produced a series of unfired clay pots decorated with watercolours, marrying the techniques of these art historical elders. As his interest in Rust and potting grew, he decided to return to Manapōuri, in order to reconnect with his childhood clay.
While in the area, Daegan met his partner, Scott, who had himself recently returned to Murihiku Southland to work on his family's farm at Ōraka. In 2018, Daegan joined him there. The farm was home to an array of animals, including a number of sheep of various breeds. It had originally been a "sheep and beef," supplying meat and wool, but was later converted into an intensive dairy farm. This situation is common in Murihiku, as it is elsewhere in Aotearoa. The slashing of agricultural subsidies in the 1980s, and an influx of synthetic and imported products, led many sheep farmers to turn to the booming dairy industry, with sometimes horrific consequences for the natural environment. Discussing wool with locals, Daegan found that there was a pervasive nostalgia for the industry, as well as a vibrant craft scene. He developed an interest in working with wool himself and resolved to learn how to spin and weave, following his grandmother's example. He got in touch with the local authority, Isobel, only to realise that she had once mentored Penny. Isobel has trained Daegan too. They meet weekly. She never lets him forget that he mucked up her loom all those years ago.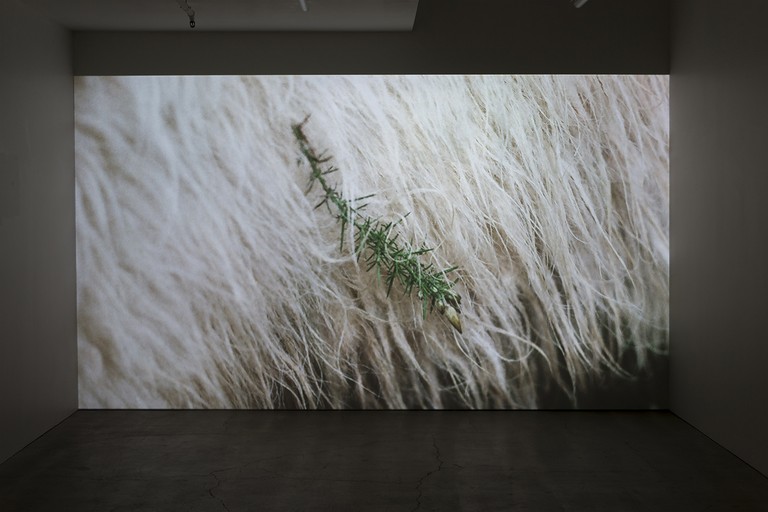 Before milk, there was wool. It looms large in the New Zealand imagination. As Lynn Freeman commented in a recent radio interview with Daegan, it used to be said that the country—which is to say the settler state—was "built off a sheep's back."5 From the mid-nineteenth century to the early twentieth, wool was the primary export earner.6 High school history (a module on the ANZUS treaty, if I recall correctly) told me that the Korean War led to a sudden trebling of the price of wool as the United States of America sought to stockpile the stuff. Wool is part of the national coat of arms. It is right there on the cover of your passport in the form of a golden fleece, along with Zealandia, a generalised rangatira, some ships and mining tools. For years, pride of place in the Beehive was accorded to a gigantic woollen wall hanging from the 1970s, designed by Guy Ngan and fabricated by Joan Calvert (with assistance from Jean Ngan and Dorothea Turner). Wool featured prominently in a later group of nationalistic woven works conceptualised by Malcolm Harrison, which were installed in the Galleria of the adjacent Parliament House during an extensive refurbishment in the 1990s. This same project saw new carpets put down in the House and Library.
Earlier this year, while he was visiting Te Whanganui-a-Tara as Enjoy's 2020 Summer Resident, Daegan looked into these carpets. Having come across a 2017 news item, in which Winston Peters called for the exclusive use of Aotearoa wool carpeting and insulation in government buildings and state houses, he decided to investigate the existing Parliamentary fitout.7 He found that the government had contracted Brintons Australia to manufacture the carpets in the 1990s, there being no local firm that could handle the job. Brintons was not a wholly antipodean concern but an extension of a centuries-old English company. The carpets they provided are a blend of British and New Zealand wool. The designs are largely European, including, for instance, fleurs-de-lis. Colours are calibrated to resonate with the Westminster system that underpins the New Zealand Government.8 Green carpet in the Chamber, where the House of Representatives sits, reflects that in the British House of Commons. Red in the Legislative Council Chamber, now ceremonial in function, since the Council was disbanded in 1951, reflects that in the House of Lords. The carpets are products of both the more globalised economy that developed out of the Rogernomics and Ruthanasia reforms of the 1980s and 1990s (the same reforms that spelled the death of so many sheep farms) and a stubbornly persistent old order.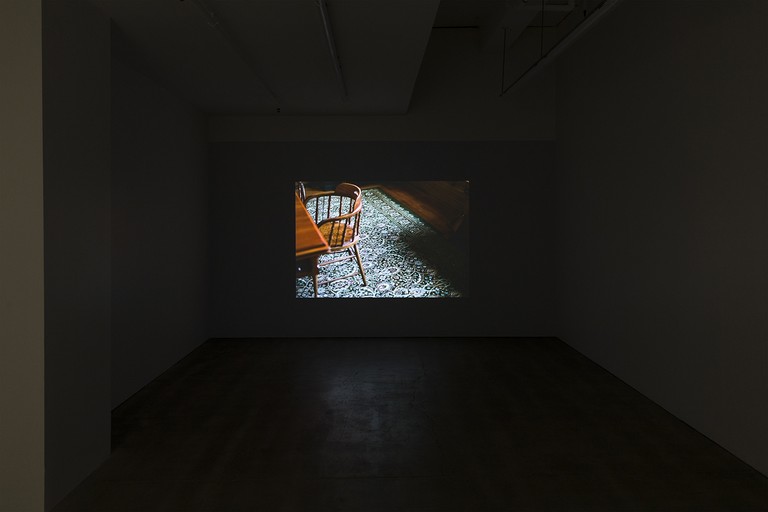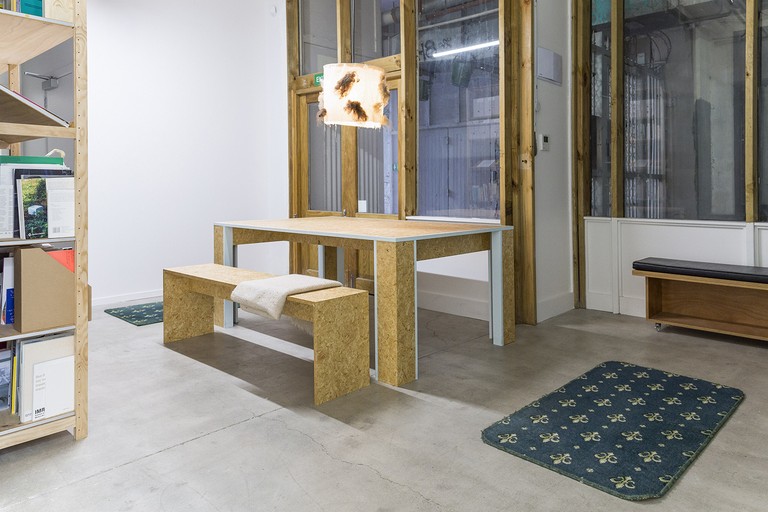 With beguiling elegance, Bush coat blends the personal and the national, the traditional and the contemporary, the sensual and the cerebral. The front gallery of Enjoy presents a sort of deconstruction of Daegan's childhood bush coat. Woollen items, hung on the walls or draped over ramrod steel forms, constitute their own functional units. Here a scarf of painstaking manufacture—two weeks in the spinning alone. There a dog's blanket—spinning outsourced for expediency. The pieces are also legible as components that might be stitched together in other ways. A wall carries two stacks of buttons that nod towards those from the original coat. One set is carved from bone, the other pāua. All the base materials are local to Ōraka, plucked from a beach or the back of a pet. In the rear gallery, a large projection shows photographs taken on and around the farm: veges in a garden that has provided for Scott's family for decades, golden lichens patchily covering rocks like threadbare carpets. There are shots of Parliament, including the Speaker's chair, upholstered in what a government website calls "thoroughly Kiwi sheepskin."9 Hand-drawn Brintons carpet designs have been mixed in, collage fashion, uniting old and new archives. The designs also appear in a smaller projection. A faint pixilation effect echoes the tiny pile-squares of the drawings.
In the Enjoy reading room, a cosy, near-domestic environment has been created by way of a lampshade festooned with tufts of wool, samples of the carpet removed from the Chamber during the 1990s renovation, and a blanket made by Penny in the 1980s. Moments and registers have been utterly collapsed. I find myself questioning some of my smugger attitudes towards "rural" New Zealand. I recall that just the other day a petition was delivered to Parliament by South Otago farmer Amy Blaikie.10 She has spoken not only of shoring up the market for wool, but also of its environmental benefits, and the potential for new applications to be found.11 I think of childhood trips to see my grandparents in Akaroa. My gran an incorrigible maker, doing cross-stitch, potting, quilting. Me in the garden, snapping a sun-warmed bean off grandpa's vine. Discomfort leaks in. One of the more salient aspects of getting older is increasingly recognising the effects of colonial, agricultural and political machines in this country. I register such effects acutely when I am in Akaroa, a town with which my family has been associated since the nineteenth century. It's very grassy and very white. No one much talks about the nearby settlement of the "Kaik" (a corruption of kāika). I feel a strong affinity for Banks Peninsula, yet I visit rarely. I tell myself I'm not a fan of smallness. Does part of me also think that Auckland asphalt is better at obscuring troubling roots?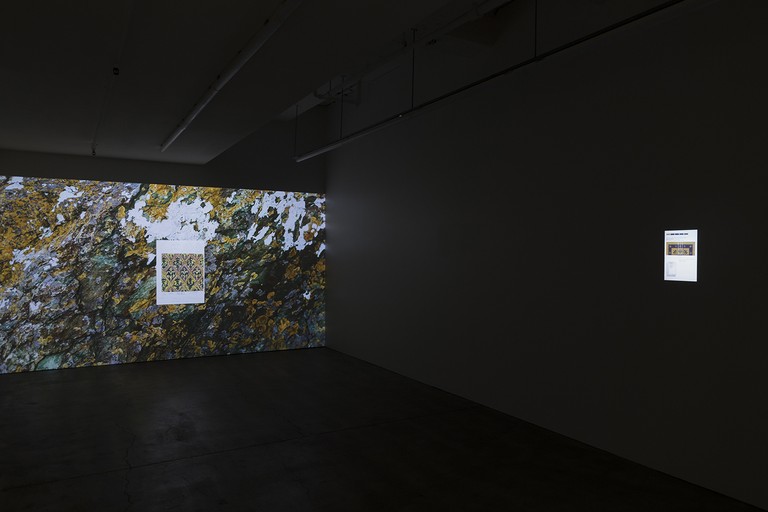 On Instagram, Daegan posts two images, findings from a new line of inquiry. The first is of a black and white banded rug made at the Roslyn Woollen Mills in Ōtepoti and now held by Toitū Otago Settlers Museum in the same city. By coincidence, the piece resonates with a chequered blanket in Bush coat, the pattern being similar, the palette the same. The second image shows the interior of the mills—turn of the last century, if I'm not mistaken. A man and woman pose amid a clutter of machinery, all toothed wheels, chains, and Möbius-looped belts. As is so often the case with photographs of the period, the woman wears a severe expression, one I'm wary of trying to define. Decorum interferes with a deeper human connection. My eye drops to her right hand, the fingers of which are fanned over her abdomen conspicuously in reach of a lever. I want to take the gesture as one of professional self-possession. This hand works the machine expertly. Searching for information about the mills, I stumble across an article on the first women's trade union in Aotearoa: the Dunedin Tailoresses' Union, formed in 1889.12 The header image is another interior shot of the mills: dozens of women staffing the machines. There is no mention of the firm in the article. Nevertheless, the association has been made. Wool is implicated in the development of the rights of workers, and specifically women workers.
But wool is also dependent on dispossession. I think of an essay by artist and curator Nathan Pohio (Ngāi Tahu, Kāti Māmoe, Waitaha), in which he discusses "Kemp's Deed."13 Signed at Akaroa in 1848, the deed saw the colonial government take hold of a vast area of Te Waipounamu. Inadequate land was set aside for use by Māori. Promises to develop hospitals and schools and to safeguard mahinga kai were not kept. Similar "purchases" were made elsewhere on the motu, much of the land soon being turned to sheep-running.14 This history is inherent in Bush coat. It runs through the Parliamentary content, of course, but surfaces in less obvious ways as well. It is in the iris-like pāua buttons, neatly needled on the wall. It is in the chequered blanket, which recalls not only the plaid fabric of a bush shirt, but also the Scottish settler presence in Aotearoa's deep south. Then again, the Scots no more own bands and squares than Pākehā own weaving and agriculture. Before wool, there was harakeke. Māori expertise gave rise to a busy—if not problem-free—trade.15 Ngāi Tahu are today frontrunners in various types of farming. The world about us is a bush coat: enmeshed, enveloping, and more than a little itchy. Our task, Daegan seems to say, is to unpick it, deal with all the textures, horrible and pleasant. When in doubt, lean into intimacy. Talk to grans, aunts, and other elders. Reach for things they've made. Remember their ways. Seek out a common thread.