past event
Deanna Dowling, The Crab And The Rock at Taipei Contemporary Art Center
Friday 12 Jul 2019
6:00pm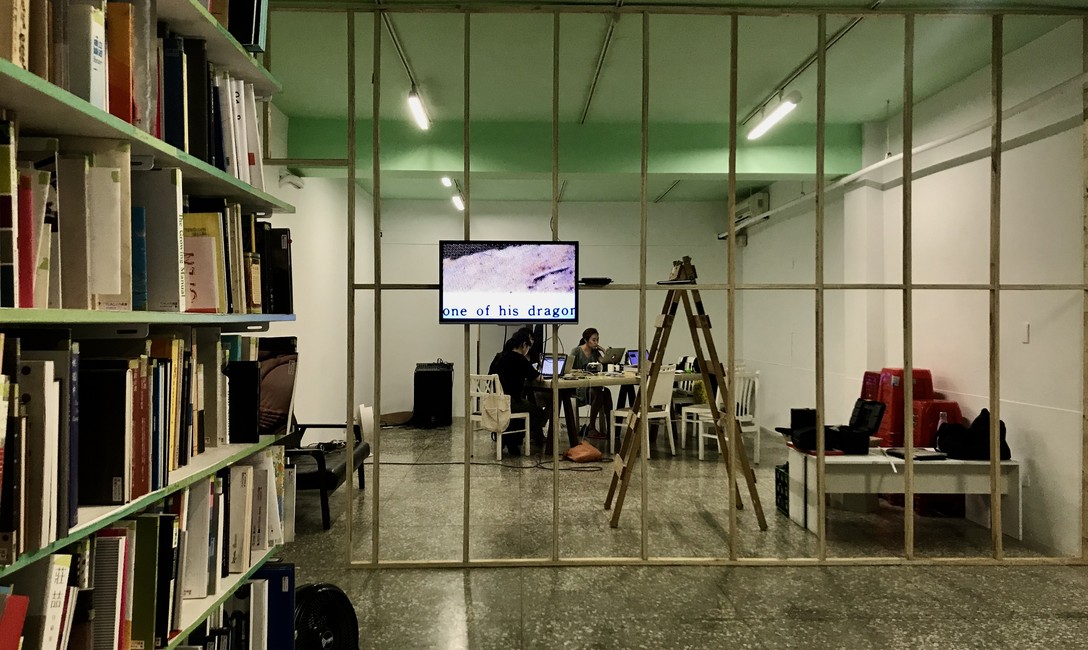 Enjoy is pleased to present The Crab And The Rock 狄雅納‧道凌 —〈螃蟹與岩石〉by Pōneke-based artist Deanna Dowling, opening tonight (6 pm, CST) at Taipei Contemporary Art Center.
Commissioned with the support of Creative New Zealand, the exhibition is a part of an exchange with Taipei Contemporary Art Center and features in a new program by TCAC called Female Avatars' Futurist Statement, curated by Shih-yu Hsu and Yu-Chieh Li. The Crab And The Rock extends Dowling's ongoing research into architectural approaches and the lifespans of buildings and is curated by Sophie Davis.
The moving image installation includes a new film by Dowling shot in Taiwan in 2018 with accompanying research materials and text, along with a temporary intervention in TCAC's gallery architecture. Dowling's film documents the semi-abandoned Futuro and Venturo complex in the coastal village of Wanli, outside New Taipei City. Originally built as a novelty resort during the 1970s, Wanli's Futuro and Venturo village is likely the largest settlement of modular pre-fabricated "UFO houses" designed by the Finnish architect Matti Suuronen. The houses anticipated a bold and optimistic future for domestic living and were exported internationally, including to Aotearoa New Zealand and elsewhere in the Asia Pacific region.
Exploring the "landing" of these readymade structures in Wanli, The Crab And The Rock highlights relationships between humans and the built environment. The installation contemplates the ways in which the form, construction and maintenance of architecture exists within and depends upon living relations.
ABOUT THE ARTIST
Deanna Dowling is an artist based in Te Whanganui-a-Tara Wellington, Aotearoa New Zealand. She holds an MFA from Massey University. Recent exhibitions include: SOLO, The Dowse Art Museum (2018), The sea we built on, Dunedin Public Art Gallery (2016); Young wood is restless, Youkobo Art Space, Tokyo (2016); A Tragic Delusion, Blue Oyster Art Project Space, Dunedin (2016); Time to save a little more, Enjoy Contemporary Art Space, Wellington (2015). Deanna was a recipient of an Asia New Zealand Foundation residency at Youkobo Art Space in 2016, and the winner of the National Contemporary Art Award awarded by Waikato Museum in 2014.
ABOUT TCAC
Founded in February 2010, Taipei Contemporary Art Center (TCAC) is an independent art space established by Taiwanese artists, curators, critics, writers, scholars and cultural researchers. TCAC aims to provide an open platform to present, exchange, create and share. As an organization, it embraces aesthetic expressions, which test institutional conditions and values beyond market forces and individualism.
The core value and mission of TCAC is to create critical public sphere, promote international exchange and provide diverse art experiment possibilities and learning programs. TCAC investigates the practice of conceptual institution and organization through reflecting the critical paradigms of the cultural environment, and respond to the needs and desires of the local community to explore cross field and cross cultural exchanges.