past event
Online artist talk: Li-Ming Hu and Salote Tawale
Saturday 25 Jul 2020
11:00am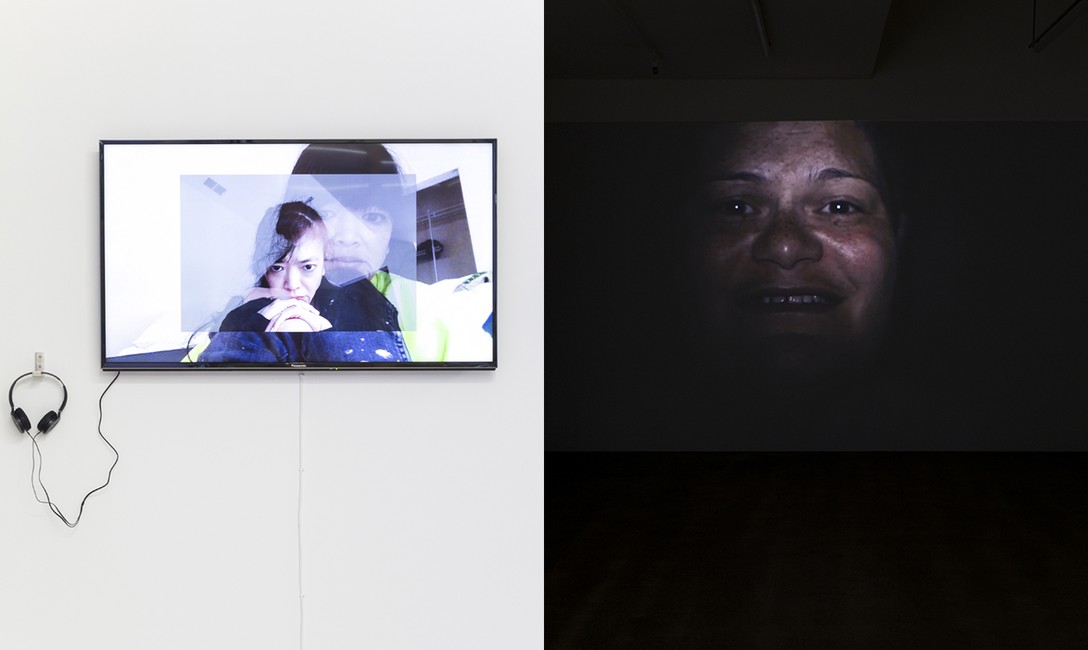 On the final day of the exhibition Fire-lit kettle, join Chicago-based artist Li-Ming Hu and Sydney-based artist Salote Tawale in conversation with Enjoy's director Sophie Davis.
Both Hu and Tawale share an interest in the performance of subjectivities through moving image, often deploying humour and references to popular culture in their works. Li-Ming will be discussing her works Three interviews (2019) and Acting/Not Acting (2019), while Salote will introduce her work Creep (2014), followed by casual discussion.
This talk will take place on Zoom.
Click here to join the Zoom meeting.
Zoom password: 634849
Meeting ID: 782 763 4937
Sydney time: 9 am, Saturday 25 August
Chicago time: 6 pm, Friday 24 August
ABOUT THE ARTISTS
LI-MING HU is an interdisciplinary artist from Aotearoa New Zealand, currently based in Chicago. Drawing on her past experience as a stage/screen actress, Li-Ming is interested in the intersections between art, popular culture and entertainment and the relationships between the performance of subjectivities and cultural production. Li-Ming has a MFA in Performance from the School of the Art Institute of Chicago and has undertaken projects with Aotearoa arts initiatives such as The Physics Room, ST PAUL ST Gallery and CIRCUIT, amongst others. She is also part of the artist duo Riff Raff with Daphne Simons, who were Enjoy's 2017 summer residents.
From the perspective of her Indigenous Fijian and Anglo-Australian heritage, SALOTE TAWALE is a Sydney-based artist who explores the identity of the individual within collective systems. Examining through self-performance, Tawale draws on personal experiences of race, class, ethnicity and gender formed by growing up in suburban Australia. Tawale completed an undergraduate degree in Media Arts and Masters of Art at RMIT University, Melbourne and a Masters of Fine art and Sydney College of the Arts, University of Sydney. Having exhibited nationally and internationally most notably at the Australian Centre for Contemporary Art; Spring Workshop in Hong Kong for Para Site; the FCACHeartsJogjatour of Jogakata Indonesia. Tawale undertook an Indigenous Visual and Digital residency at the Banff Centre in Alberta Canada and received the Inaugural 2017 Create NSW Visual Arts Midcareer/Established Fellowship. Tawale recently undertook the Australia Council for the Arts six-month residency at Acme, London, focussing on colonial archives; Fijian Objects, imagery and written records.