Fire-lit kettle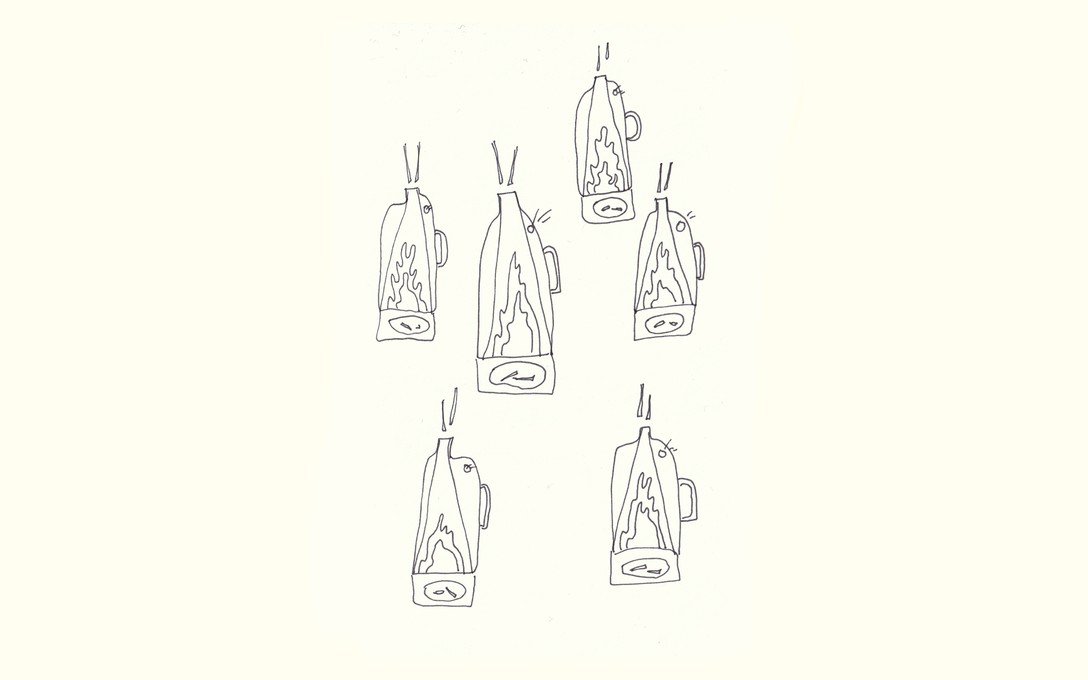 archived
19 Jun – 25 Jul 2020
Annie Mackenzie, Ashleigh Taupaki, Georgette Brown, Imogen Taylor & Sue Hillery, Li-Ming Hu, Salote Tawale
Creative energy is frequently spoken about in relation to a particular kind of passion or ignition, from the feeling of an initial spark to a sense of burnout. We often circle around the metaphor of tending a fire when trying to grasp at this as a question of maintenance as well as one of intuition. This speaks to resources, knowledge and relationships that require ongoing care and attention.
More
Fire-lit kettle is an exhibition that takes this language as a starting point to engage a group of women artists, motivated by the desire to explore its affective and critical potential. Annie Mackenzie presents a sculpture and voice message that reflects on a somewhat tense conversation around how to make a living and life from craft or art. Salote Tawale tests a kind of expanded self-portraiture, using a pop song to think about dynamics of representation and power through moving image. Li-Ming Hu has contributed two videos that provide humorous and absurd commentary on how we understand notions of "performance" in art and life. Artist and musician Georgette Brown has developed a new series of paintings where joy, pleasure and anxieties work together in surreal, almost psychadelic landscapes. Ashleigh Taupaki's sculptures grapple with forms of hearsay, memory and conversations between generations, and Imogen Taylor has collaborated with partner Sue Hillery to develop a painted intervention in the gallery that speaks to queer relationships as a driving force in creative production.
Grounded in legacies, livelihoods and desires, the works included offer different perspectives on how to sustain and understand creative practice, gravitating to what is raw over what is resolved.
DOWNLOAD THE EXHIBITION ROOMSHEET
Curated by Sophie Davis
Past Event
On the final day of the exhibition Fire-lit kettle, join Chicago-based artist Li-Ming Hu and Sydney-based artist Salote Tawale in conversation with Enjoy's director Sophie Davis.
More info
Imogen Taylor, interviewed by Creek Waddington.
Quilted Bananas, Wellington Access Radio, Sunday 20 June 2020.
ABOUT THE ARTISTS
Currently based between Whanganui and Purau, ANNIE MACKENZIE graduated with a BFA in Sculpture from Ilam School of Fine Arts, Christchurch in 2009. Previous exhibitions include SOLO, The Dowse Art Museum, 2018, International Foodcourt/Global Classic, The Physics Room, 2016 and Walking Forwards Backwards at Enjoy in 2016. Annie Mackenzie is the 2020 recipient of the Olivia Spencer Bower fellowship, was awarded the Tylee Cottage Artist Residency in 2018, and was the 2016 recipient of the Creative Fibre New Weavers Award.
GEORGETTE BROWN is a Pōneke Wellington-based artist and musician. She attributes much of her art practice to her formative years, spent living deep within a eucalyptus forest in Australia. Over the past few years, Georgette has exhibited at a range of artist-run and project spaces around the country, including Neo Gracie, Satchi Saatchi & Saatchi, Window, MEANWHILE, Play_station, and Blue Oyster Art Project Space. Georgette has a BFA from Massey University Wellington and plays drums in WOMB, a band composed of her and her two siblings.
LI-MING HU is an interdisciplinary artist from Aotearoa New Zealand, currently based in Chicago. Drawing on her past experience as a stage/screen actress, Li-Ming is interested in the intersections between art, popular culture and entertainment and the relationships between the performance of subjectivities and cultural production. Li-Ming has a MFA in Performance from the School of the Art Institute of Chicago and has undertaken projects with Aotearoa arts initiatives such as The Physics Room, ST PAUL ST Gallery and CIRCUIT, amongst others. She is also part of the artist duo Riff Raff with Daphne Simons, who were Enjoy's 2017 summer residents.
From the perspective of her Indigenous Fijian and Anglo-Australian heritage, SALOTE TAWALE is a Sydney-based artist who explores the identity of the individual within collective systems. Examining through self-performance, Tawale draws on personal experiences of race, class, ethnicity and gender formed by growing up in suburban Australia. Tawale completed an undergraduate degree in Media Arts and Masters of Art at RMIT University, Melbourne and a Masters of Fine art and Sydney College of the Arts, University of Sydney. Having exhibited nationally and internationally most notably at the Australian Centre for Contemporary Art; Spring Workshop in Hong Kong for Para Site; the FCACHeartsJogjatour of Jogakata Indonesia. Tawale undertook an Indigenous Visual and Digital residency at the Banff Centre in Alberta Canada and received the Inaugural 2017 Create NSW Visual Arts Midcareer/Established Fellowship. Tawale recently undertook the Australia Council for the Arts six-month residency at Acme, London, focussing on colonial archives; Fijian Objects, imagery and written records.
ASHLEIGH TAUPAKI is a Tāmaki Mākaurau Auckland-based artist and curator. Her work is influenced by Māori concepts of place, place-making and spiritual interconnectedness through the casting and experimentation of hard materials such as wood, concrete and metals. Her work is also heavily informed by Indigenous politics and writings, as well as mythological stories and histories connected to place. These places include the Waitakere area where the artist currently resides, and the Hauraki region where her iwi, Ngāti Hako, originate from. She is currently studying towards an MFA at Elam School of Fine Arts, where she is also a curator at Window gallery.
IMOGEN TAYLOR was born Whangarei, New Zealand in 1985 and is currently based in Dunedin. She graduated in 2010 from University of Auckland's Elam School of Fine Arts with a Post-Graduate Diploma of Fine Arts. Taylor was artist in residence at Parehuia, McCahon House in 2017. In 2018 she was the Paramount Award winner of The Wallace Trust Art Awards and the recipient of the 2019 Frances Hodgkins Fellowship. Recent exhibitions include Sapphic Fragments, The Hocken - Uare Taoka o Hākena, Ōtepoti Dunedin; Betwixt and Between, Michael Lett, Auckland; Social Studies, Dowse Art Museum, Te Awakairangi Lower Hutt (2018); Pocket Histories, Te Uru Waitakere Contemporary Gallery, Tāmaki Makaurau Auckland (2018).
SUE HILLERY's practice investigates architecture, sculpture and "built-potentials". She is currently based in Ōtepoti and is the director of Hillery Taylor Architecture.
Hillery graduated from Ilam in 1991 with a Bachelor of fine Arts in Sculpture and from the University of Auckland in 2001 with a Bachelor of Architecture (1st Class Honours). Having established her own architecture practice post University, Hillery then partnered with renowned architect Richard Priest, to form Hillery Priest Architecture from 2006-2012. Hillery sat on the board of artist-run gallery Testrip (1992-7), and continues to overlap architecture with contemporary art. Most recently Hillery has been collaborating with Imogen Taylor, providing spatial design and architectural interventions for Sapphic Fragments, The Hocken - Uare Taoka o Hākena, Ōtepoti; Betwixt and Between (2019) at Michael Lett Gallery, Tāmaki Makaurau; Pocket Histories at Te Uru Waitakere Contemporary Gallery, Tāmaki Makaurau (2018) and The Dowse Art Museum, Te Awakairangi (2018).