Maʻu Pe Kai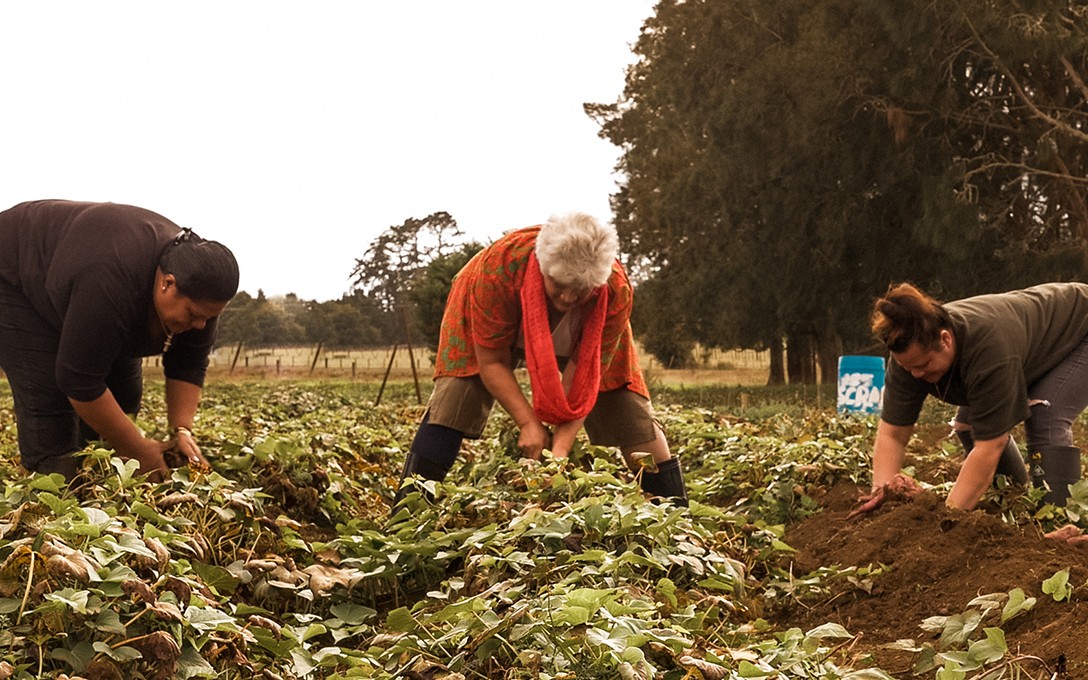 archived
10 Aug – 7 Sep 2019
Matavai Taulangau
Kaikohe is a small town located in Northland, a town that reflects the village culture my fāmili (family) were accustomed to back in Tonga. My ongo mātuʻa (parents) made the decision to raise our fāmili in Kaikohe. They left their fonua in exchange for the whenua in Aotearoa. As my father had said, "Toʻuanga fiemalie pe, he teu ave koe ki Nusila mo fanau", God had brought us here. My parents' migration brought about a shift in perception, towards the idea that value was only obtained through Western knowledge.
More
The first time I heard the phrase "maʻu pe kai" was filming a harvest of kumala in Okaihau, a town not far from where I grew up, where a community garden is cared for by local Tongans. Being a visitor to this harvest, I noticed "maʻu pe kai" was frequently used as a modest reply. A reply, my mother explained, that was often used when fishing. A humble way of acknowledging that there wasn't a lot of fish caught, but enough to feed the people.
Reestablishing the connection to my culture has begun through understanding cultural practices and why we maintain them. Food and labour are a source of remembrance, learning and knowledge. Through filming the labour of kumala, knowing through experience is shown. Each patch of soil is a source of cultural knowledge. The act of filming is to assert the significance of Indigenous Tongan knowledge and even though memories fade, the hands who tend the soil will always remember.
Maʻu Pe Kai is a new moving image installation at Enjoy by Matavai Taulangau that documents three kumala harvests: one by the Tongan community in Okaihau in Northland, one by the artist's mother in nearby Kaikohe, and one by the artist in Tāmaki Makaurau Auckland.
Taulangau takes notice, observes and explores the value of different kinds of work through his lens-based practice. His video work and photography strives to highlight forms of labour and knowledge that are often overlooked, emphasising the value of people and their experiences.
Publication
Includes contributions from Arapeta Ashton, Simone Kaho, Hēmi Kelly, Vea Mafileʻo, John Vea and Kirsten Wong.
More info
ABOUT THE ARTIST
Matavai Taulangau has a Bachelor of Visual Arts with Honors from AUT University. Recent exhibitions include Salt, Tacit Gallery, Kirikiriroa Hamilton (2018), This time of useful consciousness, The Dowse Art Museum, Te Awakairangi Lower Hutt (2017), On the Grounds, Starkwhite, Tāmaki Makaurau (2017), Ward 3 with Ary Jansen, RM, Tāmaki Makaurau (2016), Offstage 7, Artspace, Tāmaki Makaurau (2016).