Enjoy
Blog
Contents
New landscapes: Salome Tanuvasa reflects on Matavai Taulangau's Ma'u Pe Kai
April 03 2020, by Salome Tanuvasa
In August 2019, Enjoy presented Matavai Taulangau's solo exhibition Ma'u Pe Kai. Documenting three kumala harvests—one by the Tongan community in Okaihau, Northland, one by the artist's mother in nearby Kaikohe, and one by the artist in Tāmaki Makaura—Taulangau's moving image installation highlighted forms of labour that are often overlooked, emphasising the value of people and their experience.
Taulangau invited friend and fellow artist Salome Tanuvasa, whose work is included in our current exhibition This is a library, curated by Hanahiva Rose, to reflect on his work. We're delighted to share Tanuvasa's text with you.
It's been four months since I experienced Matavai Taulangau's exhibition Ma'u Pe Kai at Enjoy. I've been invited by the artist to write a reflection about this show. On my part, things have been difficult as I've been going through some good and bad patches in my life in 2019. This reflection is long overdue. It is something I wanted to do when I had the chance to face my thoughts and feelings.
It's Saturday 18th January 2020, midday, and I'm sitting in my room going through my anxious thoughts. My mother opens my bedroom door to bring some of the washing she has done for me. I ask her to leave it by the mirror. As she closes my door, I start to think about how hardworking my mother is. She is from Vava'u Tonga and migrated to Nusila/Aotearoa for a better life in the 1970s. I look down in my hands, where I have an orange sheet of paper and I start to read the room sheet which accompanied Matavai's show. I am filled with grounded words from him, the warmth of his family and the beautiful realness of his works bring my unsettled mind to ease. I then realise the bigger picture and reflect on the journey my parents have made for me and my siblings, my parents' sacrifice as they sought new beginnings within New Zealand. I then pause and think, were my actions and worries over certain decisions like my relationship, my current career and my living situation, worth the time and energy wasted? Or was this suffering a part of my own life path of growing?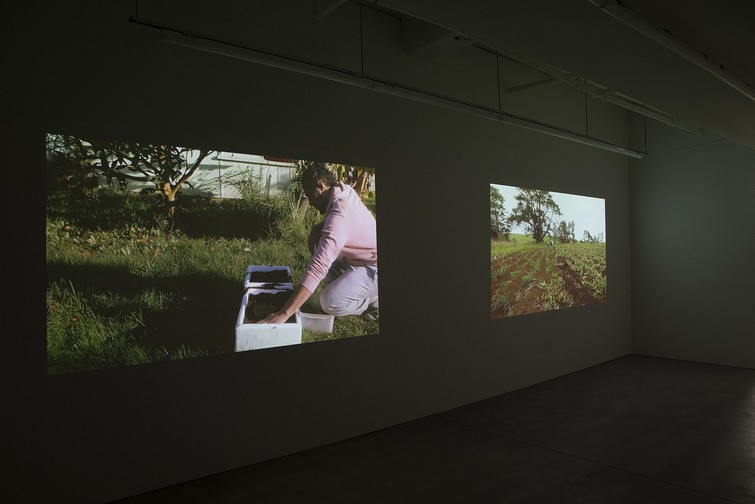 As a second generation New Zealand-born Pacific Islander, I am removed from the experiences of Island life. I have missed the life of living off the land and the hard labour of growing and fishing to feed the family. The precious knowledge handed down from elders has been lost to the life of moving and growing up in an industrialised country like New Zealand.
To reconnect to your culture is a conscious act of acknowledging your past. I have heard stories of the many jobs my parents would do as the sun rose on the island. Simple but hard jobs that needed to get done, like attending to animals on the land, pigs and chickens, as well as collecting taro and coconut and other vegetables to feed the family. Technology and apps weren't a distraction and life would be lived in the moment, something I hope to instil in my living to this day.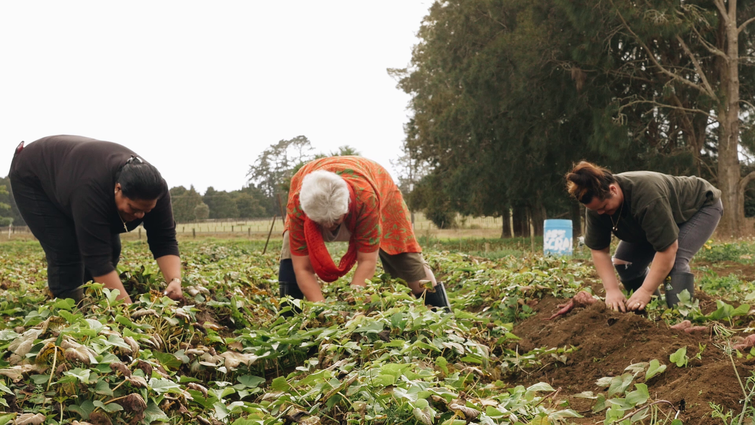 It's Saturday afternoon in August 2019 and the Wellington weather is holding up. I enter Enjoy and find myself sitting in front of Matavai's work. The New Zealand landscape surrounds these Tongan people in the shot and I am taken by the Tongan language being spoken in the film with no English translation. I'm left with my basic knowledge of Tongan to carry me while I watch Matavai's film. The Tongan language reminds me of my mother's home which fills me with warmth. Kumala is the product being harvested, a staple vegetable brought over by Māori from the Pacific and South America. The New Zealand climate is different from the warm environments of the Pacific so to grow kumala can be difficult. Watching and reading Matavai's work, there is a sense of working together with loved ones and knowledge being passed down from elders, like Matavai's father who made the migration move from Tonga to Okaihau in Northland.
It takes six months to grow kumala, time and location have been presented in Matavai's work. The practice and knowledge has been acted out by Matavai himself as he reconnects with his family and we see him learning to grow kumala in Tāmaki Makaurau.
Earth movers, growing time, patience, rewards, the labour, the hard work, the endurance.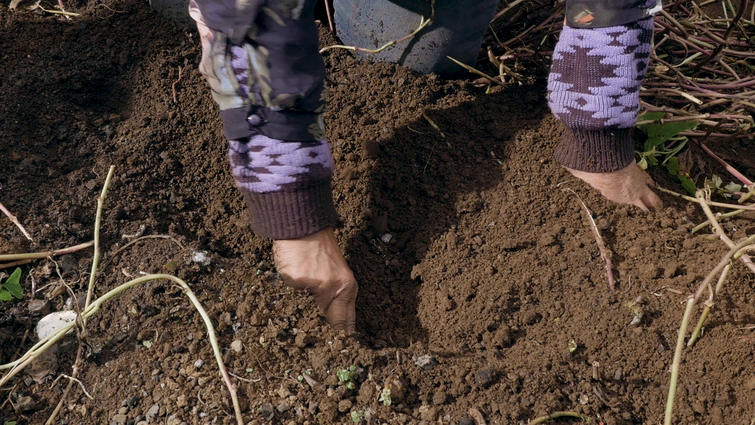 Knowing that we aren't in our homelands, we acknowledge that we are here to serve each other and do the best we can. Ma'u Pe Kai is a show about migration, knowledge of growing kumala but also knowledge of Tongan culture, it's a show about working in new landscapes—with family, nurturing through language and hands, working together and showing loved ones the process of taking care of themselves.
Reflecting on Ma'u Pe Kai, I think about recently sitting at the kitchen table, making ribbon leis for my eldest son who graduated from his intermediate school in December 2019. I asked my mum what their leis were made out of in Tonga when she was growing up. And she replied, they were made out of the flowers of Tonga. This took me back to when I was visiting Tonga for the first time, I remembered arriving in Vava'u as a teenager and being greeted by my aunties with real flower leis, made from flowers grown on the Island. It smelt beautiful.