This is a library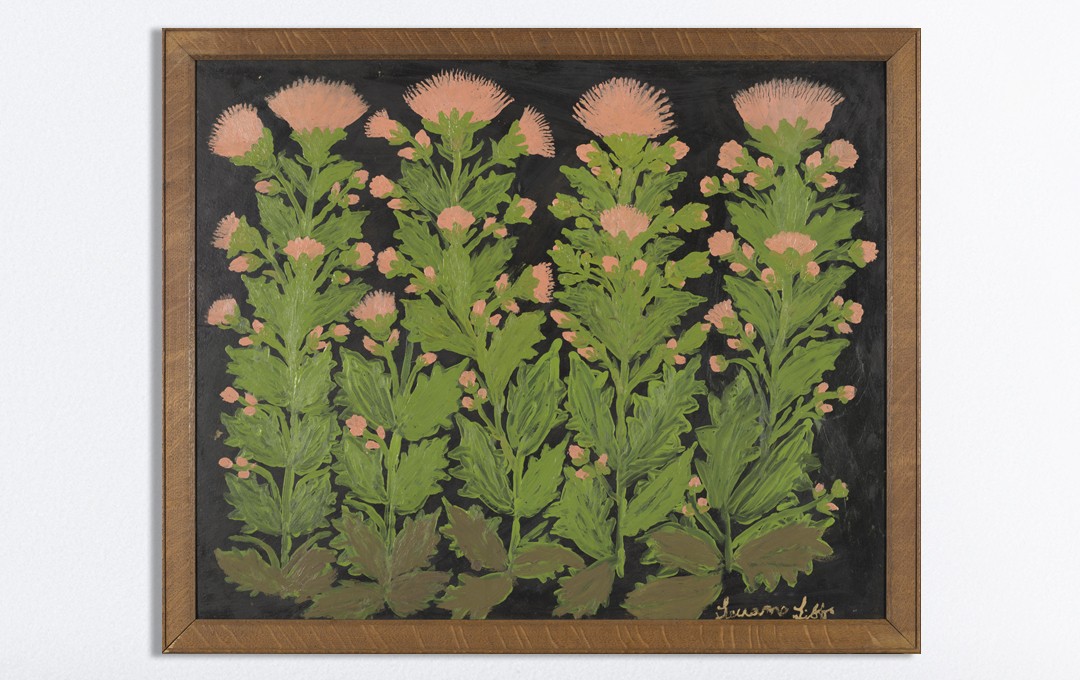 archived
13 Mar – 18 Apr 2020
Christina Pataialii, Claudia Jowitt, Salome Tanuvasa, Teuane Tibbo
This is a library, curated by Hanahiva Rose, is an exhibition of work by Teuane Tibbo, Christina Pataialii, Salome Tanuvasa and Claudia Jowitt.
More
In the early 1960s, Tibbo became one of the first contemporary Pacific artists to have work exhibited in dealer and public galleries in Aotearoa. She began painting at 71 and over the following decade worked consistently, experimenting with technique and form, and made a significant impression on her contemporaries—including Pat Hanly, Michael Illingworth and Tony Fomison. Her work is held in collections around the country and has been included in a number of significant exhibitions, including Polynesia in Auckland (Auckland Museum, 1996), Te Moemoeā no Iotefa (City Gallery Wellington, 1990), and Home AKL (Auckland Art Gallery, 2012).
Drawn from public and private collections for exhibition in This is a library, Tibbo's work can be seen to foreshadow consistent themes in a new generation of artists: memory, place and the idea of home. Pataialii, Tanuvasa and Jowitt respond to Tibbo's practice and legacy, creating conversation between generations of painters. Across each of the four artists runs an interest in the formal qualities of painting: in mark marking and media. They look to trouble genre and resist easy interpretation.
The exhibition draws its title from Jim Vivieaere's video installation This is not an ocean, this is a rented house / this is not a hand, this is a library / this is not the sky, this is a grandfather clock / this is not a child, this is a mirror (2007). In referencing Vivieaere's work, the exhibition seeks to acknowledge the long history of contemporary Pacific art and exhibition making in Aotearoa to which both he and Tibbo belong. This is a library is a space for connection to be established and influence shared.
Click here to read the exhibition room sheet, including an extended exhibition text by Hanahiva Rose.
Read Ioana Gordon-Smith's review of This is a library on The Pantograph Punch.
Our sincere thanks to the collectors and collections who have loaned Teuane Tibbo's work for exhibition.
Framing for this exhibition has been generously supplied by Elliot Creative.
Curated by Hanahiva Rose
Exhibition Essay
by Maria Samuela
Read online
ABOUT THE ARTISTS
HANAHIVA ROSE comes from the islands of Ra'iātea and Huahine and the people of Te Atiawa, Ngāi Tahu, and Ngāti Toa Rangatira. A graduate of Victoria University's Art History department, she is currently based in New Plymouth, where she is Assistant Curator Contemporary Art and Collections at the Govett-Brewster Art Museum. Her work has appeared in publications published by Adam Art Gallery Te Pātaka Toi, Enjoy Public Art Gallery, and Tautai Pacific Arts Trust, among others. In 2018, Rose was a participant in Extended Conversations, a year-long publishing and professional development programme for emerging arts writers.
CLAUDIA JOWITT is an artist based in Tāmaki Makaurau Auckland, New Zealand who is of Pākeha and iTaukei, Fijian heritage. She holds a Master of Fine Arts from the University of Auckland's Elam School of Fine Arts, a Bachelor of Art and Design (Hons) & Bachelor of Visual Arts from AUT University, Tāmaki Makaurau and studied at Carnegie Mellon University's College of Fine Arts in Pittsburgh, Pennsylvania. She has been exhibiting both nationally and internationally since first completing her undergraduate degree in 2009 and was the 2016 Tautai Trust Pacific Artist in Residence at the Dunedin School of Art at Otago Polytechnic. Her works are included in the Wallace Art Trust and University of Auckland Art Collection as well as private collections.
CHRISTINA PATAIALII'S paintings operate between abstraction and representation, exploring the tensions that arise from merging culturally specific codes and visual languages. Reflecting a globalised cultural context, and the construction of physical and ideological boundaries, Pataialii's work explores issues around identity, spaces of belonging, heritage and debt, and the experience of growing up in working class migrant communities.
Pataialii lives and works in Wellington. Recent solo exhibitions include: Wouldn't it be Nice, McLeavey Gallery, 2019; On the Lam, Tim Melville Gallery, Auckland, 2019; Solid Gold, Te Tuhi, Auckland; Debt, RM Gallery, Auckland; Thoughts and Feelings, mother?, Auckland (all 2018) and Slow Jamz Till Midnight, Blue Oyster Art Project Space, Dunedin (2017).
SALOME TANUVASA is a Samoan-Tongan artist based in Auckland. She completed her Masters in Fine Arts at Elam in 2014, followed by a Diploma in Secondary Teaching. Salome's work crosses a variety of mediums including moving image, drawing, photography and sculpture. Salome's work is about her immediate surroundings and often reflects the environments she is in at that time, drawing attention to wider issues among New Zealand-based Pacific people.
Recent exhibitions include: Mirrored Systems, Tim Melville Gallery, Tāmaki Makaurau (2019); To Uphold Your Name (with Quishile Charan), Mangere Arts Centre, Tāmaki Makaurau (2018); The sea brought you here (with Quishile Charan), Enjoy Contemporary Art Space, Pōneke (2017); Lei pa (group), ST Paul St Gallery, Tāmaki Makaurau (2017). Her work is held in the Chartwell Collection, Tāmakin Makaurau and the Wallace Art Trust, Tāmaki Makaurau.