Dance
Arihia Latham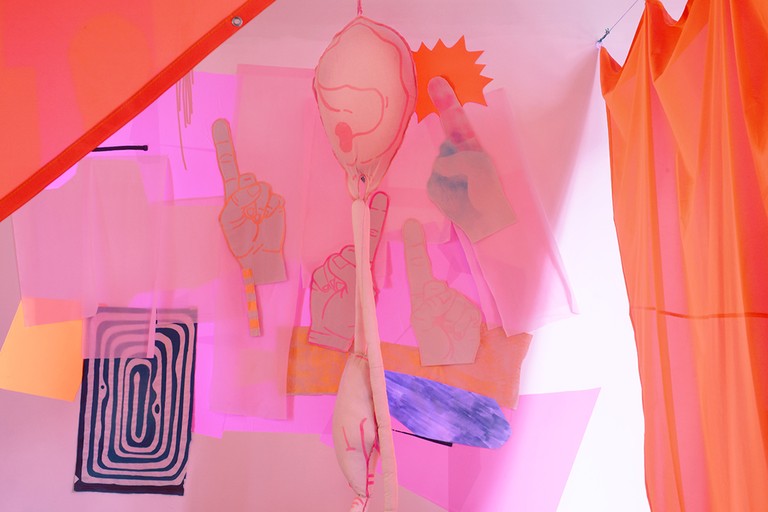 There are times when our bones feel hollowed by life's voices / our skin, chameleon like, merges with the walls / there are times when all the words are layered like confetti in the sky / their small, falling arcs of colour we rearrange with our feet/ there are times when the music of underground streams informs the angles of our bodies / when moving is from the wind—a puppeteer; the ground—a magnet / there are times when it is unclear if the music is the people or the people, the music/ when the colours and lights of coming together become a sunrise to our new selves/ there are times when our connection is happening without the need to help it/ when we are shedding layers of holding and worry as the sound becomes the river/ the sound shows us the next rock to jump to/ it shows us we know how to move forward/
It shows us we can move for no reason and still find a bubbling feeling of hope in our marrow/ our limbs become liquid, our eyes become silver stars/ everybody comes here to feel safe in the walls of themselves/ everybody can come here to tear down the walls made of themselves/
Everybody can come here.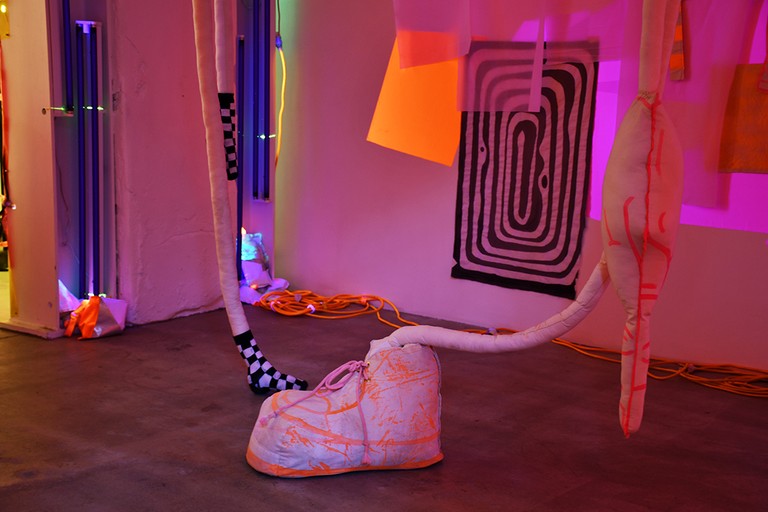 Everybody SoundSystem might look like a bright shrine to dance parties inside the perfectly positioned Enjoy Contemporary Art Space sitting on the whenua of the party precinct many of us have danced through. The Matterhorn, Mighty Mighty, Bodega and Goodluck all magnetised us here with their pull to dance over the years. Waimapihi stream flows underground from Aro Valley beneath Vivian Street through Cuba Mall and I want to think this resonance has bubbled up to greet the partying happening above her. Awa are innately cleansing. Somehow so is dance. It allows us to shake off stress or apathy and to be held in the moment.
The three artists collaborating in Everybody SoundSystem have played important roles in my relationship with dancing and partying over the last twenty years. I was at The Gathering of '97-'98 when Josephine Cachemaille was the managing director. At the tender age of 17, this was one of my first big outdoor dance party experiences. And it was formative in my experience of connection to place through dance. Stepping into spaces transformed by colour and sound and yet responsive and responding to the environment was mesmerising.
The feeling of community, celebration, expansion and play were like small life-instructions written into the ground beneath us.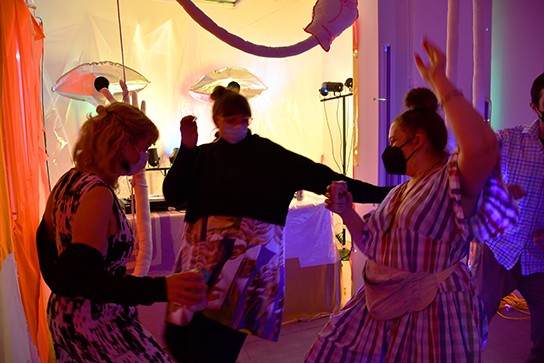 The feeling of finding your people through sound and movement was a big part of my self- formation, of growing myself up. I was 19 years old when I met Eve Armstrong. Many dance parties cemented our friendship. Her stamina on the dance floor is unsurpassable. We have danced at equinox parties while snow drifts fell, the beat warming us, growing us up. We have danced in underground basement clubs, the slip of hot bodies forming patterns around us. The questions of life finding multiple answers in the vibration of the bass and through the smoke of the time. We have danced on black sand beaches, the sunset throwing gold sequins over our elation. We have danced in community gardens, the shape of togetherness oscillating with flowering orbs of garlic and soft kisses of sweet pea. We have danced in inner city parks, our feet ambling from Karangahape Road to the palmed oasis below full of limbs reaching, eyes calling. We have danced in halls, raved the streets for Pride, raved the night with our wide open minds.
Gabby O'Connor is known to bring joy. She is full-colour. We'd just come out of our first lockdown in 2020 and I was tentatively planning a birthday party. I wasn't sure I had it in me, but Gabby and Lily of the SheJays said they'd play, and Gabby said 'This isn't just for you, this is for all of us now—we need this'. Those were the words I needed to make it happen. And all I could do in that utopian future themed-party was stay on the dancefloor as friends came and joined me and celebrated in the only way I could fathom, through unravelling the strangest year of our lives in technicolour sound.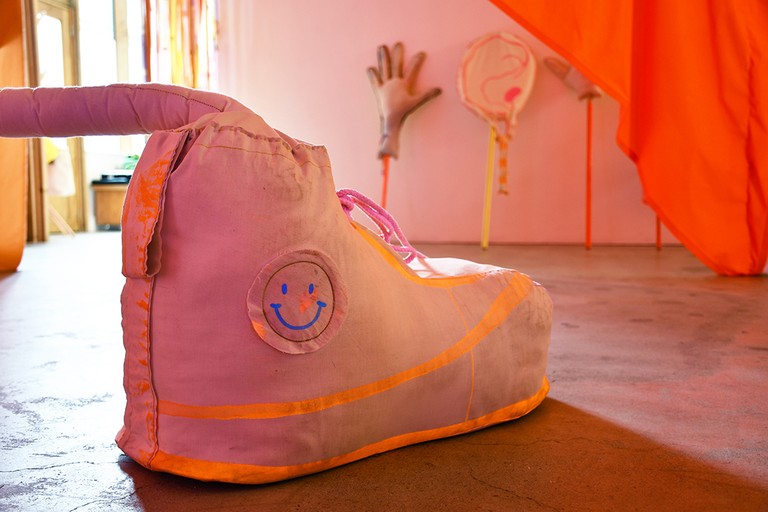 Enjoy has had DJs descend on the gallery floor, each one bringing a different crowd and etching out a story for us all to absorb and transform in any way that we might need. Everybody SoundSystem made daytime dance parties for those of us who thrive in the daylight, to play and perform, to come together and communicate through movement. This collaboration made a space for us to enter in wonder as we sashay through orange and pink ribbons. We bask in the warm glow of the hanging arterial fabric work leading us with calico ears, hands and feet to the decks where vinyl spins from the mouthy speakers and those silver eyes wink knowingly, because this is the medicine everybody needs.
ABOUT THE AUTHOR

Arihia Latham (Kāi Tahu) is a writer, rongoā practitioner and māmā who has grown up on music and dance as ways to transform, inform, celebrate and sustain us. She'd almost always choose dancing over talking.