Everybody SoundSystem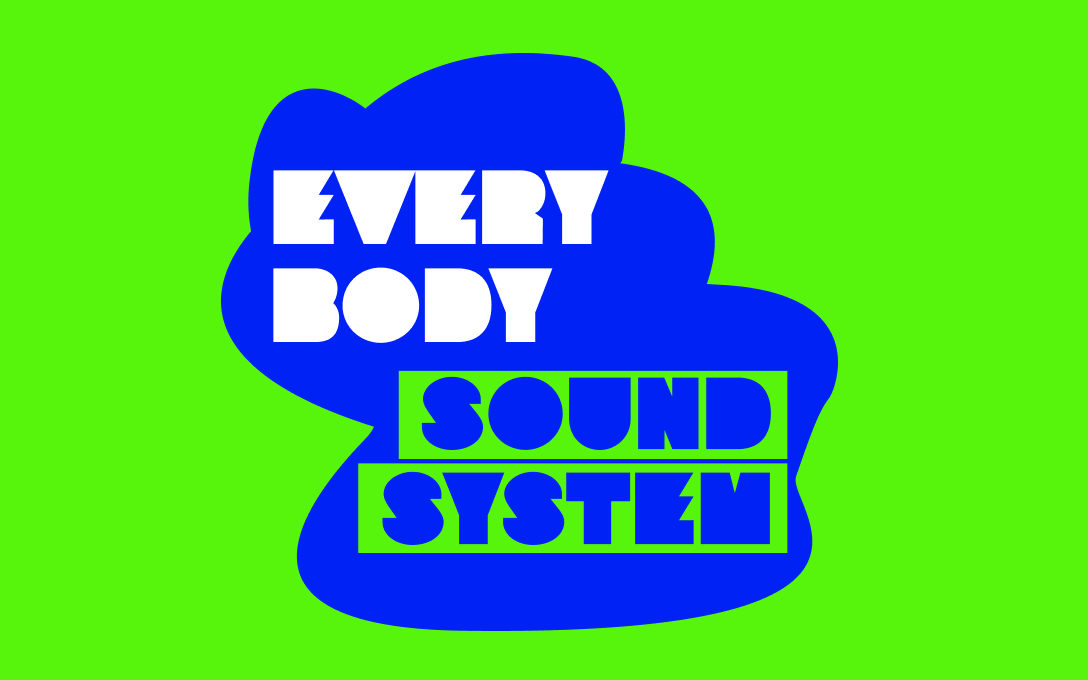 archived
13 Aug – 10 Sep 2022
Eve Armstrong, Gabby O'Connor, Josephine Cachemaille
Everybody SoundSystem is a project about friendship and the transformative potential of creative collective endeavor. For artists Eve Armstrong, Josephine Cachemaille and Gabby O'Connor, dance parties were their first experiences of making installations. These endeavors often involved activating spaces by enhancing sensory environments, usually through repurposing found materials and an ethos of 'making do'.
More
Their project Everybody SoundSystem, revisits the hope and optimism catalysed by the underground dance party scene and explores its capacity to positively affect our sense of everyday life during these troubled times. The project approaches the dance party as a locus for resistance and repair, as a mechanism for coping with the anxieties and uncertainties of the current climate, and as a generous and generative place to experience attachment and connections.
The artists will transform Enjoy into a making-space + installation + party zone equipped with sound systems, lighting, material textures and effects exploring the sensory language of optimistic dance party spaces.
Hear music reviewer Grant Smithies' Everybody SoundSystem inspired play list
Listen to Josephine Cachemaille: bringing back the 90s rave with Kim Hill.
Image: Everybody SoundSystem, design by Jayne Joyce.
Publication
You meet some of the best people on the dance floor!
Writing on and around dance party culture in Aotearoa and in the art world by Everybody SoundSystem, Grant Smithies, Laura Marsh, Emma Jean Gilkison, Heather Galbraith and Arihia Latham.
Read online
ABOUT THE ARTISTS
Josephine Cachemaille is an installation artist who makes paintings, objects and assemblages. She approaches art-making as a place to engage with non-human materials as lively "collaborators" who know things and have the capacity to act.

In the mid-1990s Josephine's life revolved around the excitement and optimism of making and attending dance parties—she was the co-founder and Managing Director of seminal New Zealand dance music festival, the Gathering, from 1996 - 98. Josephine cites these creative collective endeavors as a precursor to her preoccupation with making friendly installations and assemblages concerned with multiple ways of knowing, sensing, feeling and interacting with the world. She traces a path from these events to her ongoing exploration of art-making as a form of "enchantment", as an escape from the ordinary, and as a generous and generative place to experience attachment and connections.
Josephine Cachemaille has a post graduate diploma in Fine Art from Auckland University of Technology and a degree in Psychology from University of Otago. She has won multiple national art awards and has had solo exhibitions nationally and internationally, including representing New Zealand at the Beijing Biennale 2019. Josephine is represented by Sanderson Contemporary in Tāmaki Makaurau, and lives in Whakatu Nelson with her husband, music journalist Grant Smithies.
Gabby O'Connor is an artist with an emphatically spatial and site-specific installation practice. She often works collaboratively with other artists, specialists and communities to engage the potential of materialities to explore her subject matter.
After completing art school in Melbourne, Gabby created sets, lighting and dressing for alternative dance theatre spaces and nightclubs. Strongly involved in the 90s - 2000s club scene, she is now a member of Poneke feminist DJ collective The She Jays whose credo is a shared love of music, dancing and generating opportunities to be together.
Gabby O'Connor is a current PhD candidate at the University of Auckland and has been collaborating with scientists and communities on The Unseen, a social art/social science project concerned with climate change involving 8000 participants across 6 sites in Aotearoa. She has a BFA in Fine Arts Sculpture from the Victorian College of the Arts in Melbourne, and an MA from College of Fine Arts, University of New South Wales. Gabby's artist residencies include Gertrude Contemporary in Melbourne; Performance Space in Sydney, Hiroshima Art Project in Japan, K131 Research Team in Antarctica (2015 and 2016), and Marsden College, Te Whanganui a Tara. In 2017 she presented All the Colours, All the Light at the Sharjah Islamic Art Biennale and then at the Dowse Art Museum 2021-2022.
Eve Armstrong is an artist based in Pōneke who works across sculpture, installation, collage and participative art projects. Her practice examines the sculptural and creative potential of the everyday with a focus on the products and by-products of consumption, and the activities of trade and exchange. Eve's approach is concerned with extending, adapting, assisting and facilitating exchanges of form and value.
From the mid-90s - early 2000s attending and creating indoor and outdoor dance parties with friends and collaborators across Aotearoa was a pivotal part of Armstrong's life. The creative DIY approach and community building experience of making spaces for music, dance and connection has continued to inform her practice.
Eve Armstrong holds a BFA from Elam School of Fine Arts (2003) and is an Arts Foundation of New Zealand laureate (2006). She has exhibited widely throughout Aotearoa including major solo exhibitions at Dunedin Public Art Gallery (2017), The Physics Room, Ōtautahi (2010), City Gallery Wellington (2007) and Artspace, Tāmaki Makaurau (2005 - 6). She has also exhibited internationally including solo projects in The woods that see and hear, Netherlands (2010) and Busan Biennale (2006). Eve's ongoing project Trading Table (2003 -) has taken place in Sydney and numerous Aotearoa locations, most recently as part of three iterations in The Physics Room's Unconditional series in Te Waipounamu (2018). Artist residencies include the Dunedin Public Art Gallery Visiting Artist Programme (2016 - 17), Parehuia - McCahon House Artist Residency (2009) and the Asia New Zealand Foundation/AiR Association Limited Residency in Hong Kong (2008).