Steel-Life
Claudia Arozqueta
Upon entering Yona Lee's exhibition, the visitor's eye is caught by a toilet paper strip that softly travels from the floor to the entrance beams of the gallery, to encounter an orchestra of zigzagging, looping and wavy steel rods that occupy the gallery space. Within these shiny structures, regularly used for commercial display, Lee has incorporated a series of mundane objects, such as sunglasses, forks, cups, newspapers, clothes, canned food, mirrors, compact discs, soaps and pricing tags.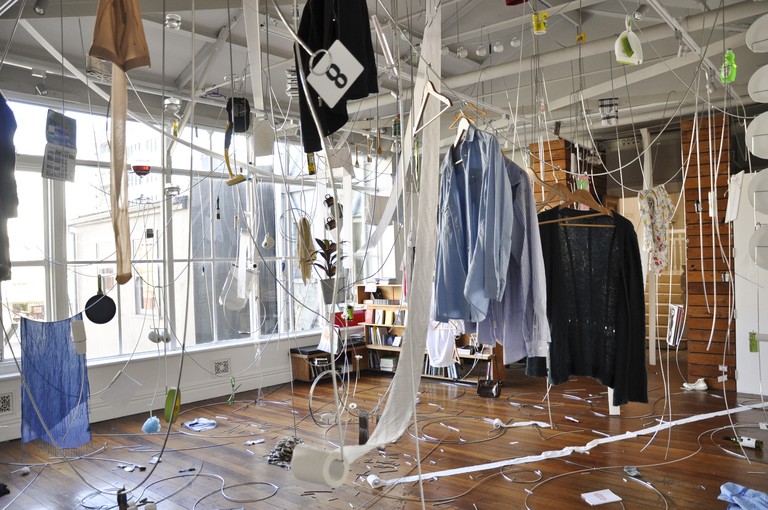 Inspired by retail design but going against the logic of visual merchandising, the items installed in the steel displayers are not in any logical order and are difficult to find. While marketing strategies suggest creating a reachable and efficient accommodation of equipment, product and people to incentivize focus and arouse interest, Lee's installation materializes as neurotic organized chaos that, while seductive, hinders free circulation and overwhelms sight. Some objects appear to float in the space in a simple and fluid way, yet are not very accessible to the public, challenging notions of gravity and logic. Such is the case of a table salt drum that appears unreachable five meters above the floor very close to the ceiling. In quite the opposite manner, the closeness to the floor of a tissue box will make you think twice if you want to grab one. Absurdly, a glass of water lies on a high beam close to the wall, which appears as invisible as a package of Tic Tac mints, which from certain perspectives, are hidden behind a tuna can. Other things on the floor are shown to magnify and disrupt the sense of order, such as some scarves, jeans and musical scores that are displayed as if they were randomly thrown on the floor, a white plate that apparently fell from an upper structure, as well as the remains of coffee, bread and other detritus. All are paradoxically surrounded by small pieces of steel carefully installed by the artist.
If the past site-responsive interventions of Yona Lee were characterized by their minimalism, cleanness and clarity of space, the immersive installation at Enjoy Gallery could appear as antithetical. The limpidity of Lee's previous installations has been substituted by a physically and psychologically crowded space, that pulls you in and out so dramatically that it could even intimidate some visitors from wandering through it, perhaps conscious of the fragility of the piece. Regardless of this striking visual difference, the work still holds strong links with her past body of work through the utilization of a neutral, resistant, hard but malleable material like steel that—in communication with dozens of objects in this particular case—becomes part of an overall composition that playfully interacts with the architecture of the space, including floor, ceiling, beams and walls via the play of its own shadows.
Furthermore, the relations created by this bricolage expand from the merely visual and structural to a whole sensory stimulating experience that engages all five senses. The installation activates participant's olfactory receptors through the sweet fragrance of a perfume, the fruity aroma of a red wine, and the strong scent that emerges from some cigarette butts set on an ashtray. While activating both gustation and tactility by grabbing and tasting sweets from bags displayed from a hook, visitors also can become active participants in the consumption of the work. As if that was not enough, the sensory experience expands to hearing the tick-tocking of a clock that rhythmically communicates with the droplet of a sodden towel, exalting the temporal and every day character of the installation. All this is enhanced by a series of instructions left by the artists to be executed by staff, which reveals the individualized and ephemeral nature of some objects: Please water the pot plant, replace the flowers that died, steep the hand towel every morning…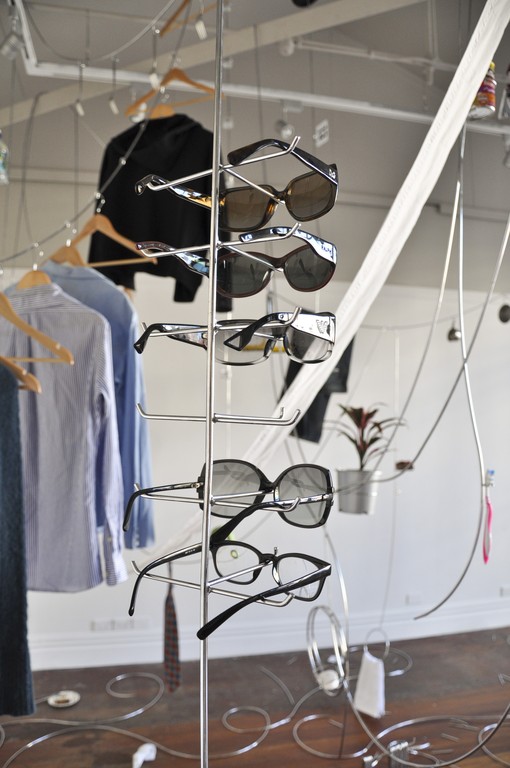 At the core of this plethora of intertwined instructions, materials, and persuasive sensations, is a poignant revelation about the possibility of transforming consumption tactics. The gesture of deconstructing and transferring retail design out of its natural environment to a different space of consumption, such as to an art gallery, de-programs assumed ideologies, everyday experiences and reflex behaviors. The material interventions that change the shape of ordinary custom built display units and the individual display of items, as opposed to commercial agglomeration, verifies that a well-placed action or detail can reverse situations and meanings.
Tangential Structures, besides being a reflection about the aesthetics of commercial spaces, is an exploration about the nature of objects as produced, consumed, possessed and personalized items. It depicts the processes of consumption by which a mass-produced product only transforms into an object through its inclusion in the domestic space. But it also draws attention to how a different aura can be artistically imbued into it, creating unconventional ways of reading that incite objects to speak about their silent and hidden, but ever-so-present, user purposes and stories.