Getting to know ourselves
Sebastian Clarke
In 1957, when New Zealand potter Len Castle arrived home following a year working in the Cornwall studio of the renowned British potter Bernard Leach, there was a 22-year old Barry Brickell waiting for him at the Auckland ferry terminal.1The young Brickell, already a ceramic zealot, respected Castle immensely, sharing with him the whereabouts of local clay deposits and seeking mentorship from the more established potter—admiration forged from fired earth.
Sixty years on, the sharing of contextual knowledge—through both institutional and informal networks—remains vital for sustaining local craft practices. Dave Marshall's exhibition Terrestrials at Enjoy Public Art Gallery honours the proponents of New Zealand's early pottery community and their legacies, from the position of an emerging potter making sense of his own practice and its relationship to his environment.
Marshall first began using clay at Ilam School of Fine Arts, capitalising on the opportunity to use an overlooked kiln. It was here that he was exposed to the oriental aesthetics of ceramics and gained knowledge of glaze techniques. Since graduating from the sculpture department, Marshall has maintained a conceptual art practice which could deceive audiences of his confident grasp on studio pottery. Terrestrials is, however, the first public exhibition of pottery in which Dave has personally sourced local clay and fired it in a kiln he has built from hand. The primary catalyst for this change in Marshall's practice was his relocation to Wellington and his involvement with the Wellington Potters' Association, where he is part of the firing team.
Terrestrials is only the second exhibition of ceramics in Enjoy's seventeen-year history, and to mark the occasion the gallery has been designated a clay space. This status is most directly achieved through Marshall's first act in the gallery, applying a score of wet Pukerua Bay clay along each wall with a throwing wheel from the Wellington Potters' Association. The employment of pottery material and equipment in an unconventional way is the first indication of Marshall's dual roles of potter and contemporary artist in the exhibition. This isn't an exhibition just of pots—instead, the artist/potter is drawing to attention the labour and industry of studio ceramic production.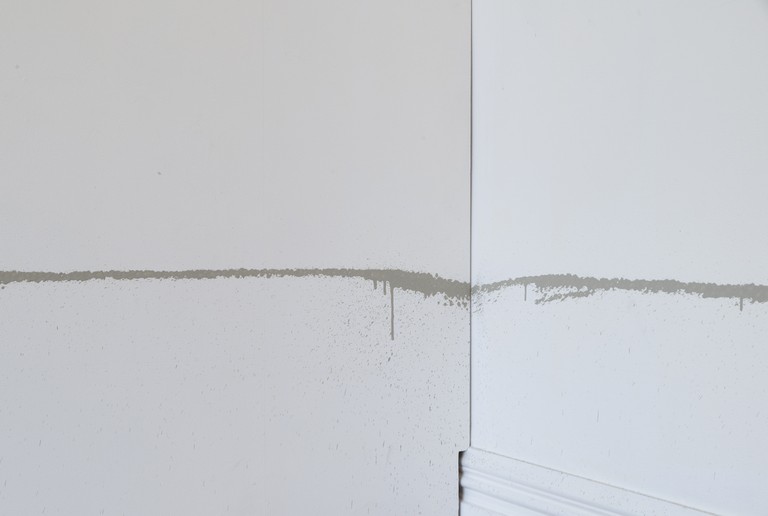 Drawn lightly across one of the gallery's walls and above one section of Pukerua Bay splatter, a map of the Wellington region and beyond charts the location of the resources Marshall has utilised in the production of Terrestrials. Clays, kilns and sources of wood are pinpointed, signifying terrains from Porirua to Tasman. "You are here," the map reminds us, prompting an appreciation of our closeness to Wellington's pottery infrastructure—and to see it as an accessible network to explore, engage with and add to. But this is Marshall's map, and he holds firm his position that the whereabouts, and discovery, of local clays is "something you have to find for yourself."2 It is apt that the map appears faint, only revealing itself after a close inspection. I imagine that some gallery visitors may not have seen it all. The muted presentation is emblematic of a struggle familiar to all emerging craft practitioners: that sources of local knowledge are not always obvious—they must be actively sought out. If you look hard enough, you might be rewarded, or better yet inspired.
Marshall's kiln, identified on the map within the suburban environs of Newlands, provides a reference point for the installation in the centre of the gallery. Here, a conversation between a neon light and a stack of chopped pinewood tells of the artist/potter's fascination with the physical processes involved in operating his hand-built anagama kiln. The neon light, hanging from the ceiling on a slanted angle, has been hand-painted to illustrate the both the journey of heat through the kiln and the temperature required for a productive firing, appearing at one end cool, and the other near molten. The wood stack succeeds on multiple fronts, first through providing an insight into just how much timber is needed to nourish the kiln during a firing, then through the inescapable sensory waft of pine complementing the gallery's 'clay space' status. As a final, more pragmatic feat, Marshall has used the occasion of the exhibition to dry out the wood for future firings. The storage of the wood triggers a reconsideration of why Enjoy is included in Marshall's map. The gallery's function as exhibition space is a palimpsest aiding future creation.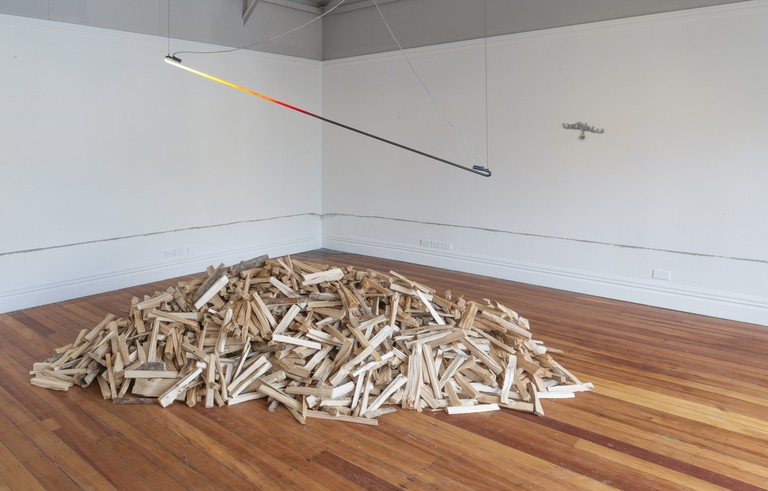 Marshall described the central installation to me as a "good graphic"3. This interest in presenting a coherent and understandable narrative through contemporary installation highlights Marshall's consciousness of his audiences. While he is presenting pots to contemporary art audiences, he is also engaging with potters through conceptual installation—connecting communities through clay.
Curiously for an exhibition about pots, it is a two-dimensional image that is most memorable in Terrestrials. On a large sheet of transparency paper that floats in the gallery, Marshall has assembled a collage of images taken from New Zealand Potter magazine and Bernard Leach publications. It is a compelling selection with no obvious discrimination present. There are photographs of pots and potters, as well as educational diagrams and designs. Dame Doreen Blumhardt, Helen Mason MNZM, Juliet Peter CNZM, the list of our ceramic champions goes on—and the members of New Zealand's pottery Hall of Fame are all represented. It is worth reflecting on the number of individuals whose services to pottery, and craft more broadly, have been recognised with Royal Honours—this seems a rare occurrence today. Interspersed with these illustrious figures are stylistic and abstract surface decorations, making for a final product abounding in activity.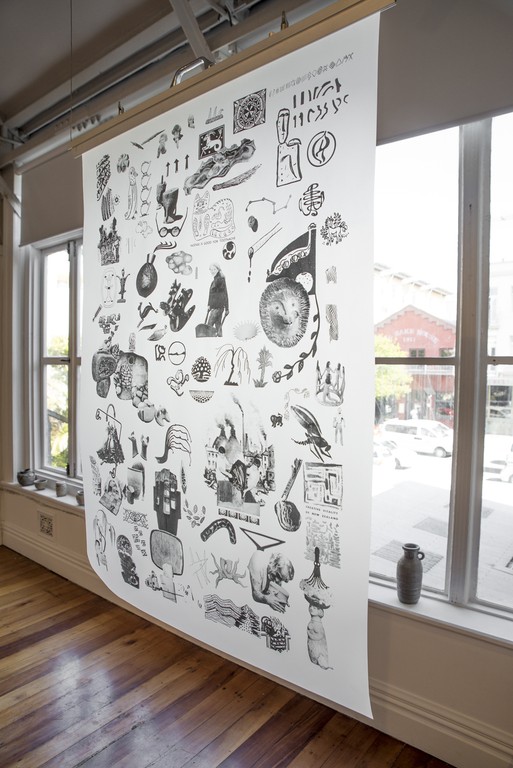 I am intrigued by the choice of sources for this collage. Marshall has spoken about his interest in paying tribute to those potters who espoused a distinctly New Zealand ceramic tradition, distanced from the Anglo-Oriental philosophy promoted by Leach. The use of imagery from the NZ Potter is therefore useful in this exercise, for the magazine provided a forum for diverse commentary which both endorsed and challenged Leach's views on the Anglo-Oriental movement, and its relevance in Aotearoa.4 Of course, it is impossible to deny Leach's influence over early ceramic design in New Zealand, however, employing graphics direct from his books could be seen to reinforce the Englishman's historic stranglehold on aesthetics and philosophy, diminishing the significance of local craft ideologies. Perhaps for Marshall, any tensions between his source material is insignificant due to the single way in which it was accessed—on the shelves of the library at the Wellington Potters' Association.
The collage brings attention to the potter's interest in surface ceramic decoration, or what Marshall describes as squiggles. This preoccupation reaches the far wall of the gallery where an aluminium-cast flourish is centrally mounted, appearing ready to spread out like a vine cutting. Here the audience can appreciate Marshall's background in sculpture. This flourish, while borne of clay, is not pottery but instead an object responding to pottery. For me, this modest work epitomises Marshall's ongoing negotiation between the roles of artist and potter. I see value in this continued identity investigation, and its creative and textured manifestations.
It is appropriate to discuss the pots in Terrestrials last. If the other components of the exhibition posed a question, then the pots offer some answers. Marshall says it has taken time for him to understand the fascination with the 'brown pot', the traditional idol of the studio potter. By engaging first-hand in the intensive processes involved in pot-making, he appears to have developed a sympathy with the 'brown pot' phenomenon.
Arranged along the low window ledge of the gallery, the pots are not given prominence nor do they command it. The functional and humble forms of the dozen works exhibited communicate Marshall's self-determination as a potter, as opposed to a ceramicist. He is striving for sincerity. There is also an additional pursuit in Marshall's pottery. It is a quest to capture a state of ceramic slouch. Like a teacher correcting the bad posture of a pupil, Marshall is interested in preserving the moment of recovery after a pot resists structural conformity. His approach is to embrace, not erase, these movements. The result is buoyant, even in the instances where it is not immediately attractive.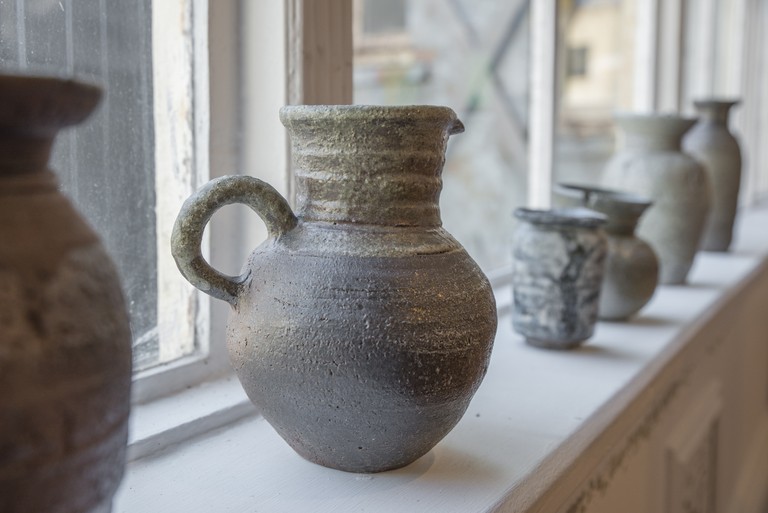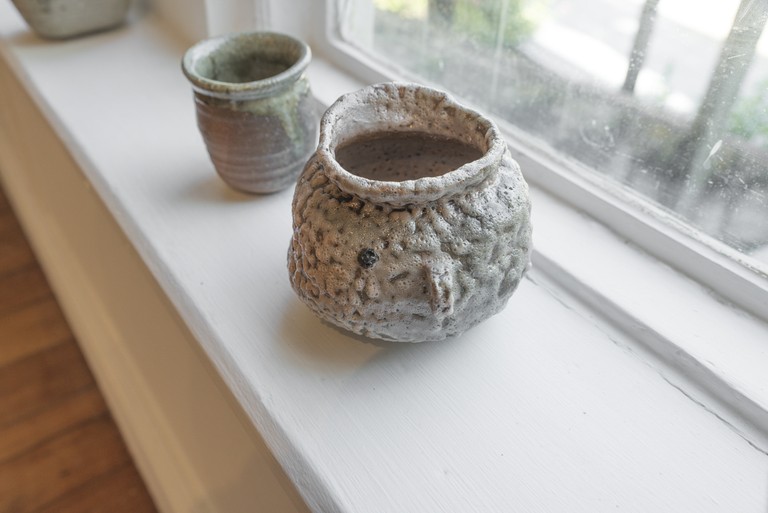 Decoration is sparing, but fortunately, not completely absent. There is a small wheat-coloured jar with a raised vermiculation pattern, which elicits a strong temptation of touch. In other examples, we are reminded how varied our local clays are through the differences in colour. A milky white pot almost glows blue beside a murky, brown jug. From the gallery line-up, the pot that most satisfyingly attains a humble form is a tall bottle with a thick lip and grainy surface texture. If this bottle was presented alongside the historical artefacts on Marshall's collage, no one would suspect it of being out of place. There is an exciting mastery of technique evident in these pots, which is commendable for the young maker.
It is worth noting that at the same time that Terrestrials exhibition is presented in Wellington, Objectspace in Auckland is showing The Company of Potters curated by Damian Skinner. Skinner's exhibition acknowledges an Auckland hotspot for ceramic production, the kilns at Ian and Sheryl Smail's 'Nodsdale' property, which between 1973 and 1984 facilitated the connection of several notable New Zealand potters.5 It is truly encouraging to see our public institutions value, and make space for, the social histories that have fostered and enabled creative practices to exist and thrive in New Zealand.
One of the potters Marshall has acknowledged in Terrestrials, Yvonne Rust, issued an imperative for all potters of Aotearoa to take advantage of local clay: "it's our heritage, our raw material. Get to know ourselves."6 For Dave Marshall, 'getting to know ourselves' evidently means more than employing the resources around him for his making, it is equally about the process of understanding the development of a home-grown craft tradition through the pioneering activities of its past champions. As Marshall continues on his passage of discovery, I look forward to learning where it takes him next—hopefully somewhere with plenty of clay.