Failed Transplants: Material and Relationality in the work of Deanna Dowling
Matt Ritani
Rumble. Crack. Crackle. Concrete floor. Concrete block. The tangent of an oval. Rocks in cement. A pastel orange M&M lying on its flat side. A strange thing has arrived at a new place.
The new Enjoy space has not been open for long. The gallery sits in the existing architecture of Left Bank Arcade. Designed by the late Gerard Melling, the arcade is classic Melling Morse. Comforting and rustic, natural materials with practical, unpretentious detailing. The Arcade has tall, elegant windows. Like all good architecture, it gets better with age. Whare Timu of First Light Studio contributed to the design of the gallery fit-out. It's a place with a multitude of authors.
Deanna Dowling's exhibition The crab and the rock: landing at the resort is the second iteration of a multi-site project. The first, The crab and the rock 〈螃蟹與岩石〉, was commissioned by Enjoy and exhibited at Taipei Contemporary Art Centre (TCAC) in Taiwan in June 2019. The crab and the rock: landing at the resort is the sophomore iteration, on another island six months later. The project focuses on the resort town of Wanli, New Taipei City 新北市, considering the site's multiple authors and the human interventions that have taken place over decades. A forty-seven minute drive from the capital, Wanli is to Taipei is what Paraparaumu is to Te Whanganui-a-Tara. It's a surf town with winding roads. Wanli uniquely features a "UFO village". This village is a collection of Futuro and Venturo houses, designed by Finnish architect Matti Suuronen between 1968 and 1971. The houses are holiday homes. Most are in poor condition and few are occupied. They have graphic silhouettes and are out of place. The incongruity of the "UFO village" is documented in the exhibition.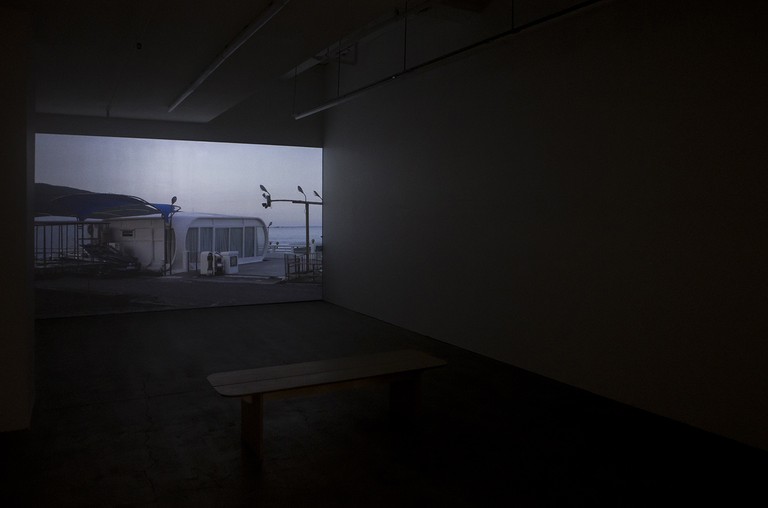 The first Futuro was a ski chalet designed for a friend of Suuronen's. It was intended to be mass-produced and transported anywhere by truck or helicopter. The Futuro was made of new synthetic materials: fiberglass-reinforced polyester plastic, polyester-polyurethane, and polymethylmethacrylate. These materials achieved a good thermal envelope, a shelter for varied climates. The Futuro debuted publicly at the London Finfocus Export Fair in 1968. Strong interest from the fair led to Suuronen granting thirty manufacturing licenses worldwide. In 1973, the oil crisis stopped the production of Futuros and Venturos. Both the material and transport of Suuronen's designs were dependent on fossil fuel production. Of the one hundred manufactured in this period, sixty remain in existence, with two in public collections. The Futuro has gained a cult following and has ended up in some strange places. In Joshua Tree, California, you can rent a Futuro for a night.1 Aotearoa is well represented; there are eight in the country. At the 1974 Christchurch Commonwealth games, a Futuro was used as a Bank of New Zealand Branch in Queen Elizabeth II Park. My favourite Futuro is the VIP room of the Strip Club 2001 Odyssey in Tampa, Florida, named after the 1968 Stanley Kubrick film.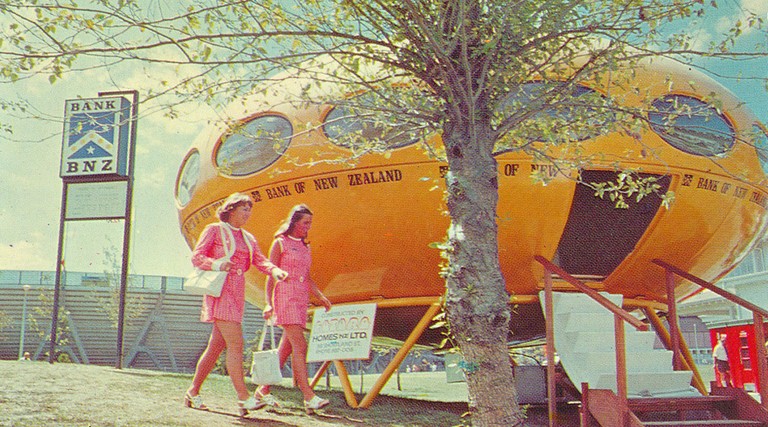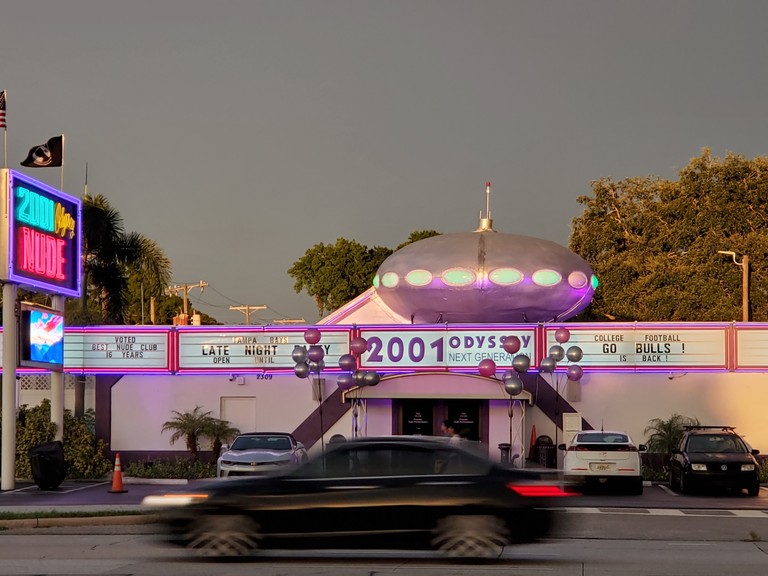 There are reportedly thirteen Futuros and dozens of Venturos at Wanli—although some have been demolished. I search Google Earth, looking for their square and circular forms. You can never know topography from a plan. The village is next to Wanli District Second Cemetery.2 A resting place for people and architecture.
The Genesis of Wanli's UFO village sits with Su Ming, a Chinese national who fled to Taiwan with the Kuomintang led Republic of China Party after the Civil war in the 1950s. After a career as a civil servant, he became an entrepreneur. Ming first produced sarsaparilla for US soldiers based in Taiwan. He then moved on to toothpaste and laundry detergent.3 Finally, he turned to property in the 1980s. At the time, government restrictions prevented the procurement of waterside land. Ming utilised his public sector contacts to acquire the site. The village was pitched at similar customers to Ming's previous ventures, US soldiers and newly wealthy Taiwanese capitalising on rapid industrialisation in this period.4 The village aligns with Suuronen and Ming's aspiration that the houses would provide a new, modern, western way of living.
Wanli's UFO village was built seven years after Suuronen's company Casa Finlandia collapsed in 1973. There are marked design differences between Suuronen's houses and the ones in Wanli. The Futuro and Venturo archive is compiled and maintained by a community of fans. Given the construction dates, the Community is divided on whether the Wanli village houses are "modified" Futuros, or unlicensed, and therefore illegitimate, copies.5
Modernist architecture in the first half of the 20th century had aspirations for social good. Modernist housing meant for more people to have a greater quality of life through functional, mass produced buildings. This period of architecture has prominence in cities and in the published canon of architectural history. Professional architecture allows practitioners to access and control vast sums of capital required to make buildings that have a huge bearing on people's lives. Access to the profession is historically dominated by white men. This inequity at a practice leadership level persists internationally and in Aotearoa.6 The modernist social manifesto cannot be divested from a paternalistic white saviour complex and its Western European philosophical antecedents.7 I include Suuronen's designs in this broad-stroke history. We see places the world over were modernist architects have enormous agency in massive modernist building experiments. These projects often don't live up to expectations, like Chandigarh in Punjab/Haryana. Or worse, they become expensive, trendy addresses' like the Barbican estate in London or the Unité d'habitation in Marseille.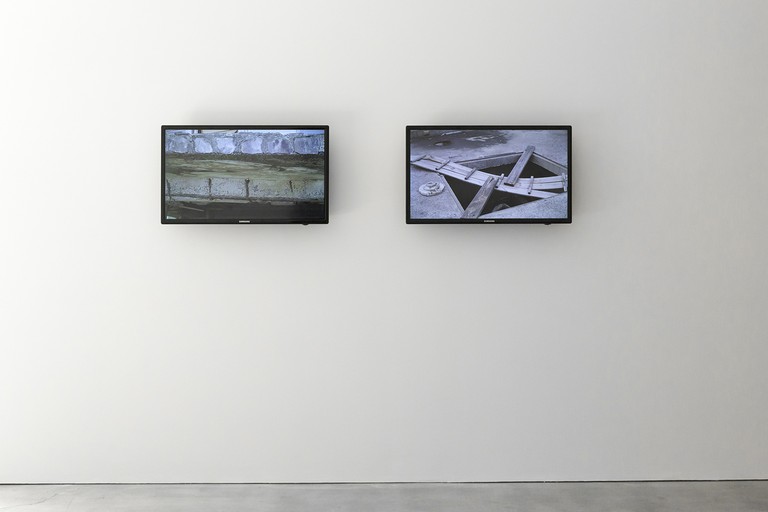 At the gallery, the cold-tone fluorescents are not on when I view the exhibition. I sit on a bench and listen to one of the audio works. I hear a chain slipping through a rattle and deep, hollow sounds of water. Buckets are being drawn. The scrape of a heavy hessian fadge pulled along a dirty concrete floor. Distant rumbles scratch at earthquake anxieties. A kettle pulled in a horse-drawn cart. Videos show old construction in a jungle. Kerbs and worn concrete. Black plastic melts over a tree stump. Rusty rebar pokes out of the slab. There are roads but no cars or people. Rags, leaves and dirty metal. I hear magma now, then quiet, then waterfalls. The sound skips. Manholes without lids. Tussocky yards that look like they were weed-whacked recently but definitely not mown. Grey plywood curls. A bit of wind. It seems humid. The Venturos have awning frames that would have once had sailcloth. The frames echo Hector Guimard's Paris Metro entrances with their Art Nouveau lines. I spot Norfolk pines. Trees planted to be straight masts for future colonial ships but were too fragile. Ants crawl over stumps. A couch with a teacup on a side table. False velvet and a wave crashes in the background. Broken blinds.
Both the TCAC and Enjoy iterations feature a skeletal subdividing wall. In Taipei, the wall is finer in proportion and appears to be a timber composite. It has a light green tone. In both spaces, Dowling paid a local builder to make the wall. Each wall is different. Comparing the walls reveals how Taipei and Te Whanganui-a-tara have different materials, technologies, and labour ecologies.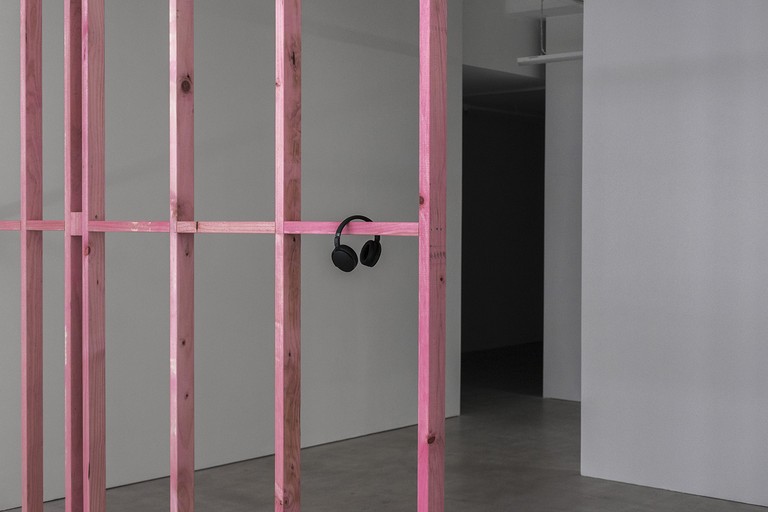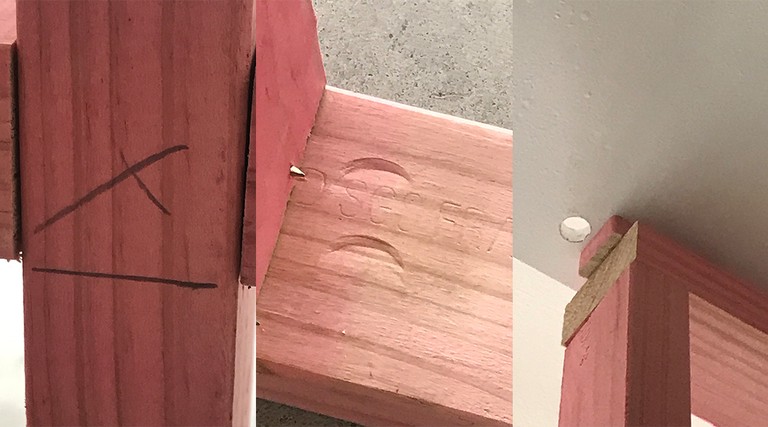 The Enjoy wall is pink, treated with boron to protect it from fungus and insects. It is set out at 600mm centres with a mid-height horizontal dwang. This geometry is driven by NZS 3604:2011 Timber framed buildings, Aotearoa's most used standard.8 Reading its markings we know it is structural grade eight (SG8). It is from the Kiwilumber Ltd mill in Waingawa, Wairarapa. It is fixed with grey and red nails and a more heavy-duty roof screw. We see hammer indentations and pencil marks—residues of the making of the wall. Timber has benefits over steel framing. Timber is forgiving and can be shaped, trimmed down, and bumped into place. There is an existing white steel beam running across the gallery ceiling. It was installed for earthquake strengthening. It is not perfectly square against the polished concrete floor. As is often the case in existing buildings the interior planes of the gallery have moved away from their aspirational gridded positions over time. Here the wall is augmented to accommodate this discrepancy by a small timber wedge. The wedge pushes the wall against the floor, holding it firm.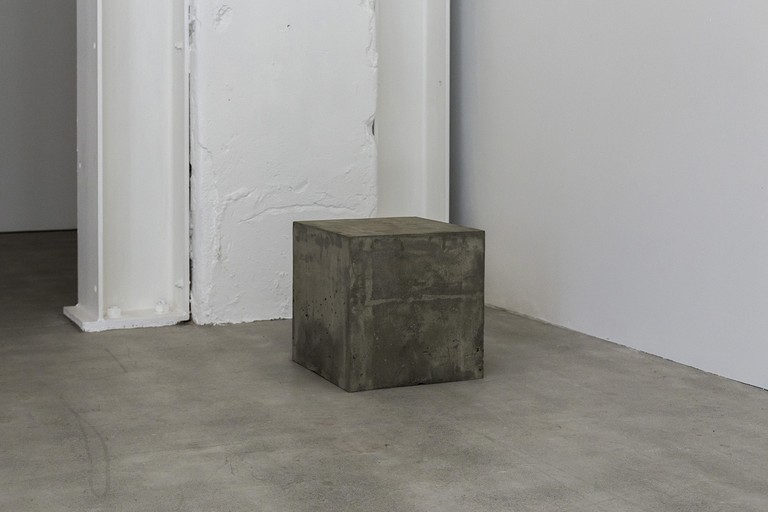 A concrete cube, about half a metre cubed, hides in plain sight. I presume it was cast upside down. When you cast concrete, you're meant to agitate it. You vibrate the concrete, so any air bubbles caught in the mix float to the top. In this cube, the larger bubbles are close to the floor and the smaller bubbles are at the top. The bottom of the cube will be its the roughest side. I think it was made recently as it's still curing and smells wet. I think it is hollow—it would be a real pain to move otherwise.
In these times of noho rahui, I live in a different house to where I usually reside. I used to live in the house I am at now. I've burned myself a few times as I've tried to navigate opening and closing a door with a cup of hot tea in the dark. My usual house has no doors to places I would take tea. It reminds me that I know the spaces of these two houses both through the discipline-specific lexicon of architecture, but also through the embodied memory of these places. My body has forgotten its sense of the house.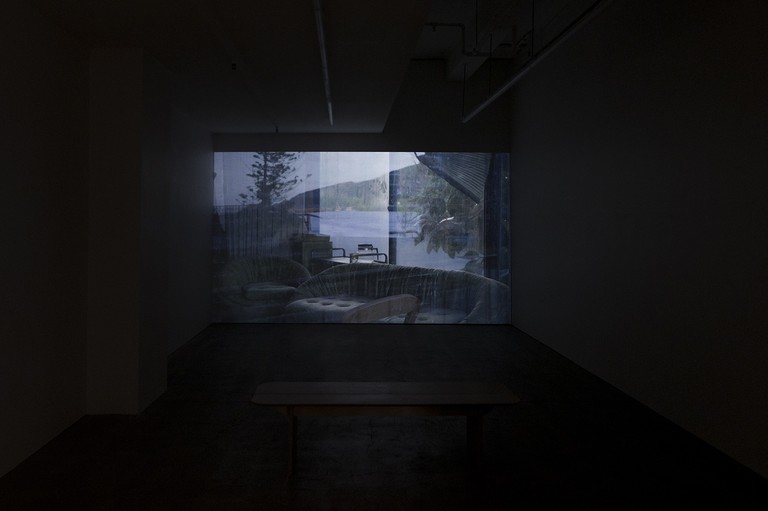 The crab and the rock: landing at the resort continues Dowling's examination of the anthropogenic intervention of new material into sites and the residues of these transplants. In The crab and the rock, the transplant is the Futuro and Venturo houses. In other projects we see Dowling explore other transplants; Gold and Oamaru stone extraction in In search of gold there was stone there all along (2015);9 land reclamation in The water we built on (2016);10 and a delicate shelf in Tell someone if something happens (2014).11 The UFO village has failed as holiday accommodation. It's in disrepair, a site of deterioration. The failure of the village lies with the "universality" of Suuronen's ambitions and his reliance on fossil fuels. It lies with Ming's attempted profiteering and 1980's leisure consumption culture coupled with an ignorance of Wanli's icy winters and "unbearable" summers.12 It lies with the perfect vision of the modernists and their agency to shape cities at will. Dowling wanders the rubble and observes. Avoiding the pristine modern object in the landscape, Dowling gazes at the appendages, wear, decay, and residues of maintenance or lack thereof. The videos are light, and I sense weariness from this place. Rather than espousing a readily legible and intentional position, The crab and the rock: landing at the resort is a dossier of the village as experienced. Dowling talks of our material environment as a rubric through which we can understand and question our value systems.13 A mutual friend of Dowling and myself describes her practice as a scaffold. It's not there for you to know in its entirety immediately. You must construct meaning out of the work yourself.
I read vast discrepancies between modernist visions and lived realities. The "crabs" of Dowling's title, the Futuros and Venturos with their hard-plastic carapaces, landed at the rock in Wanli. They remain, emptied out and baking in the sun. After utopian gestures and disillusionment, life goes on. For better or worse, people the world over, build lives in imperfect contexts. In a pandemic, our world becomes more local than ever. If we are fortunate, we can stay with our own bubbles, shells, and homes. Maybe rather than the far-reaching decisions of those who hold greater agency in shaping the world, we look instead to smaller adaptations. Like the hermit crab, there are those who make home within the debris of others, perhaps they are the makers worth celebrating.